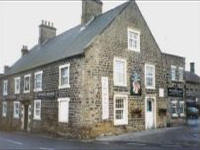 Reviews of Wortley Arms Restaurant
Type(s) of Food Served
Pub Restaurant
Description
At the Wortley Arms you will find a warm welcoming environment, enjoy locally-brewed cask ales and ice-cold lagers and some excellent fresh food in front of our wood fire.
Food Service Times
Monday - Friday: 12PM - 2:30PM and 5PM - 9PM
Saturday: 12PM - 9:30PM
Sunday: 12PM - 5PM

(The bar is open longer.)
Special Offers
There are no special offers that we are aware of.
Amenities & Facilities
Credit/debit cards accepted?



Average main course price?
Special diets catered for?
Phillip -
Rating:
Went to the Wortley Arms tonight for a meal with family and I have to say we were all disappointed in how the food was poorly presented and also very under-cooked. We had sirloin steaks and lamb steak and asked for them to be medium & medium to well-done, but they were all well underdone, tasteless, and rubbery. We have been a few times now and unfortunately it is a real hit-and-miss occasion.
Alison Lindley -
Rating:
My husband and I had a nice meal in a lovely pub setting. The staff were pleasant, it was peaceful, but there was still a gentle murmur of people talking, laughing and joking. We really liked the pub.
Jayne Tolan -
Rating:
As a regular customer of the Wortley Arms, I am very surprised at the bad review that I have just read.

My young family and I have never had a bad experience here. The food is of high quality, and locally sourced. The Sunday lunches are excellent. The service is spot on and the manager is very, very attentive. Nothing is too much trouble. The high quality meals are consistent and the price is not over the top for this quality of cooking. The chef is out and about speaking to customers and is always available to chat about dishes. He has recently won a TV competition, beating some of the top chefs in Yorkshire. Keep up the good work. We love your food.
Bev -
Rating:
Excellent food unfortunately let down by appalling service.

Took our children (12 & 15) who are used to fine dining. On arrival we directed them upstairs, knowing that there was a lounge up there, only to be stopped by the head waiter saying the bar's downstairs. As the lounge was busy with dinners hence nowhere to sit and the only other room was the tap room, we continued to the lounge.

At no point did anyone offer to take our coats (08/01/2011). A good thing for my daughter, as the restaurant was so cold she kept hers on throughout the meal.

Although butter was on the table we were never offered any bread. My starter included a sorbet, for which I had to ask for a spoon. Overall the food was great, especially the mains of cannon of lamb & the pork dish.

We waited an hour between mains & ordering dessert. This was pointed out at the time of ordering but, 25 minutes later we still had to ask where dessert was, it came and all the desserts were cold (not a problem) but why the wait??

There was a serious lack of lighting in the toilets, which staff did know about but did not apologise for and did not point out that there were alternative toilets downstairs.

While the serving staff were polite they were less than attentive. The head waiter has been there sometime but, has not improved his public relations in that it seems like everything is too much trouble for him. The fact that he tried to explain the delay due to the a la carte restaurant standard was insulting. His people skills need serious attention.

At the point of payment 2 desserts we removed from the bill and it was explained that staff problems were due to an accident en route. All too late I'm afraid.

Over our 3 years of going here the food has been so good we have overlooked the service issues but, as a result of our most recent visit, I don't think I'll be returning. Sadly!
Linda Innes -
My husband took me here for a Valentine's dinner this year.

The restaurant was cold, the starter and main course was served partly undercooked, and the dessert still frozen in the centre.

The wine list was very limited, and all evening had to pour it ourselves. Don't mind doing this but the only way we could reach where it was situated was to get up out of our seats, which doesn't fit in with the romantic notion of this evening.

The food was very expensive for what was served and I certainly wouldn't recommend anyone else to waste their money.
Michael Dransfield -
We went for a meal on Saturday 15th September 2009 at Montagus, the a la carte restaurant at the Wortley Arms. The menu is very limited in choice, and after we placed our order we found it was also limited on quality and value.

The restaurant itself lacked any atmosphere. As the starters were so limited in choice we both chose the lamb kofta and salad as a starter. The starter was pleasant enough but was a tiny portion for the almost-£7-each cost.

The main menu choice was not very good. I have never been to a restaurant without a chicken dish on the menu or a selection of steaks. The only steak dish was a rib-eye, the only thing near to chicken was duck breast. We both went for the steak, which was served with chips, Caesar salad and tomatoes. We both asked for it well-done and it came medium. Also Caesar salads vary, we had anchovies (lots of them) over the salad. Neither of us like fish and we should have been warned on the menu. We returned the steak and asked for a salad without anchovies. The steak came back cooked. However it was fatty, small and very poor quality. For some £17-plus per main this was shocking. The lettuce when returned still tasted of the anchovies, which had clearly been removed and the original salad returned. We made our complaint known but the excuse of "we will have a word with our supplier" wasn't good enough. We had a £25-off voucher from a promotion yet still ended up paying an extra £45 for this meal that was awful.

To top it off we have both really felt "off it" today and suspect it was something to do with the meal. Would not go to this restaurant ever again, this is a place best avoided. I would give it 1/10. Simply awful.
Chris Hanson -
We went to the Wortley Arms last Tuesday night for a meal and found the food in the pub too pretentious for what we would look for in a local pub. We thought the pub was trying too hard to be something it isn't and falling short of the mark in terms of what it does aspire to.

I had the trio of pork dish from the menu, and while you could see the ambition in the food there were a few simple things that let it down in my mind. The crackling was not crisp on the belly, the little pork fillet or loin was over cooked and dry and there was hardly any gravy on the plate. Whilst the presentation was good, the mistakes made me regret the amount I spent on the dish.

My other gripe with the pub was the price of drinks. £3 for a pint of Timothy Taylor is too expensive in my book in this day and age.

My wife's meal also suffered similar pitfalls, over-cooked guinea fowl and a garnish that didn't really suit the dish. Another thing if you ever decide to visit the Wortley Arms is don't bother ordering any vegetables, over-priced and rubbish. £3 I think for a bowl of under-cooked carrots and celeriac.

The plus points were the service, which was friendly and professional, and the cheese on the cheese board, which was nice.
Jackie Wilkinson -
Went for a pub lunch at the Wortley Arms recently and two of the things we wanted weren't available that day. We finished up having less than average gammon steaks, which were very overpriced, especially as we were in the pub and not the restaurant.

The waitress was very pleasant and that was the only thing about the experience that was. Definitely won't be eating there again.
John Jesson -
After reading the note from Ruth Bowyer about the Wortley Arms I feel I should respond on behalf of the average punter.

This has been my regular pub/restaurant for over a year, since renovation, on almost a fortnightly visit. Service is always excellent. Quality of food is great. I have never, not even once, had to return or complain about my food. The portions are big enough for me.

In all there are not many better places for a meal in South Yorkshire. The shoulder of lamb and the chicken, on Saturday (01/03/2008) night was to die for. Well done the Wortley Arms.

Do yourself a favour go see be your own judge, on my experience it will not disappoint.
Ruth Bowyer -
After booking in on Friday (15/02/2008) I can really say nothing except "don't go!"

The food is very over-priced at £15 for a meat/fish main and £10 for a veggie option, especially when you consider this is the pub side and not the restaurant (Montagu's).

I ordered seabass on a fennel confit with tomatoes. I did enquire about the tomatoes, as I do not like cooked cherry tomatoes. All credit to the waitress, who went and checked with the chef, "Oh no" she said on return "they're plum, is that ok?" "Great" I replied, no problem at all! The portion was tiny, the fish was barely 2 inches by 6 or 5cm x 15cm and the fennel 'confit' was very tough, old fennel strips that I wouldn't serve to a rabbit! Oh, and my 'plum' tomatoes were escapees from breakfast, half grilled halves of regular, salad type tomatoes.

All in all not worth the money, or the time and effort to get to what was once a really good foody pub, a real pity.
Sumeet Vohra -
I need to start by declaring what could be perceived as a conflict of interest. Andy Gabbitas (chef & co-proprietor) is a pal of mine.

I have had three meals at the Wortley Arms, one in Montagu's (the fine dining restaurant) and two in the pub and all have been superb.

I went to the pub for lunch last weekend with the kids, which is always a good test, and also gives me the opportunity to pinch some of their food. It was all impeccable, but worthy of particular mention was the osso bucco, made with thick slices of meltingly tender veal shin and with wonderfully unctuous bone marrow oozing out of the shin and into the sauce. Memories of that dish have caused me to salivate since.

Desserts were no let down, and I made sure that I had a taste of everyone's. My apple tarte tartin was crisp and surprisingly refreshing. Sticky toffee pudding was light and fluffy, and the accompanying dandelion and burdock custard was an unusual, but compulsive accompaniment. Chocolate marquise was a triumph.

As you will have gathered I was very impressed with the food.

The pub dining room is understated, tasteful and warm. The open fire adds a degree of cosiness that makes it very easy to spend time there.

What really made the experience superlative though was the staff.

On all the occasions that I have been to the Wortley Arms the staff have been efficient, professional, and charming without overdoing it.

I am so used to being served by inept, surly or charm less staff in South Yorkshire restaurants, that I am still slightly bewildered as to how the Wortley Arms can get it so right in that department.

I am sure that they are not infallible, and I have no doubt that mistakes happen (although I have no evidence), but their attitude is spot on.

My kids were made to feel totally welcome and were presented with games and sticker books soon after we had sat down. A nice touch, and not common in classy eateries in this part of the country.

This not just a positive review because Andy is a pal (and an excellent chef). I want him to do well, but I would not write an exaggeratedly positive review just to bring him custom and compromise my own credibility in the process. If the Wortley Arms was just ok or acceptable I would simply keep quiet. The fact is that on the evidence I have witnessed he is delivering he goods spectacularly well and I have found all my trips to the Wortley Arms to be immensely gratifying experiences.
Eaten at Wortley Arms? Write a review!
Anonymous reviews, reviews using nicknames or reviews sent from invalid email addresses will not be published.