Marco's Restaurant
870 Chesterfield Road
Woodseats
Sheffield
S8 0SH
Telephone: 0114 2749901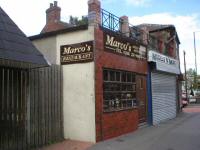 Reviews of Marco's Restaurant
Type(s) of Food Served
Italian
Description
Marco's restaurant is located at 870 Chesterfield Road in Woodseats.
Food Service Times
Sorry, we do not have the restaurant's opening times yet.
Special Offers
There are no special offers that we are aware of.
Amenities & Facilities
Credit/debit cards accepted?



Bring Your Own?
Restrictions (e.g. wine only) and a corkage fee may apply. Please enquire for details.
Average main course price?
Special diets catered for?
Victoria -
Rating:
Food was so good, the whole table cleared their plates and said how delicious it was. Will go back again and again.
Debbie Watson -
Rating:
Marcos is an intimate small Italian bistro with an excellent menu. We have been coming here for a number of years and we have never had a bad meal. All the food is cooked fresh by the owner, who is also the chef, just how you like it.

It's not always easy to get a table at the weekends, and this speaks volumes, so be prepared to book. The staff are friendly and welcoming, you can take your own wine although they are licensed.

We think it's good value for money, great food with a cosy atmosphere. But don't take my word for it, try it yourself.

P.S. the ice cream sundaes are excellent!
Gail Sinclair -
Rating:
Wonderful staff, very friendly, good service,

Fresh, well cooked food, best pancakes ever. A very comfortable evening out.
Michelle Bromley -
Rating:
I would just like to say I have visited Marco's quite regularly and I've never, ever been disappointed with anything that I have eaten there. The staff are friendly and you can have a really good laugh with all of them.
Alison -
Rating:
We regularly visit Marco's, either as a couple or with friends, and always have a thoroughly enjoyable evening. We go for the fantastic food, not the decor which admittedly is stuck in the 1970s. Staff are attentive and down to earth and the owner, who is also the chef, knows his market well. His steaks and chicken dishes are better than many an up-market Italian (and I've visited a few!)

Whilst the family trattoria style certainly isn't what you'd want for a "posh" night out, if it's a fun evening with delicious food at a reasonable price you want, you really can't do worse than visit Marco's.

The BYO wine policy means it's wallet-friendly and I guarantee you'll leave suitably full.
Sarah Bannister -
Rating:
Just had the most delicious meal ever. The sea bass was cooked just right and tasted as though it had been just caught. The tuna was superb. My partner had the Baileys Sundae and he spent the rest of the night still talking about it.

We will be back. The best Italian in Sheffield. It leaves Kito's standing by miles.
Michelle Kelly -
Rating:
I can not disagree more with the last review by Jo. We regularly visit Marco's and can't praise it enough. The food is always piping hot, fresh, and cooked to order.

My son always has the ham and pineapple pizza, which has thinly sliced ham and can be cut upon request. I myself regularly have the chicken pasta, which is one of the best around, with plenty of chunky chicken in a creamy sauce.

I am unable to comment on the seafood calzone as I haven't tried it, but aren't calzones usually a bit soggy when covered in sauce?

Deserts are also great and I must recommend the Baileys sundae.

As for a corkage charge, this is one of the few places not to charge one.

I can only guess it just wasn't Jo's day, go ahead try them and see for yourself.
Jo -
Rating:
I'd read a few reviews (not TripAdvisor) and saw that they seem to have a lot of repeat business and we saw some of these in there. However, I should have taken more notice of the bad one. Walking in, it reminded me of a cross between a 70s restaurant and a nursing home/funeral parlour. Now I'm not usually put off by things like this, as some of the best Italian restaurants I've been to are the old, family-run, been around forever type. But, it was filthy, the chairs were heavily stained, the picture/prints had faded to the point they were barely recognisable and it seemed as though it hadn't had a proper clean for years (think Gordon Ramsay's Kitchen Nightmares).

Anyway, to the food. There was a big menu from which my daughter picked the smoked salmon and prawn in Marie Rose sauce and my husband and I picked the crispy mixed seafood from the "specials" board. Unfortunately it was far from special. It was a mix of fish, the "seafood" must mean the one prawn in the mix that we had, and a scampi, slightly burnt look. It tasted like it could have come from a very downmarket Iceland. I was already regretting my choice of restaurant, and the fact that we could hear chef Mike (the microwave) pinging away did nothing to increase my hopes for the main course.

So mains. My daughter ordered the Hawaiian pizza and it came out uncut. Now I've been to a few restaurants in my time but I've never seen what seemed to be grated ham. It was however, edible, just. I opted for chicken tagliatelle. For the positive, it was a large portion. It was pretty tasteless but did give us some entertainment in playing "spot the chicken". When the pieces were found they tasted like the pre-cut chicken pieces that had come from a very downmarket supermarket chain. My husband got the worst deal. He had gone for the seafood calzone. It came out piping hot, however the bottom was soggy and there was a watery element seeping into the sauce. Again I'm guessing it was down to a combination of some of it being frozen and heated by the microwave.

It cost £54, which I thought was quite expensive given the quality. That was with a corkage charge (fair enough), a large Coke and a Peroni beer.

I was really looking forward to some old-fashioned, authentic Italian food, and all we got was poor quality, probably frozen food that had been heated up. It was disappointing in that I could have cooked it better at home with better ingredients.
Tony -
Rating:
Great service, delicious food, perfect evening. You must visit this little gem!
Karon Grayson -
Rating:
Just try Marco's, you will visit again I am sure. Great food, quaint place, lovely staff and you feel you have had a great evening.

A small place but very good.
Sharon Jones -
Rating:
I have had to write a review to say how much we enjoy Marco's. We have currently been about 6 times. Every time we have enjoyed the food. Good value for money. Added bonus is the bring your own bottle policy. So makes the evening cheaper. Very friendly staff.

The only slight negative, but doesn't ruin a nice evening out, is it's a little cramped.

Do go and give this restaurant a try, with or without children.
Alan Peters -
Rating:
Totally disagree with Rob. Very friendly atmosphere with great service and reasonably priced quality food, would recommend Marco's to anyone.

Yes the decor may be dated but it had no bearing on my experience and I'm an interior designer. Charming little place.
Lindsay Edmonds -
Rating:
I have got to say a massively disagree with the last review.

First of all the waitress could not be more friendlier and efficient, the food is always top standard, and never had any complaints in the past few years I have been going.

Yeah fair enough the decor is a bit dated but doesn't by far put you of you food.

Prices are really fair compared to some other Italians I have visited and the fact you can take your own wine is a bonus and keeps the price low.

All in all this is a top restaurant, with the staff and food and it proves that with how busy it is.
Sue Bacon -
Rating:
We have been going to Marco's for 6 years now and we have always been served with a smile from the very happy staff.

The food is home cooked and gives me a night off from cooking at home and I leave with no dishes to wash up and at a price that is affordable in these times.

When my family visit from all over the world they always want us to take them back to Marco's, as they have never been disappointed and there is such a varied menu, something for everyone from steak and chips, pasta, pizza and so much more including starters and plenty of desserts to choose from.

There is usually fresh fish on the specials board also. Another bonus is taking your own wine, which really bumps up the price in normal restaurants. We will always go back to Marco's, it is an institution for us.

An extremely happy customer for the last 6 years and for the future.
Kay Kennedy -
Rating:
Go to this restaurant very hungry! Come out feeling extremely full!

We have been a few times and never been disappointed. The food fantastic and so is the warm, friendly atmosphere.

I would recommend the starter spare ribs, calzone pizza and lasagne. These are my favourites but every meal looks wonderful and you can also take your own wine.

Give it a whirl, I'm sure you will end up going again as it is also value for money
Ian Wood -
Rating:
After reading a previous review I had to give my own review in relation to this restaurant that I have been to many times.

The food has always been top notch, and the fresh vegetables and real chips are a treat that most restaurants do not serve. The price is very reasonable, much cheaper than most of the restaurants I have been to, and the food is real food, not your usual microwave rubbish.

The place is very clean and the staff are always very friendly and the atmosphere is very relaxing, it's like home from home.

I would recommend to anyone. All in all a good night out for half of the cost at most other restaurants.
Joan Slater -
Rating:
My partner and I visit this establishment frequently and have done so now for many years. Although the building is very old and the decor may be a little dated this adds to the warm and cosy atmosphere. The staff are very friendly and helpful, nothing is too much trouble.

The menu selection is vast, with something to suit all tastes, and the prices are very reasonable for such good quality home-cooked fresh food. An added bonus is that you can take your own bottle, although this is strictly limited to wine only.

There are a good selection of vegetarian options, and if fish is your thing then there are a number of choices on the board (the sea bass is to die for). Be sure to save room for desert, as the Crunchie sundae is a must and the other choices are second-to-none.

I have recommended this restaurant to many family members and friends over the years, all of whom have returned and agree that this is a great place to eat.

One thing I must advise is that if you are going to dine at Marco's then book, to be on the safe side. It is only small and does get extremely busy at times.
Rob Wilkinson -
Rating:
Decor leaves a lot to be desired. Very run down, weird polystyrene suspended ceiling circa 1960/1970, very reminiscent of hospitals and some industrial spaces. In need of more than a lick of paint. This continues through the toilets, which I would guess were last tiled around 1970, and are in a dreadful state. The restaurant is clean, it leaves an awful lot to be desired.

Given the less than salubrious state of the restaurant and area in which it is sited one would expect that this may be a budget eaterie, but no, that's not the case.

2 adults, two kids, had a starter and a main each, came to £62 and change including one soft drink each.

We had:

Starters:

2 x meatballs
1 x prawn and avocado
1 x garlic bread

Mains

1 x lasagne
1 x pasta carbonara
1 x chicken with cream, sambuca, chill sauce
1 x pasta al fourno with seafood

Garlic bread did what it said on the tin.

The avocado was drowned by the sauce and this starter was massively overpriced at around a fiver for about 8 prawns and a quarter of an avocado.

The meatballs were OK, but nothing that you can't buy at a supermarket.

The sauce with the meatballs and prawns both tasted remarkably like they had been cooked in cream of tomato soup.

The mains were pretty dreadful apart from the chicken.

The seafood pasta was unpleasantly salty and didn't get finished as a result. The carbonara tasted of nothing other than cream, and again that weird tomato soup taste was prevalent in the lasagne, which itself was very mushy. I could have comfortably have fed that to a baby without liquidising it.

The whole meal really seemed to be less than freshly prepared. My money would be on a lot of processed sauces being used.

The one high spot was the chicken, which I would happily eat again, but priced at about £12 for one chicken breast and a small bowl of vegetables, it's unlikely I would repeat the chicken purely on fiscal grounds.

In general pasta was about £7-8 per head, and the same for a small pizza. Chicken was in the order of £12-14, steak was £14-20.

Massively overpriced for what it is, and not that nice, but it is edible I guess. Portion sizes were OK, waitresses quick and efficient enough though not particularly friendly. I wouldn't go again.

Your money would be better spent elsewhere.
Eaten at Marco's? Write a review!
Anonymous reviews, reviews using nicknames or reviews sent from invalid email addresses will not be published.