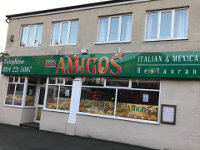 Reviews of Dos Amigos Restaurant
Type(s) of Food Served
Italian / Mexican
Description
Dos Amigos is a new and upcoming restaurant based in Woodseats, Sheffield, offering a variety of authentic Mexican and Italian cuisine.

Founded by two friends (Dos Amigos), we aim to bring our passion for Mexican and Italian dishes to your table in our warm and welcoming restaurant.
Food Service Times
Monday - Saturday: 5:30PM - 10PM
Sunday: 12PM - 9PM
Special Offers
There are no special offers that we are aware of.
Amenities & Facilities
Credit/debit cards accepted?
Average main course price?
Special diets catered for?
Julie -
Rating:
Often eat at Dos Amigos. The food is always excellent quality and very reasonable. Lovely friendly staff and plenty of choice for all tastes.
Violet -
Rating:
Nothing on the menu was remotely Mexican, not even any spices, seasoning or ingredients. Baffled why there's so many Mexican-Italian places here... you don't see any Japanese-Swedish or Spanish-German restaurants, do you? I can't make sense of why they lump Mexican and Italian together. But it's neither, anyway.

Here, just as in nearly every "Mexican" restaurant in the UK, overly sweet Italian inspired sauces + British sauces are mixed with Middle Eastern and South Asian seasonings/ingredients in truly odd dishes that aren't Mexican or even Italian really.

British folks may enjoy this, but for me it was inedible. Odd dishes that don't go together and are not representative of any cuisine style, underseasoned, mushy, bland. I'd give it zero stars if I could. If you like Mexican food, steer clear.

Also there isn't a single person of Mexican or Italian descent working here.
Eaten at Dos Amigos? Write a review!
Anonymous reviews, reviews using nicknames or reviews sent from invalid email addresses will not be published.