La Perle Restaurant
39-41 Wicker
Wicker
Sheffield
S3 8HS
Telephone: 0114 2780074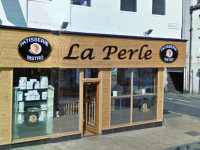 Reviews of La Perle Restaurant
Type(s) of Food Served
European / Mediterranean
Description
La Perle restaurant is located at 39-41 Wicker in Wicker.
Food Service Times
8AM - 11:30PM
Special Offers
There are no special offers that we are aware of.
Amenities & Facilities
Credit/debit cards accepted?
Average main course price?
Special diets catered for?
Brad -
Rating:
Nice guy, which is even more disappointing that he's just served me a total off cake. The entire base of the lemon cheese cake was black smelts really bad and was not possible to see. Disappointed to say the least. The man couldn't not have seen this while putting both pieces into the box, not to mention this cake has likely been sat their for the majority of lockdown as couldn't not be off.
Dave -
Rating:
Fantastic food. Staff are very helpful and professional.

Would recommend with no hesitation.
Laura -
Rating:
Very pleasant and polite owners and always make you feel comfortable and relaxed. I'm always in there with my girls or to have quick mocha enjoy their hospitality, as I know them quite well now and they always make myself and children feel welcome. Cakes are divine and delicious. I would recommend this place to anyone who likes to dine with excellent quality and people who own it, they're lovely people.
Mrs Raja -
Rating:
Went to La Perle today, just before 9PM, following an excellent service and food on previous visit. Ordered 1 BBQ beef burger and 1 peri peri chicken burger, and went to get cash from the machine.

On returning after a maximum of 15 minutes, we found that our food was waiting to be served. On receiving the food we found that the chips were cold and tasted like they had been reheated. The meat in the burgers was somewhat lukewarm, but stone cold in the middle from the first bite. Buns of both burgers were falling apart in our hands as we ate. There was no square of cheese in the burgers, but cream cheese had been pasted on the buns.

We ate what we could and went to pay. We asked to speak to the chef/owner, the very person who had served us. We registered our issues to him, seeking nothing but an apology. However, all he said was "if you want you can come back, otherwise don't", with a shrug of his shoulders.

The lady serving, however, was very polite and did apologise.

If the chef had apologised we would have considered going back, but we felt as though we were at fault for complaining. If we went back maybe we'd be served inedible food and be given the same reaction.
Karen Roberts -
Rating:
Me & my 23-year-old daughter dined at La Perle tonight & the food & hospitality was amazing! The ambience of the place was like being in a French Moroccan restaurant. Totally loved the experience.
Eaten at La Perle? Write a review!
Anonymous reviews, reviews using nicknames or reviews sent from invalid email addresses will not be published.