Walkley Cottage Inn Restaurant
46 Bole Hill Road
Walkley
Sheffield
S6 5DD
Telephone: 0114 2344968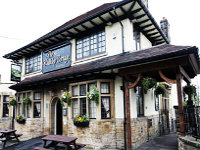 Reviews of Walkley Cottage Inn Restaurant
Type(s) of Food Served
Pub Restaurant
Description
The Walkley Cottage Inn is a small family pub that gives that little bit extra.
Food Service Times
Monday - Thursday 12PM-3PM
Friday & Saturday 12PM - 7PM
Sunday 12PM - 4PM
Special Offers
There are no special offers that we are aware of.
Amenities & Facilities
Credit/debit cards accepted?



Average starter price?
£2.00
Average main course price?
£5.50
Average dessert price?
£2.25
Special diets catered for?
Child facilities?
Baby changing
Jeanette Coburn -
Rating:
Today was the first time I have been to Walkey Cottage Inn for a meal. Myself and a friend had a lovely three-course meal and nice wine. The staff were very friendly, the service excellent. Nice atmosphere, very clean surroundings. We definitely will go again.
Harry & Auds -
Rating:
Visited this pub on Friday. Had fish and chips. The fish was large, with the most delicious in-house made batter, plus home-made chips. The meal was great. Served within good time of ordering and came nice and hot.

The service was friendly efficient and made me feel very welcome.

Great value for money, too.

Had a couple of drinks that are cheaper than most places I have visited.

Friendly staff.

The pub is spotless inside and out.

Am already planning my next trip.
Helen Pigott -
Rating:
Highly recommended. Great food, tasty and well presented, and a good range of well-kept real ales.
Claire Smith -
Rating:
Every time we visit - warm welcome, great food, and lovely staff!
Andrea Cookson -
Rating:
Just been to the Walkley Cottage and it was champion, traditional Sunday dinner with all the trimmings, fantastic. Really lovely staff, felt at home, it's my new Sunday treat.
Kim Sears -
Rating:
This afternoon I visited the Walkley Cottage Inn on Bole Hill Road. I went to the bar and the man behind it saw and ignored me. I waved and smiled until he came over, and asked for water. He replied by saying 'What?' this happened 3 times until he finally went and came back demanding a pound. I told him it was illegal to charge for tap water and he reluctantly gave it to me.

I went outside and realised it was out of order, so went back and complained to another member of staff. The man came over so I explained how disappointed I was with his antisocial behaviour and managed to get an apology.

I went out again and he followed me and said I wasn't welcome at the pub and tried to take my drink. It turned out he was the boss.

I went in again and complained to someone else, not willing to be bullied, but I received no help. I mentioned she shouldn't put up with this from her boss but she just looked scared. I left.

I suggest if you want to support good, local establishments, you do not go to this pub.
Kim Walker -
Rating:
A truly English Sunday lunch. All fresh ingredients, very hot, very hospitable staff. Would highly recommend and go again.
Rix Hobbs -
Rating:
Very nice pub with a light and open interior and plenty of well-spaced seating.

Food is very good and the service is friendly and polite. Good range of beers, too, including some of my favourite Sheffield pales.

All round great pub.
Jenni -
Rating:
Just been to Walkley Cottage for lunch. 6 x adults. First time we've been and everything was lovely. Superb food, superb service, superb prices.

We will certainly be returning, it will probably be our regular Wednesday lunch haunt.

Credit to all staff, a very welcoming pub.
Nick -
Always been great food and drink at this suburban pub, it has recently been refurbished and remains serving splendid food at very good prices. Been in twice recently, lovely fish and chips and a very tasty burger. Good chips are rare and always indicate a good cook.

Wide range on menu and fast friendly service. Simply a very good pub.
Eaten at Walkley Cottage Inn? Write a review!
Anonymous reviews, reviews using nicknames or reviews sent from invalid email addresses will not be published.