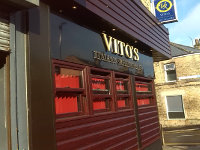 Reviews of Vito's Restaurant
Type(s) of Food Served
Italian
Description
Vito's restaurant is located at 284 South Road in Walkley.
Food Service Times
Tuesday - Sunday: 6:30PM - 11:30PM
Special Offers
There are no special offers that we are aware of.
Amenities & Facilities
Credit/debit cards accepted?




Average main course price?
Special diets catered for?
Robert -
Rating:
On arrival waiters were great and showed us to our table, we ordered drinks and food.

Starter first was very good. Then two of the main meals out of six were not as described in the menu, so this was mentioned to a waiter, who said nothing can be done. Then the original waiter I must add was great said "no problem, I'll sort it". Meal came and was good.

We finished the meal and got the bill. I took the bill to the bar and spoke to a man who I now know to be the owner, I said that I wasn't very happy regards two people having to dine separately. This was met by attitude (not an apology). He snapped "what was wrong?". I explained and he stated "how do you expect me to cook chicken breast?". I told him stuffed chicken breast ain't flat. He replied "what you think I'm f****** stupid?" and demanded I just pay the bill. I decided that I would give some of the cash and didn't pay for the two dinners.

To be fair the place is nice (top dollar) but food is good apart from stuffed chicken. The owner is a complete mess. A simple apology would have been enough.

Rating:

Staff: 10
Food: 8
Owner: -10
Katie Gascoyne -
Rating:
I've eaten at Vito's twice now and find it to be a mixed bag.

The food is lovely, no complaints there. Authentic Italian dishes and reasonable portions. However, you do pay accordingly. It's not mega expensive but it's certainly not cheap, considering that it's in Walkley, not the city centre.

The waiters have been polite but not exactly friendly nor enthusiastic. And it wouldn't hurt Vito to actually crack a smile. Plus serving food straight after a cigarette break, stinking of smoke, is not pleasant for diners.

Service could be better. Last time we ate there we were left sat waiting for 20 minutes because the waiter apparently didn't hear us when we asked for the bill. Fair enough, these things happen, but why not come back to our table when we were obviously sat there with no food nor drinks for so long?
John -
Rating:
Yesterday me and my friends had one of our worst experiences in a restaurant ever.

Everything was fine until the bill has arrived. We had noticed we were charged for some food we hadn't ordered. When we asked for an explanation we were told that we had actually asked for that food. It was obvious that there was a simple confusion. The waiter (the short guy) thought we had ordered some food (the wild boar) while my friends had actually ordered the ravioli with wild boar. This waiter misunderstood or misremembered our actual order and brought the expensive plate that contained wild boar but with a different type of pasta. This plate was much more expensive (instead of 9, 21 pounds). When this plate arrived we couldn't tell the difference, as neither of us has ever eaten it before and neither of us was Italian, unfortunately.

The waiter that served us refused to come to the table and take responsibility. They initially sent another waiter to explain to us that it us our fault, we should have realised that another food was delivered and that we should pay for this one anyway. But this waiter in fairness said it wasn't his fault and this was what he had been sent to say to us.

Then we asked to see the chef. He came to our table and he ruthlessly insulted us personally. Although he seemed to recognise the confusion he was furious that we didn't distinguish between the plates. He said: "If you don't know what you eat, why do you even bother to come here? How can a person not distinguish between this and that pasta? You should never come here again!". He kept interrupting my friend, shouting at her and he was not at all interested in her complaint.

We are really sorry, dear Chef, that we are too stupid to know the difference between different Italian foods from the south! We should have known better and carefully consult all Italian foods before eating there. We sincerely didn't know that was a precondition.

But it is also our right to have complained. And maybe you should invest some money in staff training. Maybe that waiter is in your family, but he still needs some training. He didn't know how to explain the difference between the foods and he was very confused. Also, waiters should take the responsibility for their mistakes and face us instead of hiding in the back without daring to confront us.

This is how I think the confusion occurred:

The waiter (that initially took our order) was explaining, when he was asked by my friend what the ravioli was and if the meat came inside them, how distinguished Italian food was and how different it was from British food. By being distracted, he simply forgot or didn't listen to what we actually ordered (of course they never write down what you order).

It was a simple mistake, I agree. But the only thing that needed to happen was for this waiter to come, confront us and apologize. We would have kindly agreed to pay. Instead he sent his family, the big boss, to insult us and defend him as if he was a little child.

The chef, on the other hand, was totally unprofessional and very base as a human being. Not only he insulted us, but he confused us with other people that apparently didn't want to pay for bottles of wine and desserts before!

We are happy to know what kind of degrading people run that restaurant. I'm sorry for the nice women waitresses that are really professional and nice. I also regret I brought them so many clients and that I have recommended it to so many friends as a good place with nice service and humane people. I have to correct and retract that statement, with deep regret.
Tamlin McPherson -
Rating:
Went tonight and was taken for a surprise meal by my girlfriend. The restaurant has been recently re-designed and re-decorated to a very contemporary and elegant style, clean lines and exposed brickwork, a wonderful 21st century twist on traditional Italian style.

The meals we had were freshly prepared and wonderfully tasty. My girlfriend had the mussels to start, which were supremely fresh, I tried them and wished I'd ordered them. We both had a free range chicken and free range bacon dish, which Vito himself prepared, which was not normally on the menu, which came with a fantastically rich tomato and mushroom sauce and crisp, roast vegetables, followed by his family recipe zabaglione, which surpasses the equivalents I've had in many other restaurants.

This restaurant is a gem hidden in Walkley. The staff are attentive but not overbearing, and Paolo - our waiter - was marvellous throughout our meal. Definitely the best traditional Italian restaurant in South Yorkshire.
Alessio -
Rating:
I am Italian, I can say never had a good meal as good as Vito's, just fantastico! Vito go back to Italy you do well.

Grazie mille Vito and staff.
Jon Styring -
Rating:
I cannot recommend this restaurant highly enough. The food and service was outstanding, the meals where just right in portion size and the relaxed atmosphere and un-hurried service, complete with a waitress who was very friendly and attentive, only made the night even better.

The prices are irrelevant, as I would gladly pay a lot more for such good, fresh food and very nice wine. I truly wish that I had found Vito's a long time ago, as it has shot to the top of my favourite restaurant list. I will be going a lot more in the future.
Hattie Hedgecock -
Rating:
Really good food. Don't be put off by the massive menu, Vito can definitely pull it off.

Really authentic food, great atmosphere, lovely staff.

Wholeheartedly recommend Vito's for any occasion! 10/10!
Nichola Simpson -
Rating:
We are regulars at Vito's and we always find that the service is outstanding, the staff can't do enough to help you. There are no words in the English language that can describe the quality and amazing flavours of the food.

In the 8 years we have been visiting Vito's, we have always found every mouthful to be the most enjoyable. Vito produces the sort of food where you delay eating the last mouthful because you don't want it to end...

A must try for anyone enjoying fine Italian cuisine.
Alex -
Rating:
We paid a visit to Vito's last month. The restaurant looks very much like a back street restaurant in Italy - warm and welcoming.

We start with bruschetta al tartufo and pecorino cheese. For main we decide to go for the special board. Wild boar was fantastic. Wine - we had a bottle of tignanello 1998 at £85 - very good value if you know your wine. If not there is plenty more to choose from at budget price.

Fantastic we will go back very soon.

Thanks for looking after us.
Cristina -
Rating:
Excellent! Fresh and traditional food, outstanding service, great atmosphere. Definitely an experience to try!
Stuart Cuthbertson -
Rating:
I took my girlfriend here for a special night out one Tuesday, based mainly on other reviews of the place from this website. I wasn't disappointed! The head waiter was welcoming, friendly yet professional, and knew when to appear and when to stay out the way. Service was fast - though the place was very empty - and the food superb.

We started with some olives whilst we chose from the extensive menu - even from just these we could tell the quality of food would be great, as the olives were rich and fleshy, and we'd been given a massive bowl of them!

I had calamari to start, which was just thinly battered so the taste of the (fresh) squid came through. My girlfriend had an omelette with red onion and asparagus, also delicious. For mains, I had "Tagliata con rucola", which I highly recommend, and she had a good venison steak in an interesting prune sauce (from the specials board). These generously-sized dishes came with potatoes and roasted vegetables, and we only just got through everything!

After a bit of a pause we tackled some Italian ice-cream from the dessert menu - whilst not as creamy as real gelato, the flavours were brilliant, even just the vanilla. I finished with an Italian liqueur that I let the head waiter recommend to me - they have an impressive selection to choose from, as well as other spirits including a 1940 Scotch whisky at £80/25ml!

We'd washed the meal down with a £20 bottle of real Italian white wine - this was still at the cheaper end of the wine list, but it was a good dry white that wasn't being oversold.

All in all, a very pleasant evening in all respects. The bill came to around £85 for the two of us, plus a well-deserved tip, so this is not at all a budget venue. Nonetheless it was money well spent and I will be going back for another special occasion some day!
Diane Adams -
Rating:
We have been going to Vito's Italian Restaurant in Walkley for 20 years and would highly recommend it to anyone who loves fine dining and especially Italian food. The staff are very friendly, efficient and knowledgeable and are never pushy. The relaxed atmosphere is that of a traditional family-run Italian restaurant where the chef, Vito, takes pride in his work, and it shows!

Over the years we have seen many changes to the vast and varied menu on offer and unlike most long standing restaurants who stick with the same menu, Vito is always reinventing his. We can't wait to visit in a couple of weeks when his new menu is launched.

The food is always of very high standard and most importantly is AUTHENTIC Italian fayre. Every dish cooked to perfection, and the only place in Sheffield you'll get your steak exactly how you like it! Be sure to leave room for a dessert.

Vito knows his wine and has one of the finest wine lists you'll ever come across. From delicious and reasonably priced house wine, to something a bit more special at £320, you will not be disappointed. Our particular favourites are the Pinot Grigio Collio Marco Felluga at a reasonable £25.50 a bottle, and the Chianti Classico Peppoli Antinori at £24.50 a bottle.

Yes, there are lots of (cheaper) restaurants to choose from in Sheffield, but if you want top quality authentic Italian food and wine, there is only one place to head for and that's Vito's! You won't be disappointed.
Emma Jones -
I have eaten in Vito's throughout the last 10 years, during which the food and the welcome have always been excellent.

The menu is vast and varied and I haven't eaten a bad dish there yet.

I have an Italian friend who owns a restaurant in Sarzana, Northern Italy and Vito's is the only restaurant in Sheffield that I know of that produces real authentic Italian food like I have eaten in Italy.

The restaurant itself is much quieter than it used to be, which is a real shame, as the busier it gets the more it adds to the atmosphere. So if you do want to sample real Italian food then I recommend you try Vito's.
Stevie Kroy -
I decided to go to Vito's after reading so many rave reviews of it on this website, but have to say that I disagree with the reviews.

I must first say that there was nothing "wrong" with my experience here; the service was good and friendly, the price was OK and none of the food was bad. However, there was just something distinctly bland, in my opinion, about the whole experience.

The restaurant itself felt very much like a 70s throwback in terms of decor, and then the food was just very uninteresting, and not particularly well-cooked (and certainly, again, reminding me of Italian bistros of the 70s). There was just nothing at all worthy of comment or note, sadly.

Overall I'd give it a 5/10
Tamlin McPherson -
Another fantastic night. Vito opened his restaurant so my friend and I could celebrate a birthday. The service was superb, the food was outstanding and the wine is without compare in Sheffield.
Lynn Hughes -
This has to be one of the best evenings I've had. My sister in law had eaten at Vito's before moving to America. Between her and Vito a surprise birthday meal was arranged. Superb food, hospitality that was second to none - without a doubt a firm favourite for a special occasion or just a treat to escape mid week cooking! Booked for staff Christmas 'do' as I can be confident it'll be a winner with everyone. Thanks to everyone at Vito's - and of course my sister in law!
Mark Bishop -
Just been to the best Italian restaurant I have been to in the last year. Took 10 members of my staff for a leaving party. Every one of them was thrilled with the authentic quality of the food. The service was sensational. House wine was of an excellent standard and the quality of the meal was superb. Thanks to all the staff for the effort they put in. Vito, count us in for next year!
Karen Latimer -
This is the perfect restaurant for any Italian food lovers out there. My husband and I went recently and were really impressed by the menu selection and particularly the generous portions.

I had previously been to Zizzi and ordered the mozzarella, avocado and tomato salad, which had been really disappointing. Admittedly there was a generous portion of mozzarella but it must have included a just a quarter of a tomato and an almond sized piece of avocado... sliced into 4 (impressive culinary skills if I wasn't hungry!) - the one I had in Vito's was stunning in comparison. It must have included a whole avocado and several tomatoes and everything tasted fresh and perfect.

They also serve lots of Italian dishes that you can't find on any other Italian menu in town such as the soup with squid and chickpeas, which is just gorgeous.

My husband is a meat lover and always enjoys the choice of steaks. We must have been there 20 times and every meal is perfect and the service warm, friendly and efficient. We are very lucky to live nearby!
Robert Collier -
I am a retired Director of a Swiss based multi-national. I have eaten at all of the world's top restaurants, however Vito's took my breath away.

The un-assuming exterior hid a gastronomic delight. The staff were so friendly that I felt as if I was saying good-bye to good friend when I left! I started with the Antipasta, which was excellent & sufficient for me to share with my wife and son. I followed this with a sliced fillet steak (au rucola), a traditional Italian dish served with rocket salad and grated parmesan, with vegetables to complement (superb).

The wine list was exceptional (check the last page) and the wine was amongst the best I have ever sampled. The desserts were, according to my family, heavenly. And the bill was very reasonable. It was my son's graduation dinner (his choice) and absolutely amongst the best meals my family and I have ever had. Why is it not more famous? A truly hidden jewel.
Tamlin McPherson -
Once more we stepped in to the welcoming surroundings of Vito's to be greeted by Alfredo, the head waiter, who offered us a seat in the foyer while he took our drinks order at the bar and we sat relaxing while we considered our options for food.

As vegetarians we had a great selection to choose from. There is, as always, an exceptional variety of truly traditional vegetarian food, as well as a great variety of meat dishes for you carnivores out there.

For those of you who pay any attention, you may have noticed that my wife and I have reviewed several Italian restaurants, including La Scala in Millhouses, and Nonna's, both good, but simply don't match up to the brilliance of Vito's and his wine collection.

What does it for me is a combination of things. The food is always exceptional; the service from Alfredo et al is by far and away the best in Sheffield, not pushy, but attentive, and knowledgeable - so few places have staff that know about their food and wine!

But let me tell you about the wine - which rivals the Old Vicarage for quality, and betters it in Italian style by a long way! I get wine from a wine broker - I collect and taste vintage wines, and let me tell you, I don't know where he is getting his selections from, but his fine wine list is without compare in Sheffield, and quite possibly in the north of England. To add to this, Vito has assured me he is expanding his selection soon to include some truly glorious northern Italian dessert wines, which are hard to find and really worth seeking out to taste (try them with the home made tiramisu or zabaglione (zabaione), you'll know exactly what I mean!).

If you do nothing else this year, make time to go to Vito's, one of the last truly Italian restaurants in Sheffield.
Sarah Tomlinson -
My boyfriend and I ate at Vito's on our anniversary recently, and both really enjoyed it. A booking mix up (it had been recorded in the wrong day) was quickly and discreetly sorted out, with us receiving free drinks as recompense: despite being able to take our seats only a minute or so later once a table had been set!

The service was friendly and polite, and the restaurant had a nice, relaxed atmosphere. Our food was delicious, however I regretted having fondue for a starter then the gnocchi as I couldn't manage the entire meal!

The choice of specials and dishes on the regular menu was wide-ranging, even for a veggie like me. Very nice not to be limited to a veggie pizza/overly cheesy pasta dish.

The only downside was a lack of pubs nearby for us to have a post-meal drink!
Sam Jay -
OK, I know I am going to get slated for this review, as the entire population of Sheffield have nothing but good things to say about this restaurant.

We eat out at least three times a week, thus my expanding waistline! We have tried many different types of places to eat, so although I am no Raymond Blanc I am not a total novice.

Anyway I have been to Vito's four times over the last 2-3 years, mainly for other people's special occasions. I am not over fussy and will only complain if there is a genuine need to. However, I have yet to have a good meal at Vito's (yes start throwing the tomatoes).

I honestly don't know what all the fuss is about perhaps there is some kind of brainwashing once you get through the door and I am the only one immune to it. I just find the food very, very average and overpriced.

I also find it amusing as to how people act once they are in this place, like they are worshipping the owner and his restaurant, very bizarre and a little disturbing I have to say. So although I am totally on my own in this opinion of Vito's I felt as though I just had to say very average food, overpriced and nothing special at all (I am now on my way out of the country to avoid the mob I know is on its way).
Alfred Geci -
We went for a meal at Vito's on a Saturday night for the third time. As you would expect in many places on a busy night, the food was not expected to be at the highest standards, but at Vito's we couldn't see any difference in the quality of the food, or the service.

The reason I go to Vito's is because I feel like I am actually in Italy. With the dishes Vito provides, you would only find them in Italy, no offence but I don't think you would find any Anglo-Italian dishes, only AUTHENTIC Italian food is available at Vito's. This is Vito's priority to the customers.

Another thing is if you really like rare Italian wines to wash down the beautiful truffle dishes I recommend that you go and visit Vito's. Then why not finish the night off with his good selection of Italian cheeses and perhaps a grappa would go down nicely!
Carol & Ken Baker -
We have been going to Vito's for at least 10 years and it just goes on getting better.

The changes that Vito sometimes makes to the menu improve it even more because he regularly introduces more authentic Italian dishes.

Vito is committed to providing ingredients of the highest standard, is willing to pay for quality food and this shows in the cooking.

The last time we went we had fresh porcini mushrooms, which were wonderful. I had them cooked with tagliatelle in a light sauce; a friend had them as a starter cooked with garlic.

We have eaten at Vito's once a week for 10 years and feel that going elsewhere for Italian food is a waste of time. Vito and his staff are excellent hosts who always make you feel welcome. We have never had food there that is anything but excellent.
Steve Egginton -
Dear Vito,

Having now recovered from the ceremony and celebration of our wedding day, we would both like to express our sincere gratitude in writing, for your huge part in making our wedding day so very special.

The professionalism and superb hospitality that you all provided in the organising, planning and smooth running of our wedding luncheon was absolutely perfect.

The expertise and skills of such helpful and enthusiastic staff along with the genuine friendly hospitality that each of you provide is what makes Vito's so very special.

The very idea of a light Italian luncheon proved a success beyond all expectations for both ourselves as a newly married couple and our friends and families. Many later praised both the standard of food and service along with the general restaurant's warm friendly and cosy atmosphere.

Your helpful and enthusiastic approach was so very much appreciated and Vito's is a place that you should all feel proud to be part of. Nobody could have done it better.

A sincere massive thank you from both of us,

Julie and Steve
Peter Drobinski -
Last night my jaded view of Italian cuisine was turned on its head, as I enjoyed probably the best Italian meal I have ever had, stylishly presented and served with skill and good humour.

No stereotypical pizza place, this, but a dazzling array of fine, fresh and sumptuous fare. Plenty of choice for all tastes, and several vegetarian dishes on the menu. My partner started with the seafood platter, while I went for smoked swordfish on a bed of rocket (both excellent). Main courses were escallopes of fillet steak, and a beautifully succulent calf's liver in a parsley, garlic and marsala sauce. Many a good main course is let down by the accompanying vegetables, but here they were perfectly prepared and presented.

The dessert menu is full of photographed delights, suggesting that Vito concentrates most of his considerable efforts on starters and main courses, but seek an you shall find the home-made tiramisu (lovely!) and syllabubs prepared to order.

Vito's is known for its extensive reserve wine list, but we stuck to the ordinary one this time (!). The house white went well as an aperitif and to accompany our starters, light, dry and smooth. To go with the main course, a 2000 Malbech - soft, rounded and lightly oaked, and a fair price at around £22.

It was nice to see Vito himself come out to talk to the diners after he'd finished in the kitchen; together with the other staff, he succeeded in making us feel welcome, comfortable and valued. An excellent evening; we'll be back again soon!
Allessandro -
We have been to Vito's Italian Restaurant in July 2006 in Walkley. The food is excellent by me being Italian and fussy, finally I have found a restaurant that is really authentic Italian.

Also I found an excellent and prestige wine list which start from £17 to over £500 a bottle and I was very, very impressed to have found a lot of excellent wines from Italy. We settled for a super bottle of Ornellia for £220 and it was worth every penny. If you want to go for cheap wine, go for the house red or white for £11.90 a litre.

And also I found out that he is in partnership with his sister at another restaurant on Ecclesall Road called Maranello's Italian Restaurant and we have also been there and the menu and wine list is exactly the same so I recommend both these authentic Italian restaurants if you enjoy real Italian food.

I would like to congratulate Vito and Lucia for their hard work and passion for cooking. When it comes to food and wine Vito knows what he's talking about and I hope the other Italians follow in his step.
Lauren Taylor -
I first visited Vito's Italian Restaurant with my partner to celebrate Valentines day. To be honest, I had never even noticed it before although I drive past nearly every day! We decided to go as friends had recommended it to us!

The food was absolutely delicious. For my main I had lamb, which simply fell off the bone. It was served with a selection of vegetables and potatoes. My partner had Seabass, which he said was fantastic! Vito's is also very well-know for its gorgeous selection of wines from all over the world! We settled for a lovely bottle of Rioja, which went down fantastically with my lamb!

The whole visit was wonderful. The staff and atmosphere made it a very romantic evening and one that we both would not forget.

Since our first visit, we have been back three times and every time the food has been great! I would certainly recommend Vito's.
Sonny -
This is a small friendly Italian restaurant. My partner and I have eaten here quite a few times now and loved every meal. They do something to suite every palate: pasta, chicken, prawns you name it they do it.

We have never managed a pudding, as we are that full from the main meal. I would fully recommend this place to anyone who wants a nice quiet night out with friendly staff to wait on you.
Eaten at Vito's? Write a review!
Anonymous reviews, reviews using nicknames or reviews sent from invalid email addresses will not be published.