Rowsha Restaurant
288 South Road
Walkley
Sheffield
S6 3TE
Telephone: 0114 2331166
Email: rowsha@msn.com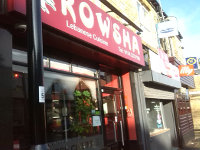 Reviews of Rowsha Restaurant
Type(s) of Food Served
Lebanese
Description
Few restaurants have attracted plaudits as enthusiastic as those applied to Rowsha since it opened in October 2005. Lebanese cuisine incorporates the abundant use of delicate spices and herbs and its absence of fiery spices make it a flavoursome, healthy option.

The kitchen run by head chef Sizar, knows its business and the classics such as stuffed vine leaves, houmus and lamb kousi are presented with some panache. Vegetarians are well catered for with a selection of 24 starters and main courses to choose from.

If the scented sweet savoury allure of Lebanese cuisine has passed you by, come visit Rowsha.
Food Service Times
6PM - 11PM every day.

Last seating: 10:30PM
Special Offers
Yes - 10% discount on takeaway orders.
Amenities & Facilities
Credit/debit cards accepted?



Average starter price?
£3.95
Average main course price?
£9.95
Average dessert price?
£3.50
Special diets catered for?
Child facilities?
High chairs
Chrissie Hinde -
Rating:
Lovely food, great atmosphere, friendly staff. Good value.
Sarah Stuart -
Rating:
Utterly amazing food. Always have a selection of small plates to share in the restaurant, which has a warm friendly feel. Staff second-to-none.

As for takeaway, yes you get a lot and it is hot! What I love about Lebanese is it's so tasty without having to have spice.

This is my favourite restaurant in Sheffield, hands down.
Margaret Bell -
Rating:
6 of us had a meal at Rowsha on bank holiday Monday.

We had vegetarians with us and were amazed by the choice of dishes for vegetarians and meat lovers alike.

The service was quick and extremely friendly and the food was varied and delicious. We were also given extra treats as we were celebrating our son's engagement. This was a lovely touch.

We found the atmosphere extremely friendly and helpful.
Kanchan Chopra -
Rating:
The food, wine and coffee was absolutely delicious. The service was good.

It was cold though and we moved after our starters to a warmer spot - just near the heater.

Will definitely go back as soon as possible - hopefully when it isn't as cold.
Richard Stone -
Rating:
Went on 10/12/2011 in party of 15, pre-booked for 7:30PM.

The first few starters arrived at around 9PM, mains around 9:30PM - 9:45PM. Had to send some food back, as it was cold and it appeared to be being delivered from the kebab shop down the road. Later sighting of the man behind the counter in said shop confirmed this!

We finally left at around 10:45PM, having to wait again for deserts. The restaurant was freezing cold only possessing an oil-fired radiator on wheels, which wasn't switched on.

All in all a dreadfully overpriced rip-off. Have been before and it was OK, so avoid party bookings at all costs, they can't handle it.
Jim Barter -
Rating:
Excellent food, excellent service.

If the background music CD had been a tad quieter and hadn't kept skipping, I'd have given them 5 out of 5.
Sarah -
I had a meal here with my boyfriend about a month ago. We were absolutely happy with the service and with our food. The woman who served us was also very friendly. I would say this is the best Lebanese restaurant I've been to in Sheffield.

However, the second time I had food from there, I had it delivered. I have to say the delivery guy was very rude and very disrespectful. Ever since then, I've never ordered food from them. I prefer to go to the restaurant as the service was much better over there.
Wayne Arnold -
After many months of passing by and intending to visit. I finally visited the Rowsha restaurant for the first time on my birthday. Both the food and the service were faultless. We both had starters and mains and shared a desert. I had the mixed grill and the meat was very fresh and well cooked it was well-presented with some fresh salad, rice and a spicy tomato sauce. My girlfriend had a salmon dish, which came with a tahini sauce (I think) topped with pine nuts which was very also very fresh, well-cooked and tasty. Both our starters were very good too.

The service was very friendly and attentive. I would recommend this restaurant to anyone and I will definitely be returning, hopefully soon!
Dawn Bates -
The quality of the ingredients, level of service and of course Mohammed's knowledge of how to cook and present the food of Lebanon, leaves you wanting to try all the dishes on the menu! Being Lebanese you would expect a certain level of knowledge on how to cook the food, but Mohammed knows just how to make your mouth water.

The service is of equal standard, and the decor is very stylish. Rowsha is my favourite restaurant in Sheffield and the best Lebanese restaurant in the North of England.
Simon -
I visited Rowsha in Walkley this week and was very impressed.

The food is outstanding. I had a lamb dish, which was delicious, and my girlfriend, a vegetarian, raved about her stuffed pepper.

The service is good and the staff are very friendly. It is a thoroughly enjoyable place to visit... Highly recommended.
Eaten at Rowsha? Write a review!
Anonymous reviews, reviews using nicknames or reviews sent from invalid email addresses will not be published.