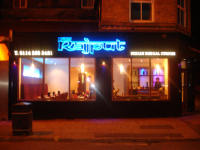 Reviews of Rajput Restaurant
Type(s) of Food Served
Indian
Description
After running a successful takeaway for many years we decided to launch our restaurant. 2008 saw the launch of New Rajput - a 46-seater modern restaurant. The restaurant is based next door to the take way. The decor is contemporary and welcoming, the colours have been specially selected to add to a nice smoothing atmosphere. From the moment you walk into Rajput you shall not be disappointed.
Food Service Times
Sunday - Thursday: 5:30PM - 12AM
Friday and Saturday: 5:30PM - 1AM
Special Offers
There are no special offers that we are aware of.
Amenities & Facilities
Credit/debit cards accepted?
Average main course price?
Special diets catered for?
David Newman -
Rating:
What a real shame. Food was good, however staff was not. Why? We was very polite & well behaved & spent just under £100. I/or we was made to feel very unwelcome from the moment we walked in to leaving. I will never use this place ever again, either for a sit down meal or takeaway. Money spends anywhere in the world. Sorry Rajput.
Jan Bennett -
Rating:
My friend and I went to the restaurant on Friday early evening as we wanted to "sit and chill" and chat.

The food was fantastic, as it has been previously, but no sooner had we finished a course then a waiter appeared and whisked our plates away, to be replaced by our next course. I had nearly finished my main course when a waiter appeared again and asked if we were finished, of which I replied "No".

Again no sooner had I put my knife and fork down then the waiter appeared and whisked the plates away. We were asked if we wanted dessert or coffee, which we didn't. Both my friend and I felt uncomfortable, as waiters were staring at us (for our beauty I'm sure!), as they clearly wanted us to leave so they could use the table again.

We were completely rushed throughout our meal, it wasn't the chilled meal we wanted. Yes it was a Friday evening but we felt we had to rush our meal and leave, leaving us both feeling quite disappointed, and unwelcome.

We won't be returning for a "chilled" evening in the near future.
Carla -
Rating:
Brilliant food, lovely restaurant and the staff work incredibly hard and have always been polite and helpful. Possibly one of the best Indian restaurants I've eaten at. I'd recommend trying their dhansak or any of the kahari dishes. The starters are also a must.
Denise Ford -
Rating:
We ate at this restaurant early Friday evening. The food was absolutely spot on, but unfortunately the same couldn't be said for the service. The welcome was tepid to say the least. I'm not sure what the staff thought they were employed to do, but it certainly wasn't to make their customers feel welcome.

The food was served promptly, but once we had finished we were glared at I can only think because they wanted us to leave. One of the waiters then began to tap his pen on his hand behind one of our party as he stood and stared. I have never been to a restaurant where the staff appear to hate their customers!

This is the first and last time we will be eating here. Such a shame as the food was the best I've tasted in a while.
Eaten at Rajput? Write a review!
Anonymous reviews, reviews using nicknames or reviews sent from invalid email addresses will not be published.