Asia Palace Restaurant
114 School Road
Wales
Sheffield
S26 5QJ
Telephone: 01909 779886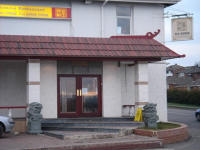 Reviews of Asia Palace Restaurant
Type(s) of Food Served
Chinese
Description
Asia Palace is situated on School Road, Wales, which was the old Waleswood Hotel. A radical refurbishment took place both inside and outside of Asia Palace, including the creation of a grand entrance at the front of the building, complete with Chinese stone lions.

Inside, the restaurant comprises of three separate air-conditioned rooms, licensed for 120 seated diners. The restaurant is stylish and modern, with contemporary high-back chairs and atmospheric lighting. There is also a cosy bar area with comfortable cream leather sofas for you to relax and peruse the menu.

Asia Palace was previously called Ka China.
Food Service Times
5PM - 11PM
Special Offers
There are no special offers that we are aware of.
Amenities & Facilities
Credit/debit cards accepted?



Average main course price?
Special diets catered for?
Penny -
Rating:
Dry food, egg fried rice not fried was boiled.

Very poor and disappointing!
J Waring -
Rating:
Table booked for 9 to celebrate our daughter's birthday. We ordered drinks, I ordered Malibu & pineapple. My first sip didn't taste right. Thought it was the ice cubes but discovered a lump of mould floating in my drink, which must have come from some mouldy pineapple juice that had been stored for quite some time.

Food not brilliant but after having a thick lump of mould in my drink really makes you think what else gets used past its use by date.

Won't be going back.
Jas Oberoi -
Rating:
Very good food. We ordered their sizzler dishes & sharing platter starters. Highly recommended.
Martin Chambers -
Rating:
Had a family meal for my wife's birthday and I can honestly say it's the best Chinese food we have eaten in a long time. Lovely atmosphere, very clean 5-star rated. The staff were wonderful, nothing was too much trouble. You must try the salt and pepper ribs, they are amazing. We will definitely be back.
Tina Morton -
Rating:
Has this restaurant changed its chefs? Had a takeaway tonight and really didn't enjoy it. We have ordered from this restaurant for years and the food has always been so nice, but not tonight. We have tried different Chinese takeaways but always go back to this one, as it is always so nice.

I have noticed that since it has changed its name it has gone down hill. They charge £2 delivery but we always tip driver, as we feel awful if we didn't, and they can't even put the free prawn crackers in any more.

Don't think we will be ordering again from here in a rush. Gutted, as this was one of the best Chineses I'd ever had.
Eaten at Asia Palace? Write a review!
Anonymous reviews, reviews using nicknames or reviews sent from invalid email addresses will not be published.