Shepley Spitfire Restaurant
Mickley Lane
Totley
Sheffield
S17 4HE
Telephone: 0114 2360298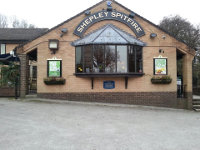 Reviews of Shepley Spitfire Restaurant
Type(s) of Food Served
Pub Restaurant
Description
The Shepley Spitfire is located on Mickley Lane in Totley, and is very much at the heart of the local community. The Pub was newly built in 1979 and named after Douglas Shepley who was killed in 1940 when his Spitfire was shot down over the Isle of Wight. Following a recent refurbishment the Shepley Spitfire now offers something for everyone; great value traditional pub food, cask conditioned ales including a local micro brewed beer, Sky Sports & ESPN, pool, darts and a rear patio area.
Food Service Times
11AM - 9PM

(The bar is open longer.)
Special Offers
Yes - 2 meals for £8.95 Monday - Saturday.
Amenities & Facilities
Credit/debit cards accepted?
Average main course price?
Special diets catered for?
Jan Merton -
Rating:
It's so nice to see the Shepley Spitfire lively again. Kirsty, the new manager, has really brought new life to the place after it became, shall I say, less than pleasant to drink & eat there. Her partner, Jamie, manages the kitchen well, and the meals are excellent now, with a vastly reduced waiting time.

Yes, as with most places where new managers take over, they had a few teething problems with inefficient staff when they first took over, but it really is worth a visit now. They even have live bands on & discos.

Great for the kids, too, with special events like "Breakfast with Santa" and fundraising fun days.

This couple really know how to run a successful pub and have a great staff team now. I would certainly recommend it and will continue to enjoy my meals there.

Today's wait for a Sunday lunch was just 30 minutes, which, considering the people in there, was not bad at all. Well worth the wait because it was scrumptious. Thank you Team Shepley.
Carol Dean -
Rating:
Went Friday the 22nd July 2016 with a group of seniors, pre-booked. Was waiting over a hour for the first course, and then half an hour for the sweet. If I had not been with the group I would have left. Would not recommend it and would not go again.
Eaten at Shepley Spitfire? Write a review!
Anonymous reviews, reviews using nicknames or reviews sent from invalid email addresses will not be published.