Cross Scythes Restaurant
Baslow Road
Totley
Sheffield
S17 4AE
Telephone: 0114 2360204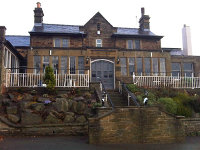 Reviews of Cross Scythes Restaurant
Type(s) of Food Served
Modern British / Pub Restaurant
Description
Opened out by a series of refurbishments but retaining the leaded windows and many distinct drinking areas. Lots of wood panelling and large wooden tables.
Food Service Times
Sunday - Thursday: 12PM - 9PM
Friday & Saturday: 12PM - 10PM
Special Offers
There are no special offers that we are aware of.
Amenities & Facilities
Credit/debit cards accepted?
Average main course price?
Special diets catered for?
Helen Malton -
Rating:
There is a big sign outside saying "No.1 Gastro Pub Sheffield". Well the person who wrote that needs to get out more. They could even go around the corner to the Cricket Inn.

What dire food. We had the catch sharing plate, which was described as good for four but ample for two.

One half-slice brown bread, four undercooked frozen prawns, big pile overdone old whitebait -rank, eight mussels, one small soft shell crab, fritters we assumed were polenta, and 1 x 2cm-squared bit of cauliflower.

Now assume there are four of you. You are obviously going to fight over the piece of cauliflower. Also you will fight after tasting them over who will have to eat the whitebait.

There were only two of us. We went home hungry but laughing about the single half-slice of bread on the sharing plate. £22.

Do not go here it is awful.
Trish Ellis -
Rating:
Beautiful day sat outside your pub today. Lovely young woman with excellent service skills.

Wouldn't come again for food, as we all had the club chicken and bacon sandwich. Not good I'm afraid, hardly any chicken or bacon on the club sandwich, and what bit there was was cold. Lots of bread, which wasn't bad, but the chips were old and not cooked fresh.

Would sit outside and have a drink but the food we had was not up to scratch, although I have to say we were all very two-faced and said it was alright. We don't like complaining face-to-face.
John Dunkley -
Rating:
The evening meal was a pleasant surprise, with excellent service and very tasty cooking.

This is not just a chain pub-restaurant; it is a significant notch or two up from that in both quality and price, which still represents decent value.
Eaten at Cross Scythes? Write a review!
Anonymous reviews, reviews using nicknames or reviews sent from invalid email addresses will not be published.