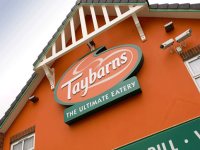 Reviews of Taybarns Restaurant
Type(s) of Food Served
American / Chinese / English / Indian / Italian
Description
All you can eat buffet style restaurant serving a wide variety of foods.
Food Service Times
11:30AM - 9PM
Special Offers
There are no special offers that we are aware of.
Amenities & Facilities
Credit/debit cards accepted?
Average main course price?
Special diets catered for?
Paul Gorman -
Rating:
Taybarns no longer operates here. The restaurant is now a Brewers fare.

Having just been here I can honestly say that we were served by a very respectable young woman. Obviously they have reduced tables so as to observe Covid-19 regulations. The meals were very good and the prices are very good for the various typical pub meal menu. We were able to sterilise our hands as often as we wished and the waitress did not touch our cutlery or plates etc. when delivering to the table.

We will be back again soon.
John Colclough -
Rating:
Called here 3 or 4 years ago just because the restaurant we booked into had overbooked. Have been several times since. Good value for money, especially when my lads eat as much meat as they do. Always clean, void atmosphere and the staff are quite nice, although they can be a bit remote, but they do have a job to do don't they. Would recommend this place highly.
Karen Fry -
Rating:
I think it's good value for money. It's clean, and the staff are very polite.
Julie Cartledge -
Rating:
This was my first experience here on a birthday treat on 13th February for my 10-year-old. Most of my family were sitting eating their meals when my 10-year-old collapsed on the floor. The staff were amazing, especially the manager (Jo I think her name was). We are definitely planning a return trip, as my other kids couldn't fault the food nor price.
Alan Alster -
Rating:
Great value for money, kids love it, extensive menu.
Stuart Laidlaw -
Rating:
Now been four times and have sampled most of the food on offer.

Good value for the price.

Clean and airy seating area.

Staff polite and helpful.

Always worth a visit.
David Dale -
Rating:
Since opening I've been a number occasions, each time with friends or family and there's never been any problems.

Food and variety is fabulous and unlimited drinks is a bonus, but in my opinion the downside is not being able to switch from hot to cold without extra cost.
Dennis Stansall -
Rating:
We came for a meal for my birthday. I brought my wife and granddaughter, who is only 2-and-a-half years old.

It cost us £3.99 for her and all she would eat was a bit of soup and a bit of ice cream. I don't think that was worth £3.99 do you? We told them that she would not eat anything but he said would still have to pay £3.99.

I think it was shocking so we will not be coming again.
Laura -
Rating:
It was delightful food and the service was outstanding. I highly recommend this restaurant to everyone.
Eaten at Taybarns? Write a review!
Anonymous reviews, reviews using nicknames or reviews sent from invalid email addresses will not be published.