Uncle Sam's Restaurant
298 Ecclesall Road
Sharrow
Sheffield
S11 8PE
Telephone: 0114 2668588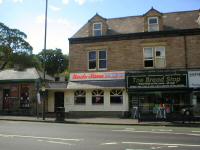 Reviews of Uncle Sam's Restaurant
Type(s) of Food Served
American / Mexican
Description
The restaurant has a traditional American feel and ambience. The restaurant is divided into two separate areas; the restaurant and the bar. Everyone is welcomed into the restaurant by the restaurant's very friendly staff.
Food Service Times
Sunday - Thursday 12PM - 11:30PM

Friday and Saturday 12PM - 12AM
Special Offers
Yes - a lunch time menu is available Monday to Friday (excluding Bank Holidays). Discounts are available to students.
Amenities & Facilities
Credit/debit cards accepted?



Average starter price?
£2.50
Average main course price?
£6.00
Average dessert price?
£2.75
Special diets catered for?
Philip Walker -
Rating:
We go to Uncle Sam's as a family about 6 times a year and the food is excellent value for money. The owner and her daughter, who we have got to know through visiting, have a good setup and you don't survive for 30 or so years unless you're doing something right.
Paul Blackwell -
Rating:
I was very disappointed with the quality of the burger. It was grey and rubbery, not like I remember Uncle Sam's. I had to apologise to my wife for taking her there. £32 for two burgers and two drinks, I felt like I had been mugged. Will not be going back.
John -
Rating:
I visited from Ireland every year for 15 years and this is always my favourite food stop.
Peter Todd -
Rating:
I brought my two girls to the restaurant on Tuesday 9th January at about 5:30pm. We ordered our food, which came in a reasonable time.

The food was very average, but not my complaint.

My complaint was the horrendous service. There were only three tables on and the waitresses sat at the table next to the service hatch with customers they obviously knew, as they were laughing and joking with them and they were given excellent service, whilst the rest of the customers suffered.

We sat with empty plates for fifteen minutes before I eventually got up, went to them and asked them to clear our plates, and could my girls have ice cream, as I needed to get them home.

When we eventually left I noticed from the corner of my eye the sign advertising kids eat free when an adult eats. That's another story.

Sort it out, not good enough.
Jeanette Hague -
Rating:
We have just come home from a very unpleasant visit to this restaurant. We live in Sheffield and have been meaning to go for a while, we are a family of four (with 2 young children), we are not overly fussy people and I have never felt compelled to write a review before but this place is as bad as it gets on all counts.

Staff - need a reality check they are there to provide a friendly "service" not prance around like we are an inconvenience. I can honestly say they were in the main rude, arrogant and ignorant.

Toilets - Not great

Food - appalling my burger was underdone, sloppy and cold. My husband had ribs, which were mainly fat. The kids had chicken nuggets, which were OK.

Our side order was forgotten and when we enquired it was dumped on the table a few minutes later with the attitude again.

We were not greeted as we came in, we were not looked after while we were there and not thanked as we left.

I can only imagine that this place is trading on location and a bygone reputation - bottom line my advice is don't go.
Norman Todd -
Rating:
My wife and I have been visiting Uncle Sam's for 32 years. It is a lively, vibrant place to eat. The kids, now grown up, love the place. Although we live a long way from Sheffield we make a point of visiting at least 5 or 6 times a year. It is the only place on the planet I would eat burger and chips, simply because the quality of the food is superb.

To be fair we have had the odd grumble - about 3 in total, which isn't bad going in all the time we have been going. Daughter and son when asked where they wanted to go to eat as part of their graduation celebrations, opted for Uncle Sam's. Long journey but worth it. There are not many places that can boast such a long tradition.

They have only recently just tweaked the menu. A restaurant for everyone whoever they are or wherever they come from.
Wendy Hocking -
Rating:
Our family have been ardent Uncle Sam's visitors for 15 years. We visited as a party of 12 on Sunday 16th January. The staff were helpful, and the restaurant was busy. However, the standard of the food was disappointing. Our party ordered a range of food, burgers, chilli, steak, burritos. Every one of our party agreed that the food was disappointing. Chips were piled high on plates, far too much for anyone. The food was not as hot as we would have liked, obviously stockpiled to allow us to be all served in one swoop.

The menu hasn't changed over the years. Perhaps it is time to look at what competitors are offering and adapting accordingly.

A very disappointing visit. We will look at comparing Uncle Sam's with its competitors in future and try elsewhere.
Eaten at Uncle Sam's? Write a review!
Anonymous reviews, reviews using nicknames or reviews sent from invalid email addresses will not be published.