Rossi's Restaurant
3 Sharrow Lane
Sharrow
Sheffield
S11 8AE
Telephone: 0114 2588164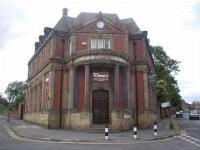 Reviews of Rossi's Restaurant
Type(s) of Food Served
Italian
Description
Your host, Vito, welcomes you to Rossi's fully licensed Italian restaurant, open 7 days a week on Sharrow Lane, Sheffield.

Dine in a chic and stylish Italian restaurant serving a wide range of authentic Italian wines & dishes brought to you from various regions of Italy. Boasting exciting menus, elegant surroundings & professional service. Rossi's is a popular destination for locals, business communities & celebrities alike.

Set in an old bank with marble pillars and walls, Rossi's offers a touch of renaissance and class.
Food Service Times
6PM - 11:30PM. Lunch can be booked for parties of 10 people or more.

Last seating is 11:15PM
Special Offers
Yes - weekly specials board and daily fish specials.
Amenities & Facilities
Credit/debit cards accepted?




Average starter price?
£6.00
Average main course price?
£12.00
Average dessert price?
£3.75
Special diets catered for?
Child facilities?
High chairs
Katie Gascoyne -
Rating:
We phoned up at about 6PM on a Saturday evening and managed to get a table for 8:30PM.

Upon arrival we were greeted by the smartly-dressed doorman and shown to our table by a waiter. The restaurant is located in an old bank, which accounts for the high ceilings and marble. I'd guess that the Italian frescos on the ceiling are a more recent addition. All very tasteful. But who on earth had the bright idea to add neon lighting? (Pardon the pun!)

We ordered a half litre of house red wine for my boyfriend, and he still insists it's the best he's had. I was driving and so only had Diet Coke.

Although the restaurant was busy, our starters arrived promptly. My ribs were lovely but the sauce was just average. My boyfriend's calamari, although fresh-tasting, was just average as well. One minor complaint at this point was that his tartar sauce never arrived.

Our main courses also arrived fairly soon after our starters had been cleared away. I had lasagne al forno and found it delicious. My boyfriend's chicken ripieno was lovely, he said.

So far so good. We were both in the mood for something sweet and so when the waiter finally asked us if we wanted dessert, we asked to see the menu.

We opted for a chocolate dessert to share. It's a pity neither of us can remember the name. Not a big shock though, considering that it never arrived after 30 minutes of waiting!

In the end we gave up and went to the bar to pay the bill. The dessert had to be removed, so they had known at some stage in the evening that we had ordered it.

Poor service at the end spoiled what had been a nice meal and great wine. Based on this we are not in a hurry to go back.
Izzy Bartho -
Rating:
I went to Rossi's Italian restaurant last Sunday 16th October.

We were 5, when we walked we were taken to the bar to have a drink and after that we were walked to our table. It was lovely and warm it made me feel like I was in Rome and not in Sheffield.

The waitress, Maria, and the waiter, Alex, were nice and welcoming, which made us feel as if we were at home.

We had starters and main course, which was out of this world. The best in Sheffield.

I had Saliccia Italiano which was mega spicy but very nice.

Then we had Spezzantino do filetto for main course, which was superb and out of this world. I finished of with a home made double chocolate cheesecake, which was better than sex. At the end we were offered a lemon liqueur on the house.
Molly -
Rating:
If you want poor quality, over-priced food served by people who don't show any interest in what they look like or care about their customers, be given a broken, dirty, plastic menu, seated at a very small table with with paper napkins, no heating and nowhere to park your car then this is the place for you.
Katia Davis and Kelli Robinson -
We visited Rossi's on a Sunday evening, and possibly because of this we had no problem booking a table. The food was excellent and well presented. The choice of wine was reasonable although the wine menu tended more to the dry than the sweet by way of white wines. For the quality of the wine, the wine menu was reasonably priced.

The staff were polite and attentive yet unobtrusive, just the way it should be in a quality restaurant. The food menu was extensive with a wide variety of choice for all courses.

Service was prompt, yet you did not feel as if you were being watched in order to finish you meal so plates could be cleared.

At the time we visited this restaurant, some of the dessert menu was not available, yet staff informed us of this prior to ordering so we were aware and able to choose accordingly.

The atmosphere in the restaurant was excellent, soft background music and lighting so you could still hear your conversation and see clearly whilst still allowing an intimate setting.

As a table of two, we were charged £71.65 for a starter drink, starters, main meal, bottle of wine from the wine menu, dessert and liqueurs. Based on the quality of service and food, we feel that this was an excellent price and had no hesitation at tipping more than 10% of the original bill.

We would recommend this restaurant to anyone who appreciates good Italian food that is well presented. We also feel that the service was one on one. Even though there several tables being served, we felt that the service was 'just for us'.

An outstanding restaurant where we plan to eat at many more times.

Thank you Rossi's for a wonderful evening out!
Kate Love -
Every time I fancy an Italian meal I always find myself here because I know I will get a decent meal. The bruschetta is the best I've had and I've had the pizzas and a few pasta dishes and have never had a bad meal yet.

The only thing that lets it down are the desserts. They seem to sell out really quickly and some of them taste like cheap frozen ones from the supermarket. Luckily I'm usually too full from the starter/main to mind too much.

Its usually quite busy so the tables seem to be getting more and more squashed together but the quality of food has never let me down. The waiters are polite but aren't the over friendly, pestering type, which is fine by me. The door man is a good touch too although I do feel sorry for him.
Ken Donnington -
Genuine Italian restaurant - with space a bit limited, we were a bit crammed in a corner. Ordered Calamari Fritti for starters, which was beautiful. Tried a pizza for main course - it was not very big but tasty with a very nice base, maybe a bit on the oily side.

The best thing though was the Bolognese, simply gorgeous! This is proper stuff... probably the best pasta in Sheffield. You won't be disappointed. Slight negative point: a slight smell of burned cheese coming from the oven. Maybe you only notice it because nobody smokes anymore!
Eaten at Rossi's? Write a review!
Anonymous reviews, reviews using nicknames or reviews sent from invalid email addresses will not be published.