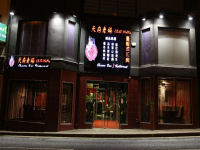 Reviews of Chili Mama Restaurant
Type(s) of Food Served
Chinese
Description
Chili Mama restaurant is located at 125-129 London Road in Sharrow.
Food Service Times
Sunday - Thursday: 12PM - 11PM
Friday & Saturday: 12PM – 12AM
Special Offers
Yes - please see Chili Mama's website for details.
Amenities & Facilities
Credit/debit cards accepted?
Average main course price?
Special diets catered for?
Melanie Mallinson -
Rating:
Don't go there... I am still traumatised by the experience. We had the Korean hotpot, which resembled heavily-used washing-up water with bits floating in it. The skewers were chicken gizzard and other hideous offal. I nearly vomited in my mouth when I realised what gizzard was.

There was nothing to wipe your hands on and trust me, it was a messy affair. When I went to the toilet to clean my hands I noticed someone had vomited in the bin - not surprised at all.

I will not be returning. EVER.
Viv Herbert -
Rating:
This was ghastly! The place was dark, which probably covered up a multitude of sins. We had all-you-can-eat hotpot buffet and skewers. The buffet food is in refrigerated cabinets, which looked none too hygienic, the openers on the doors didn't work or were missing so you had to put your full hand on them to open them, as did everyone else.

Saturday night at 8PM and only 4 more people in the whole time we were there. I drank Coke from a plastic pint glass - not very inspiring. A wide range of foods on offer e.g. chicken gizzards on skewers and pigs intestines for in your hotpot, or you could have luncheon meat if you had a more Anglicised palate.

The waiter was very pleasant and even made us a couple of dipping sauces to try, but we won't be back.
Eaten at Chili Mama? Write a review!
Anonymous reviews, reviews using nicknames or reviews sent from invalid email addresses will not be published.