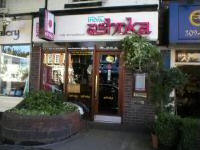 Reviews of Ashoka Restaurant
Type(s) of Food Served
Indian / Balti
Description
Gourmet Indian cuisine since 1967. In the top national 100 Indian restaurants (2007 guide), second in Sheffield Restaurant of the Year (Westside magazine).
Food Service Times
Monday - Saturday: 6PM - 10:30PM
Sunday: 7PM - 10PM

Last seating: 10:30PM Monday - Saturday
Special Offers
There are no special offers that we are aware of.
Amenities & Facilities
Credit/debit cards accepted?



Average starter price?
£4.00
Average main course price?
£8.00
Average dessert price?
£4.00
Special diets catered for?
Astrid -
Rating:
Beautiful place, so tasty food and so friendly staff! I recommend!
Paul Chambers -
Rating:
Excellent food with excellent and tentative service, would recommend to all. I have eaten Indian food for over 50 years and this has got to be in my top 10 of all time best. Poppadoms with charcoal edges is a must and a nice twist.

Well done and thank you for an excellent, tasty meal from start to finish.
Michael -
Rating:
A must if you are eating out in Sheffield, 5 star service every time. Best Indian food in the UK by a long way, owner is the driving force and often is front of house meeting and greeting you. Keep up the good work, I'll be back next week!
Ian Bowden -
Rating:
Wonderful little Indian eatery in Sheffield. We've been going regularly for a few years since our nephew introduced us to it. Tasty plates of food and great warm service from their team. The place is quirky, small and does get very busy.

-- Ian & Hannah B
Claire Eldridge -
Rating:
Third visit to Ashoka, so felt compelled to review the guys a little review. Not run-of-the-mill - just a little different. My boyfriend and I have travelled India and this comes really close (without £££ for travel)! to the flavours we enjoyed out there.

It's small, it's busy, but with a great atmosphere, fantastic food, and very accommodating staff.

Keep it up!
Gary M -
Rating:
Took my family for a meal and we were disappointed.

Expensive for what we had.

The portions were small and the bhajis tough.

To top it all my daughter found a black hair in her meal. It looked like a beard hair.

This should not happen this day and age in a supposedly high-end restaurant.

It's just not good enough.

Hygiene is apparently poor here.
Katie -
Rating:
The menu looked impressive but don't be fooled. Onion bhaji tasted like card board, prawn purée was so watery, not creamy in the slightest. My mum was gipping. Absolute rip off as well.
Pauline -
Rating:
Went after hearing a lot from work colleagues. Lived up to the hype - great service, amazing decor, and fantastic food. I've seen their tag line around Sheffield - "Reyt Good Curreh" - it wer 'an all! Recommended and will be going for more soon.
Max Edgley -
Rating:
Had dinner here now on a few occasions with my wife. To put it simply, go. Unique experience but the food truly is very very good. We find it better on weekdays, as the atmosphere isn't as hectic as weekends.

Oh and for once in an Indian the wine list and beer selection is not only quaffable but downright good!

Go, try, and enjoy.
Nigel -
Rating:
Paid £26 for takeaway. Totally overrated and overpriced. Chips were crap, curry had peppers in it, which we've never had before. Won't be going back!
Andrew Colton -
Rating:
Fantastic Sheffield curry. You will find no better place on Ecclesall Road. Great staff, great service and great food. We love it that much we go every week. You won't be disappointed.
Alex Moore -
Rating:
I've been here a couple of times now and highly recommend it for a good curry in Sheffield - friendly staff, very tasty food and decent price as well.

It isn't the biggest place though, and quite narrow, so if you are in a group of more than 4 it probably isn't the best (as evidenced by other reviews here).
Steve Bott -
Rating:
First time to this restaurant, and the last time.

There was a party of six of us and we were squashed in a 'booth' with the three of us at the back only able to get out by squeezing out of a small gap at the end.

Poppadoms arrived and were burnt around the edges and smelt greasy. I ordered a Prawn Puri for starters, it was very different to any I'd had before, quite creamy but maybe that was the style the restaurant used. It didn't taste too bad, just too creamy.

One of the other guys complained about his Chicken Tikka starter, as it was a little burnt and there was hardly any chicken. A couple of the other starters looked a little too 'well done'.

A couple of us were driving so just had glasses of coke. They were almost filled to the rim with ice, so we asked for drinks without it but they tasted very weak.

Just before they were to serve the main course they told us they had no egg rice, so I chose mushroom rice - it came and was very stodgy. My Saag Gosht was OK, but some of the lamb tasted a little fatty. My Chapatis were almost like folded Naans - nothing like the light Chapatis I would have expected.

When the bill came there were some extras on there that that we queried - apparently if you order your chicken as Tikka they add extra cost to the bill!

The only really positive thing I could say was that the owner was very friendly.
Phil Barber -
We recently booked a table for 8 people for my birthday. The reservation was made 3 weeks prior, so plenty of notice was given. The table was booked for 9PM but on arrival we were told it wasn't ready, so we waited 20 minutes.

Once seated we found the waiter to be very rude and unwelcoming. After ordering drinks we were told to calm down. Hence, we were only talking between ourselves. After being spoken to so rudely we quickly vacated the restaurant.

Cannot comment on the standard of food only the hospitality, which left a lot to be desired! So if you like eating in silence this may be the place for you.
Will Everitt -
Absolutely the best Indian food I've ever eaten. After speaking to some of the wait staff they informed me that they're in the top 100 restaurants for Indian food out of 9,000 or something. Quite rightly so, fresh tasting food full stop. Never eaten anything quite like it!
Will -
I have been going to this place for the last 15 years and I'm still going! Very welcoming and professional, but horrible waist-coats. I really enjoy Indian food and in the past I've got to eat at a lot of them up and down the country due to work commitments and you'd be hard pressed to beat Ashoka. Just try one dish if you go - the Kashmiri lamb bhuna - absolutely divine! It is more expensive though than a normal Indian meal. CUT YOUR PRICES!
Eaten at Ashoka? Write a review!
Anonymous reviews, reviews using nicknames or reviews sent from invalid email addresses will not be published.