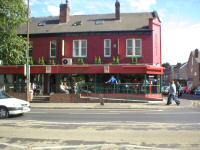 Reviews of Nonna's Restaurant
Type(s) of Food Served
Italian
Description
Nonna's succeeds in recreating an authentic Italian feel, both through the food and ambience. Set typically with marble top tables, black and white photos on the walls, and the smell of fresh coffee and bread.... you could almost be in Italy.
Food Service Times
Monday - Saturday 8:30am - 10:30PM

Sunday 10AM - 10:30PM
Special Offers
There are no special offers that we are aware of.
Amenities & Facilities
Credit/debit cards accepted?



Average starter price?
£5.50
Average main course price?
£9.50
Average dessert price?
£4.50
Special diets catered for?
J Haigh -
Rating:
Just eaten for the nth time at this excellent restaurant, definitely the best Italian restaurant I have visited in the city in my thirty years here. Always novel, delicious dishes, excellent wines, reasonably priced, good service. And you can park!
Julia -
Rating:
Lovely food, fantastic staff. The only complaint... rubbish DJ Saturday nights, playing The Eagles. Best night is Friday - 80s music. Fabulous!
Rachel Humphries -
Rating:
Always fabulous! Scrummy Italian food, wonderful service, great atmosphere and gorgeous smooth Italiano vino rosso. Yet again we had a lovely evening. Thank you Nonna's!
Janis Stubbs -
Rating:
We eat here regularly and have never had a bad meal. Definitely our favourite pasta in Sheffield.
Gerard Casey -
Rating:
Had lunch on 18/12/2013. Previously dinner on birthday in November. Excellent lunch and very good dinner - like Nonna's in the old days.
Neil Monyard -
Rating:
I stopped there for lunch. The food was excellent, well presented and not overpriced. They were very busy and the service, although not uncaring, was rather disjointed and lackadaisical.

Definitely book and do not be in a rush. A pity the service does not quite match the food.
Marlijn -
Rating:
We just had lunch at Nonna's and were really disappointed with the overall experience.

After waiting for 45 minutes for our meal, we mentioned it to the waiter, asking whether they had perhaps forgotten our order. Nobody followed up on our query and for about 20 minutes they just kept on telling us that it would come in "2 minutes". They didn't acknowledge in any way that we had waited ridiculously long; we received no apology, nor were we offered a compensation on the bill or some drinks whilst we waited.

The food was fine but we agree with previous reviews that this is a restaurant that has forgotten about the importance of good customer service.
Kris Price -
Rating:
We booked a table to celebrate our 6th wedding anniversary. On arrival we were given a cramped table for two by the toilets, my husband almost being hit by the door every time it was opened. An older couple were given the table next to us and we joked about the cramped conditions, where there was only space for 1 table really. However it appeared the manager knew them and came and moved them to a spacious table that would seat 4.

We were then asked whether we wanted wine and when we responded yes, the waiter acted with surprise. (We are two solicitors in our 30s who were well-dressed). We were then asked within 30 seconds what wine we wanted, when we hadn't had time to even open the wine list.

The food was good and one of the waitresses was pleasant and seemed interested in our views of the new desert on the specials.

When it came to paying the bill the senior waiter charged us an extra pound on each of the deserts, which were actually a pound cheaper on the specials. When my husband pointed this out he told us we had done well to spot it. He then re-entered the amount but then cancelled it and re-entered it at the original price £2 higher than it should have been. We had to point the error out again and were finally able to pay the correct amount.

On leaving the restaurant only one of the waiters actually acknowledged us with most of them barging their way past us.

Saturday Morning Coffee

We then went for coffee on Saturday morning, when it was unusually quiet. My husband asked to place an order for outside and was told he could only do so if we paid for it. Funnily enough we are not accustomed to ordering items we do not wish to pay for.

To our surprise it took 20 minutes for the coffee to arrive outside. My husband went in to chase it after 15 minutes and was told: 'Two cappuccinos, yeah we know'. No apology. Other people who arrived after us had received their coffee and left. Our son who is 10 months was fed up by the time it arrived - less the muffin we had ordered and paid for and had to remind them about.
David Howard -
Booked in advance for 5 people and asked for a nice table for a special celebration. We were given a table between the kitchen door and the toilet door. The kitchen was very noisy and the toilets generated an overpowering smell of air freshener every time the door was opened. It was dreadful. We complained and we were begrudgingly moved to a table for 4! Suffice to say we left. A popular restaurant that seems to have forgotten what customer service is.
Abhi -
We went for dinner on a Friday night a few weeks back. I am afraid I will have to disagree with other reviewers. I found the restaurant overpriced and the food was just OK. There is nothing great about this restaurant!
Patricia Waistnidge -
Booked table for six for Sunday 19th August, looking forward to this very popular dining experience very well recommended.

A little disappointed at the menu, as on Sunday it is only the daily lunchtime one. This did not include any type of pizza or lasagne. The only meal for my non pasta-eating husband was sea bream, which was well presented with a few roast vegetables. The salad was delicious the olives were large and very tasty. My pasta was on special at £5.00 this was "fresh" pasta as opposed to the other kind I did not understand this explanation, I thought all pasta would be fresh at this restaurant.

We were assured that there was a children's menu, this was very disappointing with only four items to choose from. Once again no pizza. The children had a small portion of a main meal, which both thought not bad.

The desserts are expensive at £5.50 for typical Italian sweets, but once again not much choice. We had Toblerone Martini for our liquid dessert, which tasted more of Baileys than Toblerone.

Perhaps we chose the wrong night to visit Nonna's. We enjoyed the evening even though there was a very noisy crowd in the adjoining bar area.

The staff here are very good, with a young man on hand to fill up our wine glasses.

The evening was not cheap, but it was a nice experience and if we do go again, it will not be a Sunday.
Sarah Thomas -
Lovely little Italian restaurant with friendly waiters and great food. The staff were very helpful, giving suggestions on their best dishes and nicest wines. We visited on our first night in Sheffield and were made to feel very welcome indeed.
David Smith -
I have been to the best restaurants in the UK and all over the world, and I am happy to say, this is the best meal I have had anywhere. True to its Italian roots, great food - authentic fresh pasta, great service and a good vibe. Michael Vaughan was in and really enjoying himself - the best!
Eaten at Nonna's? Write a review!
Anonymous reviews, reviews using nicknames or reviews sent from invalid email addresses will not be published.