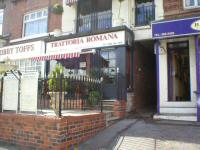 Reviews of Maranello's Restaurant
Type(s) of Food Served
Italian
Description
Situated in one of Sheffield's most popular hubs for drinking and dining, Maranello's restaurant has burst on to the Ecclesall Road restaurant scene to much acclaim. This fabulous, family-run, restaurant is set to be present on Ecclesall Road for many years to come.

Maranello's is comfortably stylish and features exposed brick walls, wooden tables, and attractive bright linens to complete the bright and airy look. It is ideal for family get-togethers, intimate couples for two, and special occasions. The relaxed ambience makes it a pleasure to dine here.

Food Service Times
Tuesday - Saturday: 5:30PM - 10:30PM
Sunday: 5:30PM - 10PM

Closed Mondays (We will however open on request Mondays and lunchtimes for a minimum party of 10).
Special Offers
There are no special offers that we are aware of.
Amenities & Facilities
Credit/debit cards accepted?




Bring Your Own Drinks?
Restrictions (e.g. wine only) and a corkage fee may apply. Please enquire for details.
Average starter price?
£5.95
Average main course price?
£13.50
Average dessert price?
£5.25
Special diets catered for?
Gluten-free
Vegan
Child facilities?
High chairs
Child portions
Kelly Walker -
Rating:
Service was excellent, staff very friendly. Food was beautiful and you could tell everything was freshly made. Definitely value for money, would recommend to family and friends.
Isobel Howie -
Rating:
Visited for my birthday last week with family including young son and elderly mother.

Good value and great food. All dishes were made with fresh ingredients and brilliantly cooked - the fresh sardines were to die for and a there was a great fresh tomato sauce with the seafood linguini. Good house wine and friendly helpful staff meant we had a really enjoyable meal.

This is a family style Italian restaurant that offers really good food to suit all tastes... wish that I had had the swordfish special now... next time I guess!
Andy Garner -
Rating:
Had a meal last night (03/09/2011). Service was fantastic. We both had a steak (with pepper sauce). Without doubt it was the best steak I have ever had.

Would recommend it to anyone. Truly a 5-star place. Well done all!

We will definitely come again.
Mr & Mrs Gascoigne -
Rating:
Excellent meal! Love, love, love!

Date of review: 13th April 2011

Came here with my wife and two daughters - food was fresh, well presented and above all beautiful! The girls love pizzas and they don't get better than a Maranello's one!

Staff were friendly and looked as if they enjoyed what they do.

Overall very happy family day out! We will be returning soon.
Charles Hoyland -
Went with friends for a birthday celebration. Maranello's is on Ecclesall Road, in what used to be Trattoria Romana. New name; same awful seats. We vowed not to go back to Trattoria Romana, as the seats are the worst we have ever sat on in a restaurant. They look like they were made from the rods used in reinforced concrete, and are so uncomfortable it spoilt our evening out a couple of years ago.

The next downer was the prices. We eat in Italian restaurants regularly, and were surprised at how expensive a lot of the dishes were. Apart from soup and bruschetta (£4.50) nearly all the starters were in the £6-£8 range. Mains too were expensive apart from the pizza and pasta options. My wife had baked cod; decent, but over-priced at £15. I had seafood spaghetti; nowhere near as good as is served elsewhere in Sheffield.

We were brought dessert menus, and it reminded us of being in Spain on holiday, where you walk past a restaurant and all the meals are shown as pictures so you know what egg, chips and beans actually looks like. Here, the desserts - bought-in - are shown pictorially in case you had difficulty visualising ice cream.

We waited for ages; nobody came to ask us what we wanted so when they did we decided not to bother and requested the bill. When it came, we had been charged for more drinks than we actually had. They did apologise, and quickly rectified the error but the whole experience from the horrible seats to the over-priced food and indifferent service meant we left regretting that we didn't book elsewhere.
Sam Jay -
My boyfriend booked a table at this restaurant on Ecclesall Road, you must not!

It was freezing and empty, the food was terrible and almost inedible. I can say it was the worst swordfish and pigeon I have ever tasted. My other half left most of his, too.

As for desserts just the same, terrible. The best and only good thing about the night was the wine, but at £33 for 2 bottles I would hope so.

I didn't complain to the staff or my boyfriend as it cost him nearly £100 and I didn't want to upset him. But, boyfriends out there, please take your lovely ladies somewhere else.
Eaten at Maranello's? Write a review!
Anonymous reviews, reviews using nicknames or reviews sent from invalid email addresses will not be published.