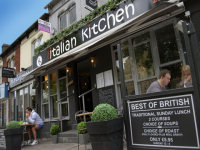 Reviews of Italian Kitchen Restaurant
Type(s) of Food Served
Italian
Description
The Italian Kitchen is an independently owned, family-run Italian restaurant in the heart of Ecclesall Road. Set in a relaxed & ambient atmosphere, it boats an extensive menu covering everything from fish and steaks to home-made burgers, pizzas, pastas and their renowned "Design It Yourself" calzones.
Food Service Times
Monday - Thursday: 4PM - 10PM
Friday: 4PM - 11PM
Saturday: 10AM - 11PM
Sunday: 10AM - 10PM

Last seating: 10PM
Special Offers
Lunch time offers: pizza or pasta £5; meatballs and pasta £7; create your own salads £6; burgers £7.
Amenities & Facilities
Credit/debit cards accepted?




Average starter price?
£4.00
Average main course price?
£9.00
Average dessert price?
£4.50
Special diets catered for?
Nut-free
Gluten-free
Dairy-free
Child facilities?
Children's menu
Robinson Ford -
Rating:
Fantastic, truly authentic Italian restaurant!

It's fair to say that Ecclesall Road has a really strong selection of eateries, many of which are superb. But if you're looking home-cooked Italian food I feel Italian Kitchen is unrivalled.

We've been using the restaurant ever since it opened. It has always remained faultless. Really tasty food, great atmosphere, exceptional service.
Gemma Plate -
Rating:
I've now been to Italian kitchen probably once a month for the past six months. Always have such a great meal, and the staff are always very polite. I would honestly recommend this restaurant to anyone. You would have to go a long way to taste better home made Italian food.
Josh Senior -
Rating:
If you are a fan of tasty Italian food, a pleasant eating atmosphere and a warm service then Italian Kitchen is not the place for you.

Me and my partner had a meal there, which to this day still upsets us to think of. Having previously been to the restaurant we were excited to return, but on this occasion we wished we hadn't. The restaurant was half full yet we were seated directly next to a large all-male party who were so loud we could not hear ourselves speak.

On all occasions where we were waiting for service, whether it was for drinks or food, we were left for periods of up to 40 minutes at a time between courses. When the food did arrive it was lukewarm and tasteless. My partner had mussels, which resembled the texture of wet cardboard (and tasted worse!). The wine provided, which may I add was not cheap, tasted like it had been purchased from the Aldi down the road.

The final sting in this tale is when we politely asked to speak with the manager of the establishment we were greeted with contempt. She would not listen to our complaints and insisted upon arguing with us over all the matters we raised. We were not offered an apology, merely a measly 10% discount, which did not make up for the experience we had.

I might refer you to one fact, since living in the Sharrow Vale area Italian Kitchen has had more than 20 new job vacancies in under a year. Strange you might say for such a small establishment, but then again I think this speaks volumes about the owner's treatment of her employees. It seems she treats everyone with the same foul attitude that we experienced.

The one star given was simply because I could not select zero. Although zero is the actual rating I would bestow up Italian Kitchen.

And those of you out there looking for tasty Italian food, a pleasant eating atmosphere and a warm service, I would recommend Maranello's just a 5-minute walk up the road.
Eaten at Italian Kitchen? Write a review!
Anonymous reviews, reviews using nicknames or reviews sent from invalid email addresses will not be published.