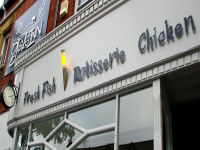 Reviews of Graze Inn Restaurant
Type(s) of Food Served
English / European / Modern British
Description
Graze Inn restaurant is located at 315-319 Ecclesall Road in Sharrow Vale.
Food Service Times
11:30AM - 10:30PM
Special Offers
Yes - under-8s eat free when they eat with an adult ordering a main meal (one kids meal per adult, available Monday - Friday 12PM - 7PM).
Amenities & Facilities
Credit/debit cards accepted?



Average main course price?
Special diets catered for?
Donato Guerrini -
Rating:
Monday at noon. We come from Italy and it is the best place where we have eaten in your country. Fresh and good food. Good service and cleanliness.
Angelina -
Rating:
Nice place but the food and the service were awful. Waiting an age - 50 to 60 minutes. Food arrived, poor quality and I left most of it. Overall over-priced and and I think it needs an rethink to compete with the rest in the area.
Barnaby Knowles -
Rating:
I visited Graze Inn on a Thursday evening with a party of 12 for a birthday.

The decor is modern, bright and tastefully done. Prices are what you'd expect on Ecclesall Road for what is essentially a gastropub. I paid £10 for a burger that came with a small dish of fries.

The menu was interesting and contained a number of imaginative dishes that I would go back again to try.

Unfortunately our visit was let down by the service. It wasn't particularly busy, with a handful of other tables eating. The two or three waitresses that served us were polite and friendly, however it took them over 30 minutes from seated us before they came to take our food order. A colleague ordered a drink whilst waiting for our food and this took 10-15 minutes to arrive, in which time he had gone to the bar and fetched another himself.

When the food did arrive, after approximately another 30-40 minutes, it wasn't hot and one member of the party had to send hers back to be warmed up. To be fair, other than the wait and the temperature, nobody had any other complaints.

Perhaps if we were a smaller party it wouldn't have taken as long and would have come out hot. However, we had booked in advance so they were aware of our table size.
Eaten at Graze Inn? Write a review!
Anonymous reviews, reviews using nicknames or reviews sent from invalid email addresses will not be published.