Couch Restaurant
412-416 Ecclesall Road
Sharrow Vale
Sheffield
S11 8PJ
Telephone: 0114 2683513
Website: http://couchstuff.co.uk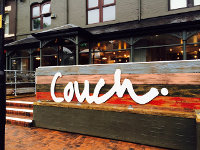 Reviews of Couch Restaurant
Type(s) of Food Served
English / European / Modern British / Italian / Spanish
Description
Couch restaurant is located at 412-416 Ecclesall Road in Sharrow Vale.
Food Service Times
Monday - Friday: 7AM - 10:30PM
Saturday: 8AM - 10:30PM
Sunday: 9AM - 10:30PM
Special Offers
There are no special offers that we are aware of.
Amenities & Facilities
Credit/debit cards accepted?



Average main course price?
Special diets catered for?
Barry Green -
Rating:
I have just had lunch in Couch. The staff were friendly. It is a lovely atmosphere. I had a chicken burger. The chicken was cooked to perfection and was delicious. I highly recommend this restaurant.
Em -
Rating:
Wonderful place full of friendly staff!

The food is always a little bit different, which to me proves that it's made fresh then and there, rather than being standardised from a tin!

Me and my boyfriend visit religiously at least once a week for breakfast and always enjoy our visits.
Esme -
Rating:
I was recommended this restaurant to try by a friend who thought that Couch would be a great informal, relaxing atmosphere to catch up with friends in and enjoy some nice, wholesome food to celebrate a birthday.

When we arrived, there was no acknowledgement that this was a birthday booking and we were rushed to start our meal, with barely any time for the group to chat and relax. We ordered across the menu so that everyone had something different to try, and decided it would be nice to share.

I ordered three plates of tapas. My Greek salad came out looking very lacklustre - wilting and soggy leaves, no dressing, and about two cubes of cheese, with no dressing.

My second plate was barely better. Being of Spanish/Italian heritage I do appreciate good tapas, so my fail-safe patatas bravas were sorely disappointing and can only be described as not worth paying for. The potatoes were heat-dried and the thick passata masquerading as sauce was flavourless and over-poured. The only flavour I could pick out was paprika. There was no aioli - how it is ordinarily served - and the potatoes were drowned.

My last dish - again was very safe - I opted for hummus on toasted bread. Grey paste, tasteless and unappetising.

My friend also had tapas and opted for two meat dishes and a patatas bravas. The meatballs were bobbing up and down in a sea of orange, tasteless sauce, and his chorizo was overcooked and dry.

Wanting to enjoy my birthday, we discreetly asked our serving waitress to swap at least the potatoes for something we recognised as one of our favourite dishes - needing to remind her how it should be served. She was at most coldly obliging, and was not even discreet enough to speak quietly, as we heard her mention very loudly to other staff our complaint.

The evening went from bad to worse, as more plates were served out. The flat breads were uncooked and two people eating them tried to ask for meat knifes so they could eat their jammy pastries - supposedly savoury! Everyone on the table had also asked for wedges, the quality of which we hoped may be reflected in the price £2.50 for a half-filled bowl. They were soggy and tasted like they had been defrosted and reheated in a microwave, although McCain are certainly doing better off their microwave menu!

Because it was a birthday treat, especially, my friends did decide to tell the waitress that our whole group were very unhappy, to see if we could be compensated for such a poor meal. The waitress seemed unable to cope or handle our complaint and kept referring to empty ignorant corporate speak saying "We only serve things that are perfect, we serve things like this and that is it".

Our group included older people, a pregnant guest, and also a few people who had never eaten out in Sheffield. Each one of us felt very upset and affronted by the poor food and even worse service. Having worked in hospitality - as a waitress, bar tender and manager - I was surprises she would dispute our experience or challenge a paying customer, voiding any sense of the customer is always right, or even should be respected.

The manager was no better, she had no authority and was very aggressive, challenging us to come back the next day to complain, saying "Yeah, you come back, I'll be looking forward to it".

We asked her what she may be prepared to do for us, as she had clearly forgotten any manager training about resolutions and managing complaints. So we asked her "What would you be prepared to do for us, as we are very unhappy and would like to finish our evening in Couch better than it has started". She said money off was not an option, and asked us very rudely "Well what is it you're expecting?" No apology forthcoming or any thoughts on how to improve customer relations and retain future custom. She bitched very loudly or all to overhear with the chefs and said "I can't wait 'til they leave."

We were in the end offered £5 off the bill. I would have happily swapped for a nicer meal and not having to resort to a cheap argument with her in the middle of my meal.

Overall, it's the worst place I've ever eaten, with the poorest policies to keep customers happy, managers, chef and staff should accept that things aren't perfect if they are acting genuinely on customer feedback. What a shame for such a place with such potential.

Recommendations: get some better staff and try sampling the food you serve.
Eaten at Couch? Write a review!
Anonymous reviews, reviews using nicknames or reviews sent from invalid email addresses will not be published.