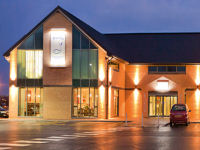 Reviews of Whitby's Restaurant
Type(s) of Food Served
English / Fish
Description
Just like seaside fish & chips, right on your doorstep.
Food Service Times
11:30AM - 9PM
Special Offers
There are no special offers that we are aware of.
Amenities & Facilities
Credit/debit cards accepted?
Average main course price?
Special diets catered for?
Joanne Towler-Nevin -
Rating:
Just made our first visit to Catcliffe, certainly will not be our last! Was recommended by a friend, and it did not disappoint.

First-class food served hot & fresh, the batter was perfect & the fish was delicious. Staff were quick, friendly, and polite. Gemma was first-class with our service and a credit to your company.

Well done!

Susan Taylor -
Rating:
So disappointed this evening after picking up a takeaway fish and chip supper for tea. We are regulars to this restaurant and the cod tonight was awful, a flat piece very thin and dry, and had obviously been sat there for a good while. The chips weren't much better. The place was very busy queuing out the door, so not sure why we were given an awful overcooked piece of fish!
Emma -
Rating:
Usually these guys are excellent. Very good prices and tasty food. However, I just found some blue plastic in one of the sausages. Really disappointed. It's put me off them for life now.
David Bell -
Rating:
We have travelled 20 miles on a regular "treat" to Whitby's, where we have always enjoyed excellent fish and chips, much like the Trenchers restaurant in Whitby.

So today, Saturday 18/05/2019, I was bitterly disappointed that the fish was almost inedible. I was a chef myself over the years and the fish itself was inferior, and had been left under the "warmer" for some considerable time. The manager explained about thin cuts, and weight, and short staffing etc... My partner received another fish, which was only slightly better, and the whole episode left a literally bad taste in my mouth.

I am a fish and chip fanatic in that I travel around sampling this dish all over the UK, and have commented very favourably on your restaurant.

Come on Whitby's - my family will be returning to "The Big Fish" in Ollerton because though not as good overall, it at least remains consistently decent
David Blythen -
Rating:
I am flabbergasted to read negative comments about Whitby's.

I have been visiting Whitby's for many years and I can honestly say I have never had a bad experience.

The food served has always been of very good standard and the staff very helpful and friendly.

The restaurant offers other dishes to choose from including those for those who are vegetarian.

There is also a bar.

Whitby's restaurant is quite simply the best.
Douglas Taylor -
Rating:
Paid £25.00 for batter / chips and peas. Can't find the fish. Not good. Someone from the management needs to go into the kitchen and check.
Kim Young -
Rating:
Very reluctant 1 star, would have given 0. Went on Wednesday 17th April 2019 for my 76th birthday and it was a very unpleasant experience. The attitude of the male supervisor didn't help. The steak pie came covered in congealed gravy that you could cut with a knife, the meat inside was dried up and looked like it had been kept warm all day. This was around 3:30pm. We sent it back and another was served just as bad. This was sent back also, along with the haddock that was dry, and the sides in particular were crisp with no fish inside.

On leaving the supervisor offered no apologies and just blamed the staff doing the cooking. When I said I wasn't paying for the meal he charged me for the tea. The supervisor could do with some customer service training, as a smile and sorry would have made us feel a lot happier.
Linda King -
Rating:
Only had some chips from the takeaway, but the person serving us was picking out burnt chips as she was dishing them up. When asked if they were fresh chips she said they were but she had had to pick out burnt ones all day! Well, when we opened the chips up to eat them, less than half were edible, as most were dried out... obviously NOT fresh!
Michael Mair -
Rating:
Definitely in decline. Was previously very good but always disappointed after now. Won't rush back and already sourcing an alternative... Shame.
Ann Simpson -
Rating:
Twice I've been now thought I would give another go. Never no more. Fish has improved, but chips are totally disgusting. Not never going again.
David P -
Rating:
Called on Saturday 5th May after a night at the races. Time was 8:55pm and asked if we were too late to sit down to eat. Four of us in total. The waiter was very helpful and said no.

We sat down, ordered our food, which was with us within 10 minutes. Best fish and chips I have ever had. Batter so light, real chips, and the fish was perfect. Staff were so attentive.

Finished off a great night out. Will be calling again.
Paul Savory -
Rating:
Popped into Whitby's around 2:30PM. There was no-one in takeaway part, so I thought at first it was closed. I walked in and no-one acknowledged me, as usual, so I waited patiently for 5 minutes, then I was served by a youth who didn't acknowledge my waiting, he just said "what can I get you?" so I ordered large cod (it was average, not large), chips & peas to take home, which is 1.5 miles away.

As I waited for my order, I was expecting it to be nice and hot, but on getting home around 3 minutes later, I found them clot cold, and there was too much batter on the cod. There was no fish in the last 4". I called and spoke to someone and was told I'd get a call back. That was 2 weeks ago and no call from them.

I will not return nor recommend them to anyone. I agree that the staff are too busy joking around and mocking customers, or each other. They are miserable, no smiles or politeness unless you force it out of them.

If I owned it, I'd have a right shake up.

The chippy at Richmond Road beats their cod every time, with pleasant staff and better prices!
Gillian -
Rating:
We have been to Whitby's many times and it's always been perfect. Staff are always attentive and very pleasant.

Just brilliant. Keep up the good work.
Roberts -
Rating:
Tasteless and greasy fish and chips. Chips were all dried and bitty. Foreign object found in my mushy peas. Our coffees and one portion of peas and chips refunded.

Was very disappointed, won't be returning. Will stick with Wetherby Whaler in Wakefield, they do know how to make good fish & chips.
Terry Knight -
Rating:
My first visit after hearing good reviews. Four of us enjoyed the food, the service and the surroundings, and were pleasantly surprised at the reasonable prices.
Mr Turner -
Rating:
Just been to Whitby's restaurant, not impressed. Nearly cold chips and tasteless fish. Ordered a regular portion, hardly any chips on plate. Would hate to see a small portion.

Told the waitress about the situation and she did say she was sorry, but nothing else like "I will fetch the manager or supervisor".

Whitby's needs to visit the Wetherby Whaler or King Fisher restaurants in Wakefield and see how it's done.

Overpriced and its like getting brass when you've paid for gold. Never again.
Alex -
Rating:
The food has always been great and staff always helpful. I personally recommend the sticky toffee pudding for dessert!
Michael John -
Rating:
Visited this restaurant many times for 'a quick lunch', as the cod is always first-class, as is the fish pie.

However, the 'robotic' staff are always more interested in chatting amongst themselves and carrying out their cleaning regime rather than seeing to the needs of their guests.

This, however, will not put me off and I will return.
William Walker -
Rating:
Visited Whitby's restaurant today and purchased Sheffield fish cake and chips twice. Not sure where you get your recipe for the fish cakes from, but as a Yorkshire man born and bred in Sheffield, fish cakes are two slices of potato with slices of fresh white cod deep fried in batter, not as you sell with reconstituted various fish.
Eaten at Whitby's? Write a review!
Anonymous reviews, reviews using nicknames or reviews sent from invalid email addresses will not be published.