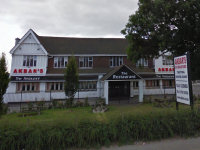 Reviews of Akbar's Restaurant
Type(s) of Food Served
Indian
Description
Akbar's restaurant is located at Meadowbank Road in Rotherham.
Food Service Times
Sunday - Thursday: 5PM - 11PM
Friday & Saturday: 5PM - 11:30PM
Special Offers
There are no special offers that we are aware of.
Amenities & Facilities
Credit/debit cards accepted?
Average main course price?
Special diets catered for?
Asif -
Rating:
Today we visited Akbar's Rotherham, Meadowbank Road. Really disappointed because the food quality was poor, as we got uncooked dishes which were tasteless. Portion sizes have shrunk and prices increased. And they even charge for water. Wasn't impressed and wouldn't recommend Akbar's for the government eat out 50% off offer.
Scott -
Rating:
I have had the best seafood balti and it was amazing! I will be coming back.
Bryan -
Rating:
We have eaten many times at Akbar's, as we live close by. The food is excellent, and for us the service has always been good. It has been a bit slow at times, but we have never seen any of the rudeness as above.

If you like tasty Indian food you need look no further than here, for a real delight. I am on my way there now as soon as the doors open, which was the reason I visited this site to check the earliest opening time.

Don't be put off by some of the comments because that has not been my experience at all, just give them a try and judge for yourselves.

Happy eating, Bryan.
Zam Khan -
Rating:
Went with family at peak time, got a table straight away and the service was excellent, especially from brother Hasan. The food was delicious and arrived at the right time.
Maz Dyson -
Rating:
Once a year we visit Sheffield for the snooker, and our visit would not be complete without a meal at Akbar's. The food is wonderful, we've never had a complaint. The service is second-to-none and we eat a lot of Indian food country-wide but nothing beats the flavours of Akbar's food!

We were asked four times this evening by our waiter if everything was alright and each time we complimented them on their food.

We recommend Akbar's to all and sundry in Somerset and Bristol, as you will not find finer fayre anywhere!

Thank you Akbar's for making our stay memorable once again.
Sam -
Rating:
My family and I went to Akbar's for a family meal at the Rotherham branch. We all had travelled from far including Newcastle, Preston and Birmingham.

I have been to so many restaurants across the country, but the service here was a total sham.

Waiters brought the food at all the wrong times, pickle tray came after we had eaten the starters, main meals didn't come out all at once.

Every time we tried to get a waiter's attention it was such an effort. However, despite all this, this is not what my main concerns were. A customer had an epileptic fit whilst sat at the table, luckily they were two doctors dining in the restaurant at the time who were more than helpful, and may have even saved the lady's life.

However, the staff didn't help, there was no manager in sight, there was no staff member who was first aid trained, no staff member who made other customers feel comfortable, no one who reassured everyone that everything was in control. Absolutely astonishing that a restaurant who deal with the public at all times had nothing in place for an emergency situation. One of the doctors who helped was dining with us, our total meal was interrupted we had no words of thanks from any staff member, let alone a manager.

That's not all. Since our visit 7 out of 16 members of my family have had food poisoning, which rings alarm bells in my mind.

Totally put off by this whole experience.
Joshua Jenkins -
Rating:
Brilliant food but one of the bar staff was very rude and ignorant.
Jan Tancos -
Rating:
They always make my visit special. The quality of warm welcome and the knowledge of customer focus by heart in the best Apna-style food restaurant. Me and my family always enjoy Hassan's and the team's qualities, kindness, communication. Thank you Hassan and team from Akbar's Restaurant for nice enjoyed visits and 100% future ones.
Miss Fairhurst -
Rating:
From the moment we entered to the moment we left, we were looked after fabulously and were treated very well. As we sat fresh rose petals were placed onto the table. Our napkins were replenished throughout. Recommendations were given. The server spoke with us on a normal level and we were even treated to free coffees afterwards.

Will definitely return.
Jen -
Rating:
Experienced amazing service. Every employee smiling and acknowledging us. We were asked a few times if everything was OK. Cleared the tables fast. Such good service. Highly recommend. Food was so yummy. My sister had a lovely birthday meal. Thank you to Akbar's.
Sam -
Rating:
Went for dinner there fist time and had a really bad experience.

We ordered food and afterwards asked for extra drinks. Waiter "Haleem" was avoiding us as much as he could to give us extra drinks. Then we asked another person for drinks (we found out later that he was one of the supervisors or managers). After 20 minutes that waiter came back and kind of threw the drinks on the table and went. Then he took all dishes from there, showing a huge attitude and anger.

Then we asked for a dessert menu and he gave us another menu and threw that on the table, too, and walked off. We decided not to stay there for dessert and complained to another manager.

I was hugely disappointed with the service and will not ever go back there again. No way.
Catherine -
Rating:
We started off our evening in two minds about where to eat. We thought we would try Akbar's in Rotherham and therefore travelled from Halifax, which was quite a journey for us to make.

When we came to the restaurant we were greeted in a friendly manner and we were seated straight away, and were at this point impressed by the service.

However, when we were ready to order and asked the waiter to order he looked directly at us for approximately 5 seconds and looked away. His behaviour seemed rude but we thought it was possible he did not hear correctly. We therefore asked again and he continued to look at us in an unfriendly manner and replied "no you can't have your order taken" whilst he stood there doing nothing. He did not even laugh to make it seem like a joke. Even a joke would have not suited the tone of the restaurant.

However, it was not a joke. He reluctantly came to take our order in a rude manner and left us feeling intimidated and disrespected due to his abrupt and rude behaviour. His name tag read the name "Awase".

We therefore left without eating after such a long drive.

We spoke to the manager, who tried to tell us to take a seat as he would serve us, and he was both sympathetic and apologetic, which was nice to see. However, our experience was ruined and it is sad to see that Akbar's employ staff who disrespect their customers.

We will not be returning to Akbar's again.
Nigel Davey -
Rating:
Been going here for ages. We (the wife and I) promised ourselves that we would come once a month. That lasted about a minute. We go every Sunday, as the food is simply to die for, all the staff are friendly and willing to answer any question you may have. The ambient lighting is simply perfect and the prices are more than reasonable.

Overall a 10 out of 10 all round.
Chris Hanson -
Just been to Akbar's on the road between Meadowhall and Rotherham this last weekend for a friend's birthday.

We got there at about 8PM on Saturday night and the large bar area was absolutely packed with people waiting to get a table. The restaurant doesn't take bookings for parties of fewer than 8 (there were 6 of us), so it is a gamble as to how long you will be waiting for a table. After waiting at the bar for what seemed like a lifetime, I finally got served. We then stood for about 45 minutes until a table became free and were shown upstairs to the large dinning room.

We started by ordering the obligatory poppadoms and pickle tray. This came quickly with the usual selection of mango chutney, yoghurt and mint sauce, a really spicy green chilli sauce, and some diced onion in what tasted like spiced up tomato ketchup. It was all so much better than the last Indian I ate at (Dosanj).

After we finished the poppadoms the table was quickly cleared, and then we had two different waiters both bring completely the wrong order to our table, rather than the tables to either side of us. Eventually we got our meals. I had ordered lamb palak, this was a really tasty curry with fresh spinach and a whole host of spices that gave the dish real depth of flavour. The lamb was really tender, falling apart in the sauce. My friend had the tikka masala, which was very sweet and without the chicken could have been served as a dessert; this was the only other dish I tried.

The pilau rice was really well spiced and as good as any you'll get, as was the large family garlic naan bread which comes hanging on the large antlers.

After we had finished the meal, the waiters cleared the table and brought us the bill straight away. We weren't too impressed at this, as even though we didn't want desserts, it would have been nice to have been asked. It would also have been good to have been offered a coffee.

All in all, the food is brilliant and well worth the wait. The low point is the service that doesn't really live up to the standard of the food, although I have experienced a lot worse.

We'll definitely go again, but it's probably best to avoid a Saturday (and probably Friday) if there are fewer than 8 of you.
Eaten at Akbar's? Write a review!
Anonymous reviews, reviews using nicknames or reviews sent from invalid email addresses will not be published.