Swan Restaurant
Main Road
Ridgeway
Sheffield
S12 3XR
Telephone: 0114 2485596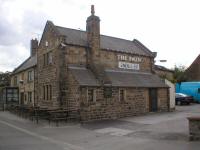 Reviews of Swan Restaurant
Type(s) of Food Served
Pub Restaurant / Chinese / Indian / Mexican / Italian
Description
Over 300 years old, this village pub with original beamed ceilings has a vast selection of food for every taste. The pub itself also has a wide range of beers and lagers available.
Food Service Times
12PM - 8:30PM
Special Offers
Yes - the Swan offers meals for £2.50 every day!

There are also discounts with loyalty cards.

Amenities & Facilities
Credit/debit cards accepted?



Average starter price?
£2.75
Average main course price?
£8.00
Average dessert price?
£2.95
Special diets catered for?
Annette Hitchen -
Rating:
Went for lunch. Paper-thin, cheap burger with frozen chips that were like cardboard and a light-bite lasagne that was certainly that - about 4 forkfuls with cardboard chips (must have stopped serving home-made chips?). Won't be going back any time soon.
Karen -
Rating:
I visited for a homemade pie, as we didn't fancy cooking Sunday lunch. All our pies (each one different) were gorgeous. Love the proper chips, too. Visiting again tonight with the family. Bring on the pies!
Teresa -
Rating:
Our favourite pub - always a fantastic welcome and excellent food. 17 of us just had food after a nice walk and the service was excellent! Our little sausage dog, Maxi, always enjoys it, too!
Shaun Woods -
Rating:
Been to the Swan today, which was Mothers Day. Had a great time but then a member of staff asked if we were having desert. We said no, then were asked to leave our table and sit outside. Very rude and embarrassing. If you have booked a table you should be able to stay at your leisure.

Walked back into the pub and people were already eating at our table, so they had obviously ordered food at the bar.

Very disappointing. Should learn to treat customers better.
Susan Bale -
Rating:
I attended my sister's birthday meal at your establishment on Saturday the 7th January and would like to give you my review.

We waited 50 minutes for our meals to come and were very disappointed with what we were served! I ordered the steak and mushroom pie, which was swamped in gravy and had 3 pieces of meat and quite a lot of mushrooms. The pastry was not cooked properly. All in all it was the worst meal I have had there for quite a while!
Paul Schofield -
Rating:
Lovely pub; excellent food. Friendly staff, value for money. What more can you ask for.
Laura -
Rating:
Beautiful home made food, good atmosphere, lovely staff and all at a very good price! I'd recommend it to anyone!
Lesley Fletcher -
Rating:
We have eaten at this pub/restaurant many times and have tried a wide variety of meals. The food has always been piping hot, promptly served, and always presented nicely. The food is tasty and fresh, the chips are home-made and are delicious. There is a very good menu and also a menu for the smaller appetite.

The meals are very good value for money and we would always recommend this pub/restaurant, in fact we are going for tea tonight.
Karen Faram -
Rating:
I have been dining at the Swan since the 1980's - I have now moved to Worksop and still travel to the Swan.

The pub is set in the pretty old village of Ridgeway and the Swan is steeped in history. The home-cooked food is delicious, the price is good and the staff are very friendly, polite and welcoming.

I have yet to taste a meat and potato pie as good as theirs, and believe me I have eaten at many places. The mixed grills are huge, lamb shanks are tender and full of flavour. There are smaller portions of a lot of the menu for the less hungry.

The food and the value for money would be hard to beat these days. I would recommend you try it.
Janet Walster -
Rating:
I went for mothers day. 6 adults and 2 children. Adults had pies and
children had Bolognese. We all ate everything, it was most enjoyable.
Teresa -
Rating:
We have been there several times in the past few years and never had a bad meal - the pies are especially good.

It's great that there is a section to take your well-behaved dogs! Loads of 2 for £10 meals all day everyday. It's a good half-way / end stop if you are doing any of the lovely country walks in the area. Sally and her team there are always very welcoming!
Chris Taylor -
Rating:
After recently visiting the Swan I had to give it a 5-star review.

My wife had chicken and leak pie and I had minced beef and onion, and may I say the comment below is ridiculous. My wife said it was just the right balance of leak and chicken. Mine was to die for - full of flavour. And may I also say that the staff were incredible, with a smile on their face constantly and quick service.

Very well done and I shall be visiting again soon.
Julie -
Rating:
I chose the chicken and leek pie with vegetables and chips. This was mainly leeks with a few bits of tasteless white meat, which I assumed was the chicken. A piece of pastry was floating on the top of gravy, which tasted like a stock cube in water.

Chips were reasonable and the vegetables turned out to be peas, but both were overcooked.

A forgettable visit.
James Hart -
Rating:
I don't know what that Phillip guy is on about. When I went it was lovely service with a warm smile on the face and the food was amazing.

Have recommended to all of my friends who also said they loved it.
Stuart Goodrum -
Rating:
The Swan has a great atmosphere with great hospitality, also with the Cygnet gives you added choice of venue.

The Swan has great entertainment with bands and a quiz night. And for the added special is the great choice of homemade food.

Situated in a quiet village it's the perfect place to have a meal.

Highly recommended, as I love it.
Rob -
Rating:
Ignore Philip.

The Swan has amazing tasting food, along with great offers on 2-for-1 meals. The Swan is usually a very busy pub but surprisingly you can have a quiet meal along with quick service.

Definitely worth a visit!

P.S. their chicken tikka blows my mind!
Philip Schofield -
I would like to review the food but did not have a chance to taste it. After waiting over three quarters of an hour and 2 people coming in after me and being served I went to see where my food was, only to be told the order had not gone in. An apology was not offered or any type of remuneration and no one seemed to be bothered. So I asked for my money back and left never to return.
Eaten at Swan? Write a review!
Anonymous reviews, reviews using nicknames or reviews sent from invalid email addresses will not be published.