Phoenix Inn Restaurant
High Lane
Ridgeway
Sheffield
S12 3XF
Telephone: 0114 2486440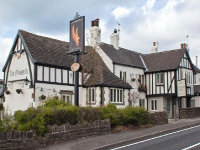 Reviews of Phoenix Inn Restaurant
Type(s) of Food Served
English / Pub Restaurant
Description
We are located on top of a hill in a semi rural location in the picturesque village of Ridgeway. Boasting original beams and fireplaces in the snugs and hayloft, the original parts of the Phoenix Inn are some 400 years old.
Food Service Times
12PM - 10PM

(The bar is open longer.)
Special Offers
There are no special offers that we are aware of.
Amenities & Facilities
Credit/debit cards accepted?



Average main course price?
Special diets catered for?
Barbara -
Rating:
I have dined here on several occasions and have always been more than satisfied with the food, which I find is good value for money. I have an elderly mother who has a very small appetite and the staff are happy to serve her a small portion meal. The service is very good and Bev, in particular, is always very obliging.
Claire Spencer -
Rating:
Great new menu at the Phoenix. Pub and Grill. Absolutely beautiful food and great atmosphere. We love it at the Phoenix!

We had dipping steak and chicken fajitas. Beautiful!
Patricia Memmott -
Rating:
3rd of September 2020.

Visited the pub tonight for our anniversary meal. We were put in the dog-friendly area; not very clean.

Waited 40 minutes til someone actually came for our drinks order. Then they came to take our food order.

The food was APPALLING. Burnt burger bun, two wet limp pieces of lettuce and one slice of tomato. Steaks were tough. My sea bass was OK but scallops were cold and no water cress.

We visit this pub on a regular basis, the four of us. Two young boys sat having drinks and their language APPALLING. Don't think we will be visiting any time soon.
Goretti -
Rating:
Went for a birthday meal today - myself, sons, and grandchildren. Were seated quickly. Had a lovely young man as our server; couldn't fault him.

Food was good, apart from my son ordering medium-rare steak and it came medium, and he does like his steak so was disappointed.

Only bugbear was the manageress. Know they were busy but all she wanted was getting people in. The way she spoke to people sometimes was offhand.

Apart from that had a good experience.
Elaine Kirby -
Rating:
Visited on Friday for drinks and sat in the garden. I was really impressed as to how they had set everything in place to try and avoid infection. So organised and relaxed. Thank You.
Claire Spencer -
Rating:
Valentine's night at the Phoenix! Beautiful food. Rose wine on offer. Thanks Matt, Sophie, Emily and Katie. Friendly staff always making sure customers have a great time and excellent service, nothing too much trouble.
Maggie -
Rating:
Terrible. Thought we would give the Phoenix another chance after the refurb but won't be going back. Very busy, not enough staff, long wait for everything, had to keep re-asking for things, and food was not great. There was a lovely lady running around all over the place; really wanted to complain but it wasn't her fault.
David Edward Williamson -
Rating:
My wife and I went with relatives for a meal on Friday 22nd February, and what should have been an enjoyable night out was spoilt by food being unsatisfactory.

I asked for well-done steak and it was pink halfway through. Some food arrived separately. Complained and were given deserts free. Young waitress was very apologetic. Really felt sorry for her, as it wasn't her fault.

Won't be visiting again in a hurry and definitely won't be recommending to friends or relatives.
Jane Woodhead -
Rating:
Tonight was our third and final attempt at the Phoenix, giving it a chance to redeem itself after previous poor service.

Our table was booked for 6:30pm. Three of the four drinks arrived 30 minutes later and we had to go and ask for the fourth. Then, there was another wait for the food order to be taken and it was finally served at 7:25pm - an hour after sitting down.

My meal was very nice - halloumi and roasted vegetables, the others were "okay".

The place was extremely busy with just one young server having to deal with all the tables.

We couldn't spare another hour waiting for desserts so paid at the bar and left.

Such a pity, lots of hungry people waiting an age to be served. Third and final time for us. We won't be going again.
Dawn Pensavalle -
Rating:
Lovely atmosphere, gorgeous decor, staff excellent and attentive, drinks recommended and were fabulous. Food, especially the lamb, was incredible. And the hosts, what can I say, AMAZING. Fabulous evening.
Matt -
Rating:
Large party of us for a family occasion. Staff were lovely and friendly but myself and partner had awful meals. It was supposed to be salmon with roasted vegetables. It came to the table cold and the veg were certainly not roasted. I think the veg came out of a packet along with the new potatoes. £12 a plate was the final insult.
Roselyn Stanley -
Rating:
Booked a table for 6 people at 6:15pm last night. We ordered our food at 6:45pm. No food by 7:30pm so we asked a waitress was there a problem and was told there was a delay of 45 minutes.

Waited another 30 minutes and asked again. The waitress said there was 3 tables before us. Still no food by 8:30pm so we left.

We wasn't the only people complaining and at no point did anyone explain or apologise. We won't be going back any time soon.
A Rodgers -
Rating:
Friday 30th March

Booked table for 7pm. Sat down on time ordered food. Waited till 8:10pm and asked where the food was. Was told they would check. Eventually ate at 8:20pm. The fish was terrible and chips were the same.

This is not the first time but will definitely be the last. I used be be a regular at this place but will not go anymore. Very disappointed.
Katy -
Rating:
Went last night for tea with my parents. My partner ordered our food and my parents ordered their food a minute later.

Our steaks came out. I had a fillet, which was extremely chewy and tough. After waiting nearly 10 minutes we asked the waiter if the other 2 meals were on their way, to be told "yes, well erm I'm not sure".

Went to check and said because we ordered separately, about 6 orders had gone in between our orders. We literally ordered a minute apart and have the receipts to prove this!

Waited another 10 minutes and this was now an hour after ordering. We'd finished our meals, so my parents asked for a refund, which, to be fair, was dealt with straight away and the manager was very apologetic and couldn't understand why there was such a delay.

Hence to say we won't be going back any time soon and definitely won't be recommending to anyone else! Very disappointing!
Joan Mangle -
Rating:
Absolutely disgusted! After ordering our 2 meals at 6:30pm and waiting until 7:30pm after seeing several other parties get their food, we went to complain and were just told "don't know what happened", then given our money back. No explanation from management. Wanted to give minus stars but not allowed.
Sue Wright -
Rating:
Lovely pub, shame about the food.

Went for the first time for my 50th birthday, there were 15 of us. Some of the menu options we wanted were not available. When our food arrived, naan bread was missing from those who ordered curries. When we asked where it was we were told they didn't have any, and another member of our party had to ask for something that was missing from their plate.

Went again tonight. We wanted the Sunday lunch with beef and pork. Was told they had not got any, only chicken and turkey, so we ordered the turkey after being told there was a 45-minute wait. When it arrived it was cold and the turkey was not carvery turkey so we sent it back. When it was returned it was a lot warmer but looked like it had been thrown on the plate. To top it off, the table behind us who were just being served their meals had beef. When we complained she said we do have beef just not pork. Was not worth what we paid for it. Desserts were lovely but such tiny portions.

Went to pay and complained and they knocked the desserts off the bill.

Will not be returning... terrible.
Laura -
Rating:
Honestly, absolutely awful! Waited 45 minutes for food. When it came it was wrong. They couldn't make what we ordered (plain pasta) because everything is bought in frozen and pre-made. So we waited 45 minutes for food that was never available in the first place.

The rude and aggressive waitress came over to our table and started shouting at us because we weren't happy. The rest of the food was gross.

The next table to ours had the same issues. Their order was wrong, too, and their food was also awful.

Never, ever going there again.
Linda -
Rating:
Having recently celebrated a 70th birthday for an American relative we were very impressed with the effort made by the staff to ensure all went to plan. The food was first-class, and a really enjoyable evening.
Pat White -
Rating:
Been a regular customer at this pub-restaurant for many years. Sunday lunch was the most disappointing. Despite the restaurant being quite empty, the staff were not the most welcoming. Where has the front of house "landlord/manager" gone?

Then the food. It was dried-out before it reached the table, and looked like it had been thrown at the plate. I know everything coming out of pub kitchens is either from a freezer or microwave, but the service and presentation should compensate. This didn't.

We shall continue our family get-togethers elsewhere.
Mrs A Woodhead -
Rating:
We had my mum and dad's 70th wedding anniversary here. The food was fantastic, the room was lovely, and the staff couldn't do enough for us, they couldn't have been more attentive. A massive thank you to Mel and her team. Highly recommended.
Tony Lindsay -
Rating:
Went in Wednesday night. Very disappointed. Seemed to forget about people eating in the bar area and concentrated more on private parties. We are all paying customers.
Vivien -
Rating:
Always had a good, well-prepared and presented meal in a friendly environment.
Les Grantham -
Rating:
A few years ago a woman was running this pub. It turned into a chaotic kindergarten, then another manager took over and got it back on track.

But I have been in today. No sign of the manager, and unruly children are back. If the turnover for this pub is down then tell the manager he can't have it both ways. If he wants adults and disciplined kids to have a civilised lunch he must come out of the cupboard and be aware of what will drive the trade away.
Eaten at Phoenix Inn? Write a review!
Anonymous reviews, reviews using nicknames or reviews sent from invalid email addresses will not be published.