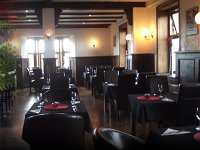 Reviews of Bella Donna Restaurant
Type(s) of Food Served
Italian
Description
Authentic Italian cuisine to suit all dietary requirements, offering a wide variety of Italian and new world wines and a special selection of homemade desserts.
Food Service Times
Monday & Tuesday: closed
Wednesday & Thursday: 6PM - 10PM
Friday & Saturday: 6PM - 10:30PM
Sunday: 12PM - 9PM

Last seating: close of service
Special Offers
There are no special offers that we are aware of.
Amenities & Facilities
Credit/debit cards accepted?
Average main course price?
Special diets catered for?
Janet Shore -
Rating:
We have passed this restaurant many times and always thought we would try it. My birthday was an ideal chance.

We couldn't have been more pleased. Roberto and Anna were wonderful. The restaurant was very quiet but it was on Sunday evening.

Our food was delicious. I had the prawns, which were succulent and the sauce was to die for. My fiance had a chicken dish, which he raved about. Even the veg was delicious, especially the carrots.

The meal was finished off by a free tiramisu for my birthday, and my fiance had the most gorgeous cheesecake with chocolate sauce.

We will definitely be returning soon. Thank you Roberto and Anna for making my birthday special.
Lyn -
Rating:
Food very good, excellent service. Staff very friendly. Pity not very busy for Saturday night.
Terry Smith -
Rating:
Been several times including Sunday lunch always found it to be excellent. First-class food and service. Very relaxing atmosphere. Would recommend it to anyone.
Caroline Booth -
Rating:
The waiter was arguing with someone on the phone when we got there, then he argued with the female bar staff, which we could hear.

My starter was mushrooms in Gorgonzola sauce; too much sauce & very sickly. My lasagne tasted & smelt off. When I told the waiter he had a very bad attitude. I would not go there again.
Tina -
Rating:
Great food, great service. Just a little cold in the restaurant, but not too uncomfortable. We would definitely go back.
Martin Walton -
Rating:
Brilliant atmosphere New Year's Eve. Food was brilliant - best meal I've had in years. Staff were excellent, service was superb. Couldn't do enough for us, even down to singing and guitar serenades at the table.

We booked New Year's Eve because we had a meal there earlier in the week and the food, staff, and the service and atmosphere were so good we decided to book our New Year's Eve. So glad we did.

Will definitely go there again.

Thanks to all the staff at Bella Donna.
Sarah -
Rating:
Absolutely beautiful. Outside of the building doesn't look the best but the inside is lovely. Such a calm atmosphere and the staff were wonderful. No complaints whatsoever with the amazing food, and you can tell it is all cooked fresh! Will definitely be back and will recommend to everyone.
Emma Land -
Rating:
Very rude staff. Booked a table for my birthday. Forgot 2 starters and forgot 2 mains. Lady extremely rude and argumentative towards my husband when complaining about cold food. Will not return. Feel completely let down. Should not be called Italian. More like fast food outlet.
Susan Fisher -
Rating:
Very rude staff and poor service.
Ann & Craig McGaheran -
Rating:
I booked a table for my husbands 40th birthday and we weren't disappointed.

What a wonderful place, the food was amazing, the atmosphere relaxed and the staff very friendly and helpful and did everything they possibly could to make our evening special. We weren't rushed into ordering, or into finishing our meal and leaving.

Everything on their menu is freshly cooked to order. We are avid garlic lovers and asked if we could have extra garlic, which was no problem at all. In fact, nothing was a problem and Donna was the perfect hostess.

They even came out with a cake for my hubby and sang him happy birthday, which was so lovely and just made our experience that bit more special.

Will definitely be recommending this restaurant to our friends and family and will certainly be returning again ourselves very soon.
Eaten at Bella Donna? Write a review!
Anonymous reviews, reviews using nicknames or reviews sent from invalid email addresses will not be published.