West 10 Restaurant
376 Fulwood Road
Ranmoor
Sheffield
S10 3GD
Telephone: 0114 2309190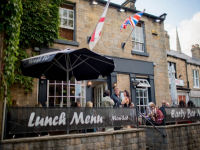 Reviews of West 10 Restaurant
Type(s) of Food Served
English / European
Description
West 10 restaurant is located at 376 Fulwood Road in Ranmoor.
Food Service Times
Tuesday - Saturday: 6:30PM - 9:30PM
Sunday: 11PM - 2:30PM

(The bar is open longer.)
Special Offers
There are no special offers that we are aware of.
Amenities & Facilities
Credit/debit cards accepted?
Average main course price?
Special diets catered for?
Su -
Rating:
This is such a lovely local treasure. A gorgeous wine bar in leafy Ranmoor. The food is exceptional and the service second-to-none. A comprehensive wine list and the owner (Jonnie) really does know his stuff. Very friendly both locals and staff. Very highly recommend a visit.
Michelle Leedham -
Rating:
I have been going to this restaurant for the last 5 years with my boyfriend. The food and wine has never disappointed and the service excellent. Therefore I decided to take my sister as a treat for her birthday, and my mother. They never get to any decent restaurants and as I constantly rave about West 10 it was something they were both looking forward to.

Our visit was an absolute disaster! The food was fine and not one of us had a complaint about that. But the service would have embarrassed Basil Fawlty. The list of criticisms is endless but here are just a few:

One diner was sat on his own. He had obviously been drinking all day and there was no sign of his meal which I assumed he had already finished. He was absolutely wasted, shouted rather than talked to a group of women and his constant bad language was inappropriate. It was very uncomfortable for the few of us in the restaurant and the waitresses completely ignored the issue. A couple came into the restaurant and were seated on the table next to the drunk even though there were tables available everywhere (they were not busy, even though it was Saturday evening). I could not believe the waitress' choice. After 5 minutes the couple asked to be re-seated and the drunk got the message and left.

My sister and I shared a starter, which my sister liked and asked the waitress what was in it. She said she had no idea, went to grab a menu and tried to read the name of the dish out to us (which we already knew). Unfortunately it was foreign, she couldn't pronounce anything, giggled and gave up.

While I was still eating my starter (fork in mouth) the waitress came to me and asked me if I had finished? "Obviously not", I replied. She was quite put out and said that the chef had already finished our main course and it was now waiting on the side. So we were forced to allow her to take away our starter so the main meal could be served. The steak was excellent although I wouldn't usually eat steak but the choice on the menu was limited. There was no specials board, either. While I was eating another waitress kneeled on the empty chair next to mine, leant over me across the table to collect glasses to the extent that I had to move out of the way.

We asked to see the desert menu, which turned out to be at the bottom of the main menu that we had already seen. (There was a list of sandwiches available on this menu. Obviously they can't be bothered to produce a separate daytime and evening menu!) We actually wanted coffees, which didn't appear on the menu so I asked the waitress what coffees they served. Cappuccino, espresso or percolated she said. I asked if they could make an Irish coffee. No, she said.

I could go on but I won't. There didn't seem to be anyone in charge and I never saw the owner around so I assumed he was on holiday, unless he has moved on. I have to say we found it hilarious because the evening was so ridiculous.

I really do not know what has happened to this place. Whenever friends or family came to stay with us we would always take them to West 10. Whenever we had anything to celebrate my boyfriend and I went to West 10 but I have to say, never again!

We now have to find another favourite restaurant. Gutted!
Kate Laurance -
After several disappointing meals at Artisan I had began to lose faith in a good place to eat on the west side of Sheffield.

However, last night (Saturday 13th January), we went for a meal at West 10 following a tip off that "the food was good".

I have to say the whole experience was fantastic, we were made to feel really welcome in the small but cosy wine bar downstairs for a few pre-dinner drinks. The menu, although limited, was well balanced. I had the smoked salmon and beetroot starter and my fella had the oysters. Both were lovely and well presented and great tasting. For my main course I had the sea bass and my partner had the pork. They were scrumptious. The service was really well-balanced, relaxed yet attentive, the chef came out to chat at the end of the evening, it all felt really nice. We were too full for desert but enjoyed an after diner drink downstairs. I would really recommend this place, the food is great!
Eaten at West 10? Write a review!
Anonymous reviews, reviews using nicknames or reviews sent from invalid email addresses will not be published.