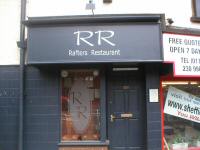 Reviews of Rafters Restaurant
Type(s) of Food Served
English
Description
Rafters restaurant is located at 220 Oakbrook Road in Ranmoor.
Food Service Times
Monday & Tuesday: closed
Wednesday & Thursday: 6:30PM - 8:30PM
Friday & Saturday: 7PM - 9PM
Sunday: 12PM - 2PM and then 6PM - 8PM

Special Offers
There are no special offers that we are aware of.
Amenities & Facilities
Credit/debit cards accepted?
Average main course price?
Special diets catered for?
John Dunkley -
Rating:
Weird that a place that has such a solid and well-deserved reputation as among the best in the city has only one review.

We treat ourselves to a meal there from time to time and have never been disappointed. However, it is essential to plan ahead, as reservations are hard to obtain!
Paul Gorner -
Four of us visited Rafters for the first time on Saturday night. I find it hard to believe that I am the first person to review this restaurant. I have eaten at most of Sheffield's so-called premier eateries, and on the whole been very satisfied.

Rafters, in my opinion, is head and shoulders above the rest. I can't say enough about this place. Everything about the meal and service was excellent. If you are a serious foodie I urge you to visit Rafters - you wont be dissapointed.10/10
Eaten at Rafters? Write a review!
Anonymous reviews, reviews using nicknames or reviews sent from invalid email addresses will not be published.