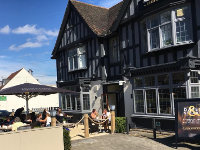 Reviews of Miller & Carter Restaurant
Type(s) of Food Served
Modern British
Description
At Miller & Carter we know a thing or two about steak. In fact, we could say that we're one of the best steakhouses in Sheffield. But we'd rather leave that to your judgement.

Miller & Carter Sheffield is the perfect place to stop and unwind after visiting Sheffield Botanical Gardens, Meadowhall Shopping Centre or even before an event at Sheffield Arena. Our cosy interior makes us the ideal place to treat yourself and indulge in one of our 30 day aged steak.

At Miller & Carter we serve the finest 30 day aged steak. Our cattle are reared on a selection of handpicked British and Irish farms, and fed on both grass and grain to produce full flavoured, quality steak. Our beef is aged using both wet and dry ageing techniques to provide the optimum succulence and flavour. Our expert butchers then hand cut every steak ready for our specially trained chefs to season and grill them to perfection.

We have 12 expertly grilled steak cuts to choose from, including a 30oz Long bone Tomahawk, and our award-winning sirloin steak. Alongside our steak, we offer a range of tempting dishes including our handmade British beef burgers, grilled meats and ribs, and delicious fish dishes.
Food Service Times
Sunday - Thursday: 12PM - 10PM
Friday & Saturday: 12PM - 10:30PM
Special Offers
There are no special offers that we are aware of.
Amenities & Facilities
Credit/debit cards accepted?



Average main course price?
Special diets catered for?
Jon Clark -
Rating:
A really enjoyable meal with my family at Miller & Carter today. Food was great. My 10oz sirloin steak really beautifully done. Staff were friendly and attentive. Nice, relaxed atmosphere.
Joan Windle -
Rating:
I would highly recommend this restaurant. Our waitress, Jarka, was super efficient and helpful and a credit to Miller & Carter. Will definitely be back.
Karen Harrison -
Rating:
Love, love, love this place & can not wait to return once it's safe. Must agree with the review below though about the Eaton Mess. However, everything else is perfect! Food, service, layout. Hope I can come back soon. Good luck to you all on re-opening.
Elizabeth Parker -
Rating:
Great welcome; lovely efficient staff. The only problem I found was my steak was supposed be pink, no blood, but the fillet was really thick so was bloody. No problem for them to pop under the grill for me.

The other thing was the Eaton Mess. It was all cream, very little meringue, and a bit of fruit. I only could eat a bit.

Having said all that we will be going back. Don't let this put you off, my family have been there quite a lot and have enjoyed the food.

I did bring the Eaton Mess to the staff's attention so I think it will be resolved.

So for now 9/10.
Helen -
Rating:
Well what can I say! This place certainly is the best steakhouse restaurant in Sheffield. Steaks are to die for! Never tasted steaks so flavoursome in my life (I eat out a lot).

Service was impeccable and very professional, our waitress was very knowledgeable about the steaks. It's very clean and was worth every penny, will certainly be returning! Thanks.
Dave Scott -
Rating:
Overpriced, understaffed and a clueless kitchen, Gordon Ramsay would have a birthday in there. Probably one of his best shows ever.

Quarter of an iceberg lettuce with a dribble of mayo is neither side, accompaniment nor garnish. Not having brought the pet rabbit, one wonders why they were even presented with the starters. Three scallops on what appeared to be a bird table of dry bread crumbs made us wonder if we had booked a table on "Bring a pet night".

Why one tiny serving of mushy peas was placed in a large stainless measuring cup is beyond me, when it would have been easier to leave it on the teaspoon. Although the cod was cooked, the batter was not, which takes a bit of doing even with zero cooking skills. Note to Chef. Potatoes are peeled for a reason, that being to stop chips tasting of topsoil. Leaving skins on so as to reduce the absorption of old oil is not a valid cooking practice.

As I looked around at other dishes and the lame attempts at nouveau presentation I couldn't help wonder what had been ordered when I spotted the steak that ranged through the colours of the rainbow from black to blue.

This is a beautiful pub and the waiting staff were very apologetic that the three course meal took over two hours to serve. We even discussed having cornflakes for desert it took that long.

Come back Gordon Ramsay all is forgiven.
Eaten at Miller & Carter? Write a review!
Anonymous reviews, reviews using nicknames or reviews sent from invalid email addresses will not be published.