Peacock Inn Restaurant
Owler Bar
Owler Bar
Sheffield
S17 3BQ
Telephone: 0114 2361789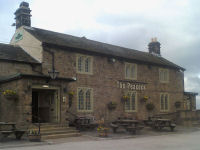 Reviews of Peacock Inn Restaurant
Type(s) of Food Served
English / Pub Restaurant
Description
Peacock Inn restaurant is located at Owler Bar in Owler Bar.
Food Service Times
Sorry, we do not have the restaurant's opening times yet.
Special Offers
There are no special offers that we are aware of.
Amenities & Facilities
Credit/debit cards accepted?



Average main course price?
Special diets catered for?
Sue Fox -
Rating:
Just had Sunday lunch at the Peacock, Owler Bar, Sheffield. Sadly this was our last attempt of trying again. Have dinned a few times. Each time got worse, with long periods between, thinking the chef would change. No, nice place but very poor, cold food, lack of staff. The two staff on duty were run off their feet. So sad, as it's such a nice pub. And for what you get it's not cheap.
Lynne Miles -
Rating:
The Peacock is my favourite place to eat. The food is exceptional. I have been many times and the quality is always the same.

I am a vegetarian and my favourite meal on a Sunday is the nut wellington, served with vegetables, roast potatoes, a large a Yorkshire pudding and vegetarian gravy in a jug. The sweets are all vegetarian and equally as good. The wine is very good, too! Win win every time.

The staff are very friendly and nothing is too much trouble. It is best to book, especially on bank holidays.

Non-vegetarians have a a good choice of meats and fish.
Hall -
Rating:
Booked a table for five for Sunday lunch at 2pm. Seated next to the toilets, which you could smell. Ordered drinks. When drinks came we ordered food and was told there was a hour's wait for food. And when the food came it was average. I will never eat there again.
Mrs Wilson Herbert -
Rating:
We have been going to the Peacock at Owler Bar now for a number of years and have always enjoyed our experience. We have had Christmas dinners there over the years (room 31).

Recently we booked a table and when we arrived the table was occupied, despite the restaurant being almost empty. The food is not now nicely presented, and seemed poor quality. The staff seem young and inexperienced, but polite.

It's very sad. We were going to book a table for seven for Christmas, but we shall give it a miss this year.
Marre -
Rating:
Went for Sunday lunch 20/05/2018. Restaurant was not busy. Waited 45 minutes for meal to arrive, after having to ask how longer it would be. Was then told that was the waiting time. No mention at time of order.

When my meal came it looked like it had been thrown on to the plate. The sliced beef was tough, Yorkshire puddings was hard to cut, some of the potatoes you could not get your fork into, and the vegetables were mixed together, not place separately.

Not a nice experience. Would not go again.
Graham Bennett -
Rating:
Sorry to say very poor. Went on Friday 22nd September. Booked a table for 6pm. Got a drink and were shown to our table. Were told before we ordered that there was no gammon nor mixed grill. That was my night ruined. Looking forward to a mixed grill. Why not offer something alternative on the mixed grill if no gammon? So ended up with steak, which was so-so.

Then ordered a dessert. 15 minutes later, no pudding. They had forgotten, so got it 5 minutes later.

After paying the bill and leaving, heard the man serving tell customers the same and also adding no steak and ale pie.

Come on Peacock, it's Friday evening. This is a poor show.

Yours, upset Graham.
Carole -
Rating:
Used to have excellent food here, but terrible food and dirty glasses to drink from today.
Carmel Hartley -
Rating:
We have been regular lunchtime diners at The Peacock and have always been satisfied. We visited on 26th April and were very disappointed.

I ordered from the main menu as usual but was brought a meal from the lunch menu but continued all the same. However, I found my meal was cold, especially the mushy peas and chips, which were clot cold, the fish being slightly warmer. I mentioned this when asked if the meals were satisfactory and was asked did I want to do anything. I said leave it as I could not be bothered but was told the chef would be told. We did not hear anything further. An apology would have been nice.

Probably will not visit again. Not used to such poor service previously.
Yvonne -
Rating:
Excellent food and service from friendly staff. Would definitely eat here again and look forward to my next visit.
Gary -
Rating:
Best mixed grill I have had in a long time. Service was excellent. Would recommend without a doubt.
Claire -
Rating:
Went in today (27th December) at 1pm. Not too busy. Ordered off lunchtime menu and kids menu. Had garlic bread starters, which were good. But then waited an hour for mains, and when they arrived the chips were cold, though when mentioned, the waitress provided replacements.

Quite expensive and the wait for a couple of sandwiches and chips was ridiculous. Has put me off returning.
Jenny -
Rating:
Enjoyed ladies lunch for 7 here. Drinks arrived promptly, followed by a very pleasant meal. The food was tasty and very good value for money. The service was excellent.

No complaints. We will come again and will recommend.
Alison Postle-Owen -
Rating:
My daughter chose the pub for an early dinner, as she had fond memories about how cosy the restaurant was. We were slightly disappointed to find the tables all in rows and too close to one another. We opted for the bar tables to be more private!

My daughter's food was acceptable but my risotto was very disappointing. The first attempt was clearly reheated but lukewarm. The second attempt was hot but very dry, a small portion and to be quite honest, not worth the money.

Unlikely to return.
Chris Stephenson -
Rating:
My husband and I ate there on Sunday. The service was good, the food was good. Definitely homemade Yorkshire puddings, always a positive for me. Staff were pleasant and the food came within 15 minutes.

Would return and recommend.
S Armitage -
Rating:
Typical pub grub. Will not be returning.
Ennis Keight -
Rating:
Called in around 5PM after a day in Derbyshire, didn't think it would be necessary to book at that time of day. We were told upon arrival that we could have a table but would need to vacate in 1hr 30mins. We said that was fine, as we were on our way home anyway. Drinks arrived - they were fine. For starters my husband ordered Bubble & Squeak with a poached egg on top. I ordered the Avocado Salad.

After about 30 minutes they arrived - the poached egg on my husband's dish was hard and my Avocado Salad comprised of a plate of leaves with some trace of avocado and mozzarella! My husband complained - the dishes were taken away by the manageress, who explained that she had a trainee chef on. The replacement starters arrived - the egg on my husband's Bubble & Squeak was on the un-cooked side but he didn't complain again. My Avocado Salad comprised of a very squashed piece of avocado, which was inedible, some leaves and olives.

Our main courses were Steak & Ale Pie and Gourmet Burger. The pie filling was gristly and tasteless, the burger roll was dry and looked pretty unappetising.

We weren't charged for our starters, but needless to say we will not be returning!
Suzanne Rogers -
Rating:
Booked a table and the menu looked fab. Got there and were shown to our table straight away.

Unfortunately, after half an hour we were still sat waiting, having been ignored by 3 members of staff - including what looked like manageress. Decided to leave - told the waiters - who were apologetic but it wasn't even THAT busy. Such a shame.

Went down the road to the Cross Scythes where the menu didn't look as exciting but the service was excellent. Know where we will go in future.
Barnaby Knowles -
Rating:
The pub has changed hands since the last reviews were written and my experience dining there was positive.

I ate with a party of 7 on a Friday night. There were a few other tables dining that evening but the pub wasn't busy.

Service was friendly and prompt, and the food appeared to be homemade, or at least not just warmed up in the microwave. No complaints about the meal from any of our party.
Anne Taylor -
Rating:
We booked a table for 5 for my daughter's birthday at 3PM on a Sunday afternoon. When we arrived we were told that there was a 45-minute wait for the main course - not sure why as the restaurant was not overly busy. Although some of our party had a long journey to make and time was short, we decided to stick it out and fortunately our wait was not quite as long as this.

After about 15 minutes my husband went off to chase a waitress, as no one had taken a drinks order. He was told that someone would be sent over to us shortly, but no one arrived. Eventually we asked another waitress to take our order but when it came, my selection was not available, even though it was a simple fruit juice from the drinks menu.

Two of us had starters which were OK, although mine was only just warm. The dish that I ordered for main course - a risotto - was not available so instead I chose a vegetable lasagne. I only managed to eat half of what was a small portion, because it was totally dry with hard sheets of lasagne on the top, and the presentation was awful.

My mother requested roast beef form the Sunday roast menu, but there was none of that, either, so she settled for pork. We asked the waitress if it would come with gravy already on it and she said that it would, so we specifically asked for no gravy and she wrote this on her note pad.

The vegetables arrived in a cold side dish with a jug of gravy, which although unwanted, indicated that the meat would be gravy-free, as requested. Unfortunately, this was not the case - the meat was smothered in gravy and so we sent it back. By the time a replacement arrived the luke-warm vegetables were cold.

When we had finished, the waitress collected our plates and asked us if everything had been OK. I told her that I could not eat mine, as it was dried up, to which she commented "Sorry about that", but no further action was taken.

We then waited to place an order for deserts, but no one came. After another long wait we abandoned any hope of getting any puddings and decided to call it a day.

We left vowing not to return again.
Claire Finneran -
Mother's Day - what a terrible experience. We booked a table for 10 guests at 16:00, it took nearly 25 minutes at least before we ordered drinks and that was when we had to get up and ask a waitress to take our order.

We ordered our food from the set Mother's Day menu, and were advised approximately 10 minutes after that there were no scallops, which were on the set menu. We were not offered an alternative starter from the normal menu, even though the other options were not to personal liking.

All starters arrived, albeit one that was incorrect and didn't arrive until everyone else had nearly finished their starters. The starters that we did receive were not to the specification in the menu, and certain ingredients were missing.

Once the main courses arrived, 90 minutes after being seated, they were freezing cold. The gravy had skinned over, the portions would not fill a child. And again ingredients were missing from menu, i.e. onion rings from the burger. One main course was wrong.

Once we spoke to the manager we were advised they had ran out of certain foods at 3PM, before we arrived, but we were never advised of this once seated. We were not happy to stay for the main course and left instantly. The manager did not even apologise and had a severe lack of customer service. He only offered to re-cook the meals again, and also refused to touch the food when we asked him to - to prove we were not overreacting.

This totally ruined x3 mothers' day around the table and we would not recommend anyone to visit this place unless it's for a drink. Only save your petrol money. Do not book here for a special occasion, you will be highly disappointed.
David Patrick -

Went this lunchtime and it was appalling. To cut a long story short I had scampi, chips and peas and the chips were just warm the peas cold and not even cooked through, the scampi was watery inside. All in all quite awful. My wife's fish and chips were the same although her mushy peas looked as though they had been on the plate for hours. The kids' food was very lacklustre - sausage and chips, that's right just the one sausage accompanied by the tepid chips.

Some of the staff seemed OK but the majority of the waitresses were rude and surly.

Sent our food back and said we would not pay for it and no one bothered to find out why.

If the kitchen staff (can't call them chefs) can't even prepare frozen food properly they should resign - the culinary equivalent of Kwik Fit fitters.
Eaten at Peacock Inn? Write a review!
Anonymous reviews, reviews using nicknames or reviews sent from invalid email addresses will not be published.