Moorlands Restaurant
Owler Bar
Owler Bar
Sheffield
S17 3BQ
Telephone: 0114 2620189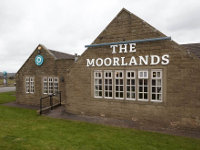 Reviews of Moorlands Restaurant
Type(s) of Food Served
Pub Restaurant
Description
Moorlands restaurant is located at Owler Bar in Owler Bar.
Food Service Times
Monday - Saturday: 11:30AM - 9:30PM
Sunday: 11AM - 9:30PM

(The bar is open longer.)
Special Offers
There are no special offers that we are aware of.
Amenities & Facilities
Credit/debit cards accepted?
Average main course price?
Special diets catered for?
Anne Purden -
Rating:
Visited for Christmas lunch. The food and service was outstanding. The only downside was that the tables are small, particularly when four adults are seated.
Stuart -
Rating:
So glad that you are back. Never had a bad meal here. Read the report from Carl; anyone who can't spell meat should be ignored.
Ronnie Laws -
Rating:
Great that the Moorlands is back. Have walked the Peaks for years, then always call for carvery here. No problems, escorted to table, our order was taken by a lovely young lady called Eliza. Brought our drinks then told us our carvery was ready. Served quickly by the chef himself. After months off due to lock down it's great to have a carvery again.

Well done Moorlands. Great service, brilliant food, nice staff. Cheers Eliza.
Carl -
Rating:
Waiting in a line for 20 minutes to be served fatty meets and watery veg with no flavour whatsoever. Not good at all.
Jan Cherington -
Rating:
We go here often. Brilliant staff. Always slow getting meal ticket from the bar. Meat good, vegetables can vary, sometimes rather tasteless, lacking in variety and overcooked, other times very good. Still good value and lovely location.
Kate Lord -
Rating:
Excellent. The family feel of this establishment is wonderful.

The waitresses that dealt with the party I attended were ever so polite and were more than happy to go out of their way for us. One waitress even helped my granddaughter to the toilet and the entire kitchen team, chefs and all, sang happy birthday to my mum.

It honestly is the most welcoming place I have ever visited. John, Emily, Hannah, and another girl with long blonde hair. All of these people are a credit to your business, working excellently with each other and deserve some recognition. Thank you for making my mum's birthday so memorable and enjoyable.
Peter Woodhead -
Rating:
I have dined with you for a lot of years, regular every week and I have had no complaints. But today at 15:45 hours I found the chef who wore a green hat was rude and surly. Obviously having a bad day and should not be taking it out on costumers. And the meal was not up to its usual standards. People on the front line should make customers want to revisit, not to be deterred.
Eaten at Moorlands? Write a review!
Anonymous reviews, reviews using nicknames or reviews sent from invalid email addresses will not be published.