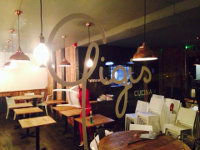 Reviews of Gigi's Cucina Restaurant
Type(s) of Food Served
Italian
Description
Gigi's Cucina is a family-run authentic Italian restaurant, offering a combination of well-known classic and original dishes all created with fresh, top-quality ingredients by Gigi himself who pays as close attention to his "friends" front of house as well as he does to what is happening in the kitchen.

With his home-taught culinary knowledge and his passion for cooking, inspired by and cultivated during his childhood in a remote Sicilian village, not to mention his experience over almost four decades in the industry both in Sheffield and London, Gigi offers a truly Italian experience at his Cucina.

With a central location just a stone's throw from Ecclesall Road, but positioned within a friendly residential community, Gigi's is the perfect destination for Sheffield's discerning diners. With good public transport links and ample free parking a visit to Gigi's will be an effortless experience.
Food Service Times
Monday - Saturday: 11:30AM - 2PM and 6PM - 10PM
Sunday: 11:30AM - 6PM
Special Offers
There are no special offers that we are aware of.
Amenities & Facilities
Credit/debit cards accepted?



Average main course price?
Special diets catered for?
Wendy Bolton -
Rating:
What an amazing restaurant. Had a family reunion last night with twenty three of us! The food was really lovely, especially the steak. The staff were fabulous, and the decor wonderful!

The food was cooked fresh from scratch so worth the wait, which was not very long at all. My family were wowed by this place and will definitely return again.

Thank you Gigi for making our evening so lovely. Recommend family get-togethers here. Thank you to you all for working so hard for us.
Adil -
Rating:
Awful food, avoid! Expensive.

I did not like the food here. The taste was bland and I did not think it tasted very authentic. Had better supermarket ready meals.

Also, very expensive for what you get.
Daniel -
Rating:
Fantastic little restaurant! We have been to Gigi's three times now and every time we have a great experience. Good food, wine and decor! Five stars for Gigi's!
Dan -
Rating:
The food was wonderful and well priced. I would, and have, recommended this restaurant to anyone.
Stefan Firth -
Rating:
Great little authentic restaurant near to Endcliffe & Bingham parks.

We have been many times and are going tonight.

Mostly evening meals but lunch also. I would rate the food and service as good an Italian as you will find in Sheffield.

Personally I thought the wines were reasonable, very nice too.

The monkfish is my current favourite main but they have other fish and meat dishes, I always check the specials too. You will be spoilt for choice for desserts.

The service is pretty slick too - just how I like it!
Heather -
Rating:
Place very stuffy, pizza rather tasteless, and middle-aged waiter wouldn't leave us alone, which was most off-putting! Not sure we want to go back - not recommended! And over-priced, especially wine.
Eaten at Gigi's Cucina? Write a review!
Anonymous reviews, reviews using nicknames or reviews sent from invalid email addresses will not be published.