Bella Napoli Restaurant
367 Abbeydale Road
Nether Edge
Sheffield
S7 1FS
Telephone: 0114 2558367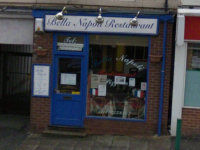 Reviews of Bella Napoli Restaurant
Type(s) of Food Served
Italian
Description
Bella Napoli restaurant is located at 367 Abbeydale Road in Nether Edge.
Food Service Times
Sorry, we do not have the restaurant's opening times yet.
Special Offers
There are no special offers that we are aware of.
Amenities & Facilities
Credit/debit cards accepted?
Average main course price?
Special diets catered for?
John Martin -
Rating:
Great food, lovely staff and very accommodating.

We showed up at short notice and had a really great meal.

Menu is very good and cooking good as any restaurant in London.

Don't be put off by bring your own wine, it just means you have better value for money.

We will be back.
Liz Ralph -
Rating:
This is a very special restaurant. The food is cooked with love and is always delicious. It is cooked from scratch and there is a bit of a wait, but it is always worth it! You can always ring up and pre-order if you are in a hurry. It is very reasonable and it is bring your own wine. I had chicken risotto last time - wonderful!

I went to a party there recently where there was a special meal for a large group - and the food was amazing - even better than the normal menu.

Strongly recommended - and everyone there is lovely!
Elizabeth Dawes -
Rating:
If you want to eat really well on tasty authentic Italian food then try this wonderful restaurant.

Small, intimate space, but food is cooked to order in the tiny kitchen by the owner and it is truly wonderful

Take your own wine, and booking is essential.
Matt Wood -
My second dine at the Bella Napoli. Immediately I am confronted with a friendly, warm and cosy environment, albeit a venue on the small side. Not a problem though as I proceed to scan the menu selection. All fairly typical of Italian restaurants in the area. A simple order of 'Special Pizza' and 'Risotto Marinara' accompanied by plain garlic bread, nothing too exotic. The order placed is fairly swift and I note the waitress and hostess is kept busy by the half-dozen tables. Almost immediately a service of black and green olives in light seasoning is placed on the table. A welcome addition although I later realise it's a half-hearted apology for the impending wait.

The garlic bread arrives after some 35 minutes, the pizza and risotto another half an hour later. On my first visit similar service time was observed with a 1 hour 15 minute wait on an evening that wasn't that busy. Herein lies the problem, one waitress and two chefs.

Of course such disappointment can be tempered and overcome by outstanding food. In this case I cannot offer such an enthusiastic recommendation. The garlic bread was rather bland. The pizza had a somewhat doughy taste and was on the 'rare' side. The risotto, for all its promise, had a seafood selection that was prepared akin to a cardinal sin. In short, overcooked and rubbery.

It wasn't that the food was unpleasant but as much effort and heart that is included in this Italian recipe does not make up for the inefficient service time and generally average tastes.

To offer some enlightenment, you can take your own wine and the atmosphere is nice and relaxed. However, to offer a final negative footnote, you cannot pay by card and have to revert to cheque or cash... so last century.

In all, I cannot recommend this restaurant but if you have time to kill and fancy a change then firstly I would indulge in one of the other numerous restaurants in the Nether Edge area. If they are too busy then you may be tempted. After all it isn't bad, just not particular good in any area.
Eaten at Bella Napoli? Write a review!
Anonymous reviews, reviews using nicknames or reviews sent from invalid email addresses will not be published.