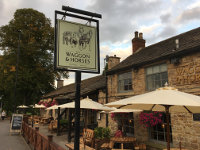 Reviews of Waggon & Horses Restaurant
Type(s) of Food Served
Pizzeria / Pub Restaurant
Description
A long standing, historical venue that has fallen out of favour in recent years, we want to bring the Waggon & Horses back to being a great community pub, serving great food and a wide selection of drinks.

Here at The Waggon & Horses we believe that care and passion are the key ingredients to a successful menu. We source only the finest local ingredients and try to use seasonal produce wherever possible.

The drinks selection at The Waggon & Horses is vast. Bringing you over 30 gins in our specialist gin menu, paired with tonic and garnish for the perfect serve. Ask at the bar for a recommendation or to see our gin menu. We believe that the secret to a great bar is passion from the team. We encourage all of our staff to specialise in something they love, that way we can bring the most accurate information about all of ours drinks selection.

Make yourself at home in our tap room, bring along the family dog. Or book a table in the restaurant for a more traditional dining experience.
Food Service Times
8:30AM - 10PM

Last seating: 9:30PM

(The bar is open longer.)
Special Offers
There are no special offers that we are aware of.
Amenities & Facilities
Credit/debit cards accepted?



Average starter price?
£5.00
Average main course price?
£12.00
Average dessert price?
£5.00
Special diets catered for?
Gluten-free
Lactose-free
Vegan
Child facilities?
Children's menu
High chairs
Crayons
Baby changing
Christine Wood -
Rating:
My husband and I decided to try a meal at the Waggon & Horses, which on reflection was a big mistake.

The food was of a very poor standard. My choice was gammon, which arrived in a thick chunk, was tough to cut and very, very salty, accompanied by thin sad looking chips. The peas & mushroom equally were tasteless.

My husband had pie, which he said was passable. Again, served with sad chips etc...

What a disappointment, alongside a small, dreary dessert and one drink each, plus two coffees.

We will not be returning. To sum things up the meal was a complete waste of money. The only good thing was that the bar & waiting staff were very helpful.
Margaret Anderson -
Rating:
Went for a meal with a friend. We ordered chicken pie. When it arrived it was swimming in gravy. OK I like gravy but not beef gravy with chicken pie. We should have returned it but like all polite British we didn't. We will not be returning.
Chris -
Rating:
Food was awful and cold. Found part of a plastic wrapper in my daughter's meal. Won't be returning.
John Morello -
Rating:
The food was so bad. The meat portions were massive and looked like big slabs of rubber. Way under-cooked. The veg was tasteless and cheap tasting. One of us sent it back it came back two minutes later in exactly the same way. After another minute we all sent our meals back, paid for the drinks and left. We won't be back. Get a new chef, he/she is a liability.
Jenny -
Rating:
Nice building, nice staff, but food very disappointing. Use it for pie or pizza. Menu is very high on carbs and calories.
Sheila Kay -
Rating:
My husband and myself was celebrating our birthdays.

We went for a meal at this pub that we haven't been in for about 10 years. The place was empty apart from 2 young women with toddlers.

We went to the bar and ordered our drinks & food. The woman behind the bar asked where were we sitting. I headed off to the restaurant to find a table number where we were going to sit, and the bar lady said no you can't sit in the restaurant (it was empty). Other people came in the bar with dogs sat near us, then 2 ladies went into the restaurant, sat down, and one of the bar staff went over and took their order! Would love to know why we had to sit with the dog walkers.

Food was nice.
Margaret Anderson -
Rating:
This is the second time I have had a bad meal. This time it was my son that had a steak pie but the meat was so tough he sent it back. The waitress said the chef sent his apologies and he could have a free sweet.

I feel we don't get any feedback when it's a bad meal, only if it's a good review. This is good money I am spending and it's a waste.
Margaret -
Rating:
I took my grandchildren for a meal today, the 28th of December. The children had a nice meal. I decided to have a pizza. This was appalling, the cheese was horrible and I couldn't eat it. I did tell the waitress. I am not a fussy eater and I have had some good meals at your restaurant. I just thought you should know. Thank you.
Wendy -
Rating:
Ate there yesterday, very disappointed. Pizza with hardly any topping, poor fish and chips, tiny salad bowl was just limp lettuce. All over-priced for what we got.

Took ages to get served, despite not being busy. Unfriendly staff who couldn't be bothered to take our order, clear the table, or even take our money to pay the bill. Won't be going back in a hurry.
Nicola -
Rating:
Started with garlic and tomato bread. Super! (It was no problem to change butter to oil, as dairy-free.)

Two fish finger sandwiches. Large portions. Very tasty. One turkey and cranberry sandwich. Again large.

Not too keen on the chips. We found a little too greasy and soggy. Having said thank we are looking forward to returning for pizza (one with just goat's cheese for dairy free), as the base on the garlic bread was amazing!

Great value for money.

Friendly staff.
Claudia Entwhistle -
Rating:
The staff are lovely and I've enjoyed the food every time I've gone. I would recommend the pizza, the fish pie, and the chicken burger as being particularly tasty.

It's very cosy and friendly.

On a weekend people often take their children, so I do prefer the weekdays.
Susan Sutler -
Rating:
Food was tasty and cooked well, delicious gravy. What let it down for me was the food being piled up. I like to see what's on my plate. Not good presentation for myself and a few of our group.
M J Day -
Rating:
Had lunch today at the Waggon & Horses. Never again. I don't know why I even gave it one star.
Tom -
Rating:
Took our mum for pre-Mother's Day lunch on Saturday, 26th March 2017, under the latest new ownership. First, the booking we had made hadn't actually been booked, so 5 of us were put on a table set for 4, and then forgotten about for a while. No kids menus were brought over so we had to get our own.

After 20 minutes no order was taken and, after flagging a waitress, she took our order begrudgingly ("it's not my section").

The lunch menu was incredibly limited (basically pizza or burger) and the food took ages to come. When it arrived, it was bland.

After finishing, we waited for our plates to be collected and dessert menus to be brought. A waitress eventually told us "2 minutes". 25 minutes later we were still waiting and by this time we'd been there for over 2 hours and eaten one course, with 2 young kids, so decided to call it a day.

We were continually overlooked in favour of clearing empty tables that weren't likely to be used any time soon anyway (it was fairly busy at first but half empty near the end). My mum was very upset and complained, and the only saving grace was there was no charge (and the service being so bad was almost comical if it hadn't ruined my mum's dinner).

This place seems to change owners every few years but the service has always been good with previous owners. This was our first visit under new ownership. Sadly we won't be going again in its current guise, and having spoken with a few other customers on their way out in the car park, I doubt we'll be the only ones.
Sheena -
Rating:
We could not disagree more with the previous comment! As this is just opposite from where my parents live, in sheltered housing, we have been a couple of times before it changed management, for convenience. It was awful! Dreadful food, limited menu, unpleasant and rude staff (big sighs if we asked anything, for example).

We refused to go again, but we had heard such good reports since it came under new management that we "tried it" a couple of weeks ago. We were lucky to get a table because it was so busy, even though it was not a weekend. We overheard lots of people saying how nice it was. Our food was really lovely, incredibly tasty and the staff were very friendly and helpful. My parents have been since for lunch and I've just booked again for an evening meal.

The previous comment sounds like what it was like before.
Dave Clements -
Rating:
I am a long standing customer and have frequently eaten in the Waggon and Horses. It has always offered a good selection of food at very competitive prices. How it has changed! We recently had an evening meal there and were quite shocked at the "service" we received. The staff were more concerned in going home than offering table service, as we were routinely "blanked" when trying to attract attention.

The menu is very limited to say the least. Our order included two pizzas and they were hard, dry, not very well topped, and very expensive - I'd go as far as to say drastically over-priced for what was on offer.

Don't bother providing feedback as you will be ignored, but that will be the last time they ignore me as I will not be returning.

Take my advice and give this place a wide berth.
Eaten at Waggon & Horses? Write a review!
Anonymous reviews, reviews using nicknames or reviews sent from invalid email addresses will not be published.