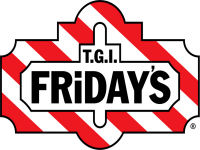 Reviews of TGI Friday's Restaurant
Type(s) of Food Served
American
Description
TGI Friday's restaurant is located at 52 The Oasis in Meadowhall Shopping Centre.
Food Service Times
Monday - Thursday: 11:30AM - 10PM
Friday & Saturday: 11AM - 11PM
Sunday: 11:30AM - 9:30PM
Special Offers
There are no special offers that we are aware of.
Amenities & Facilities
Credit/debit cards accepted?



Average main course price?
Special diets catered for?
Child facilities?
Baby changing
Margi Morton -
Rating:
I ate here on the 6th June around 3PM.

To say the least I was appalled by the service. Our waitress was rude. I requested a skewer of some kind to hold the corn-on-the-cob and was answered sarcastically, "I will get you a fork", which I had obviously already had a fork. Then she proceeded to glare at me throughout the meal, which I hasten to add, was average at best, and overpriced. I was finally given a couple of cocktails sticks. She did not seem to be aware of the need for the correct implements for dining.

I shall not be dining here again.
Sarah Lawton -
Rating:
Ate there yesterday as a party of 5. We were put on a table the farthest away from any servers and seemed to be forgotten about.

After about half an hour our drinks arrived, which we had to remind the server to bring! When the food arrived my 2 sons refused to eat it, as it was bland, dry, and over-cooked. We were at that point given 2 glasses of free Coke!

Never again would I eat at this restaurant. It has seriously gone downhill. I did complain and I got a "Sorry". Not bad for a £113 bill! I then took them for a McDonald's!
Nicola -
Rating:
Visiting here yesterday 9/9/2017 for my boyfriend's birthday. We were seated upstairs and then left for about 20 minutes before I asked this young girl if anyone was serving. The waitress took our order and brought our drinks 5 minutes later, but the best of it was we had to wait 1 hour before our food came. A couple next to us got up and left, as they got sick of waiting, and on another table a lady sent her burger back because it was cold.

When ours eventually came the presentation of the food was awful. The chips were cold and so was the burger. We called the manager, who was very apologetic and offered us vouchers for another meal at a TGI Friday's of our choice.
K Morris -
Rating:
Lovely meal and service whenever we go, but would like to thank Andy on Saturday who turned out to be the best service yet. He was fantastic, was there straight way if needed anything, and refill drinks were always topped-up with out being asked. He's a good asset to the TGI Friday's team.
Eaten at TGI Friday's? Write a review!
Anonymous reviews, reviews using nicknames or reviews sent from invalid email addresses will not be published.