Frankie & Benny's Restaurant
60 The Oasis
Meadowhall Shopping Centre
Sheffield
S9 1EP
Telephone: 0114 2516850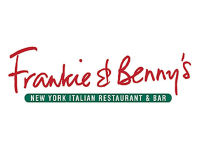 Reviews of Frankie & Benny's Restaurant
Type(s) of Food Served
American / Italian
Description
In the heart of Meadowhall Shopping Centre you'll find us, Frankie & Benny's. We are ideal for breakfast, from just £3.95, before a busy day shopping. Pop in during the day for lunch from just £6.95, or one of our famous Chicken Pittas. Why not visit at the end of the day for a relaxing late night cocktail? We are open even after the shops are closed!
Food Service Times
Monday - Saturday: 9AM - 11PM
Sunday: 9AM - 10:30PM
Special Offers
There are no special offers that we are aware of.
Amenities & Facilities
Credit/debit cards accepted?



Average main course price?
Special diets catered for?
Maureen Charlesworth -
Rating:
My review is just to say, Miya was my server, for my meal. She was kind and attentive. She was respectful and prompt. I am sure the other staff are good but she was exceptional and you are so lucky to have her skills.
Jan Sharman -
Rating:
Had a meal there yesterday using the gluten-free menu as I have Coeliac disease. Just made it home in time to be violently ill. The meal had obviously contained some gluten, as I have never been that sick before with just cross-contamination. Coeliacs beware! I must say that I have been to other Frankie and Benny's with no problems.
Ian -
Rating:
I visit regularly. Cannot complain at all. The breakfasts are decent. Service speeds can be unpredictable for dinner at busy times but I'd say the same for most restaurants. The waiters are superb with my children.
Amy Foster -
Rating:
I have been to the one at the Centertainment and I really enjoyed it. It was lovely, the best food I've had in a long time. So when I went to the one at Meadowhall I was expecting the same, but I was very disappointed.

The starter was like water, the sauce should have been thicker, the burger was burnt. Now I love burger and chips, but I couldn't eat 'cos it was horrible.

I still like the restaurant but I would never go to the Meadowhall one again. I only ever go to the Centertainment one.
Pete M -
Rating:
I visited with 5 work colleagues this morning. When given the bill we asked to pay separately. The waiter told us we couldn't. We insisted and were then told it was £5.20 each. The other lads in front of me duly paid their £5.20 and headed off to the van, as we were late from our break time, as it took a long time to get our bill.

I was last in line and gave the waiter a £10 note for my share, expecting £4.80 change. He then told me the bill was short, as he had divided it wrong, and I would have to pay more than £10 (for a £5.20 breakfast!), as the others had now left. Obviously I refused and said I wanted my change! He refused! So I had no choice other than to pay, due to the time, and walked off stating I would complain about this, and asked how was it my fault and that it was out of order that I was being overcharged almost double for my £5 meal?

The next minute the waiter (Scott I assume is name from receipt) followed me down the stairs threatening to call security unless I pay even more! I said go ahead and you can explain to them why you have charged me £10 for a £5 breakfast and refused to give me my change!

When I got back to the van and told my colleagues, two of the lads went back to pay the extra pound or so that he had miscalculated, at which time they were were "apprehended by security", which is shameful and ridiculous. Even when they gave the waiter the extra cash he was disrespectful to them even thought they had done nothing wrong!

The security guard then came back to me at the van and threatened to detain me for non-payment! To which I explained to him that I had in fact paid nearly twice what I should have and the lads had paid what was asked for! He agreed that your waiter had acted in a terrible attitude and apologised for embarrassing us. I think the waiter should be made to do the same?
Caroline Burden -
Rating:
Bad experience at the Meadowhall restaurant, which we visited August bank holiday Monday.

It was understaffed and we waited almost 45 minutes between starter and main. Reason being the mains had sat on the pass for 25 minutes. We could see our order, but due to the lack of serving staff, no one brought it to us.

When we received the food it had dried out completely, was cold in the middle, and my child's wraps were solid. We sent the food back and then waited again for fresh, which was just OK.

Apology from the manager but nothing from the waiter serving us.

Won't be visiting again!

Eaten at Frankie & Benny's? Write a review!
Anonymous reviews, reviews using nicknames or reviews sent from invalid email addresses will not be published.