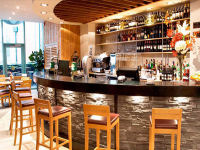 Reviews of Coal Grill and Bar Restaurant
Type(s) of Food Served
American / Modern British
Description
A vibrant national chain of restaurants, Coal Grill + Bar offers a comfortable and modern atmosphere combined with a fantastic selection of food.

Enjoy fresh, char-grilled cuisine from a tantalising menu which is sure to satisfy the most discerning palette, all prepared in our open plan kitchen by our friendly and experienced team.

Whether you are celebrating a special event or simply want to lounge on our leather sofas with a snack, cocktail or drink of your choice, Coal is the word for informal fine dining. Our fantastic level of service and varied seasonal menu adapts to create the perfect location, whatever the occasion.
Food Service Times
Monday - Saturday: 10AM - 11PM
Sunday: 10AM - 10:30PM
Special Offers
There are no special offers that we are aware of.
Amenities & Facilities
Credit/debit cards accepted?
Average main course price?
Special diets catered for?
Child facilities?
Baby changing
Bottle warming
Siobhan Garnham-Parks -
Rating:
It was a shambles from start to finish.

Firstly, we were asked if we wanted a jug of water for the table, we were given a glass each and this was never refilled let alone were we asked if we wanted it refilled.

I have an allergy to mushrooms so when I ordered the coal firesticks I asked if this could be served with no mushrooms. They told me I couldn't have any veg at all. If you can't accommodate allergies something else should be offered to make up for the lack of veg.

The starters were okay. The calamari was quite greasy but it was edible.

The mains were where it all went drastically wrong. The rice that came with my meal was microwave rice that still had large clumps of rice and tasted like Aldi's golden vegetable rice. The chips on mine and my boyfriend's meal were cold and greasy. The onion rings that were served to us were served from the pass and had been there since we arrived, as I had been watching the kitchen. Don't have an open kitchen if your chefs are cutting corners. The mac and two cheese my boyfriend ordered was cold and the sauce tasted of milk and not of cheese at all.

I waited 20 minutes for our waiter to come and check if I wanted another drink, despite my glass being empty. It then took a further twenty minutes to get it and a nudge to the waiter.

We spoke to the manager and she discounted some items.

We asked for the bill and this took twenty minutes and then we had to ask the manager.

The bill was £50 and to be quite honest I could have made the same meal at home for £20 so I am disgusted I have paid this amount for the diabolical meal we were served.

I can honestly say I have never had a worse experience at a restaurant.
Catriona -
Rating:
Terrible service. Knife was dirty on the table. My sister ordered a fish with prawns and specifically asked for no prawns and the waitress heard and the dish came out with prawns in it, imagine if she had an allergy, no excuse. Then she just removed them in the back.

Also we asked for 30% with our cinema tickets at the beginning and the bill came out at full price along with a £12 service charge for terrible service.

Would not recommend.
Bryan Smith -
Rating:
Today the meal in Coal restaurant was very good, but the service was the best part. We were visiting the town from Stafford. We were served by Mandy. The attitude was fantastic, friendly, efficient, a real credit. This meal made our day out fantastic.
Danny -
Rating:
One word... vile.

Went to visit a friend in Sheffield and went out to eat, regrettably deciding to eat at Coal. Ordered Buffalo wings and a margherita pizza. They both came out together, the buffalo wings looked more like soggy bat wings, horrible consistency, not like the lovely crispy real Buffalo wings like you'd expect. The Buffalo sauce was so watery it looked as though the bottle has run out and they'd just mixed what was left with water and poured it over the bat wings. They had to go back!.

Then the margherita pizza. That was such poor quality I didn't finish it. It was no better than someone attempting to make a pizza from scratch at home for the first time. Horrible base and crust, and absolutely tasteless. Really pitiful quality for a restaurant that's not exactly cheap. Would never go back! Heed my warning... it's awful!
Jordanna -
Rating:
My experience here was horrendous. I will never go back here again, it is genuinely the worst restaurant I have ever been in.

Upon arriving we were greeted by a really nice waiter and genuinely I thought we had picked a good place to eat. He gave us a drinks menu and told us what he recommended, so naturally we went for the drinks he pointed out. However, when they came they were so bland and it was basically a shot of gin and raspberry purée. We asked if we could have a different drink, as they were so bland and tasted awful and they gave us the menu back to get different drinks - which I appreciated.

After the drinks fiasco we ordered food and genuinely thought what we ordered looked nice on the menu. For starter we ordered the nachos and it literally looked like someone had chucked nachos on the plate - squirted tomato sauce on them and melted some cheese on top, along with some jalapeños out of the jar. You should never judge a book by its cover and with that in mind we tried it. In this case, we realised it was just as bad as it looked. The nachos weren't bad but the cheese was not melted AT ALL and it was stone cold underneath. You could actually see where the cheese hadn't been melted.

We asked for it to be taken back because it was cold and the waitress took it. Upon her return she told us that it was cold because the guacamole was fresh and it meant that it would be cold. Umm? What!? We literally just said to them that at this point we wanted to leave and we would pay for the drinks but not the food because we had one nacho each and couldn't eat any more. Thankfully they told us that they would write off the whole bill but even so I feel like that had to be done after such a horrendous experience.

Definitely avoid, we learnt the hard way.
Michelle -
Rating:
Staff welcoming; food not great.

Chicken very dry and tough, and also tasteless. Chips look like not cooked enough and not very tasty. Not worth the money. The coffee is not very nice to drink.
Rebeca -
Rating:
I've just been to Coal Grill & Bar in Meadowhall and the experience was awful. Probably one of the worst experiences I've had.

I went in with my partner and we ordered from the lunch menu. I had no idea how small the portions were - other reviews on Google had people saying that the meals from the kids menu were bigger than the lunch menu.

I ordered the chicken fajita and it came with two mini tortillas, if it said that on the menu, I would not have ordered it. Paying £7.95 for two mini tortillas and half of a chicken breast is ridiculous!

After we gave the feedback, the waitress kindly offered to bring the manager over and when the manager came, he was very rude. He was chewing gum and said that they do not control the portions and said "I don't know what you want me to say, it's not like I don't care, someone else does the portions" whilst continuing to chew gum.

Will never go there again and don't recommend it to anyone.
Paul -
Rating:
Took my wife for lunch for her birthday (Meadowhall branch). Have to say, very disappointed, cost me £40.

We both ordered brisket (mine was in a brioche) and I had to take every piece of meat out of my sandwich to take the fat off, which was soft like jelly, it was very off putting. My wife's was the same but she didn't have as much fat on hers. Coleslaw was bland and tasteless, and fries were nothing special, either.

Left half of mine and wife left some, too. I told the waitress, who just said "I'll let the chef know", no apology. And when she came back she never said anything and just dropped our bill on the table.

Would not recommend to anyone. Came away feeling robbed. Will never go there again.
Sean -
Rating:
Empty. Unbelievable wait. No choice of half the menus. Food over priced - £20 for a rubbery burger and six greasy fries. Tried bending the burger in half after I nearly broke my tooth on a piece of gristle and it sprung back like a spring -inedible. Refused to pay on a five burger meal as they couldn't even get it right one out of five. Anyone to leave this restaurant a good review clearly works there because anyone else would have to clearly get out more.
George -
Rating:
Lovely breakfast, great service. I witnessed the waitress spill the beans and she was so apologetic. Ignore the haters, the waiting staff are lovely and the food is fresh. The girl was very apologetic and couldn't do enough. Sometimes people are out just for a freebie. It's not the end of the world. We loved our breakfast and wouldn't cry over spilt beans.
Graham Wild -
Rating:
Pretty awful really. Went for breakfast, waitress threw food over me and the seat, I cleaned it up and the final insult was they charged us full for the meal.

Will never go back again.

Oh and it would be zero stars if that was an option.
Dave Ripehurst -
Rating:
Spent far too long waiting to be served and when we finally were, the food was awful microwave reheated. The food was twice the price and worse than you'd expect from the Wetherspoon's downstairs.
Joy Fairbrother -
Rating:
Visited Thursday evening last week. Had a friendly welcome and a waitress who knew her menu. The food was sizzling and the side dishes hot.

It wasn't very busy, but all-in-all we had a fabulous meal and really enjoyed the evening.

Hoping to go again tomorrow.
Tracy Caldecott -
Rating:
Me and my husband ate at the restaurant yesterday and although the place was very busy the service was excellent.

We had an above average wait time for starters, but when they arrived they were well worth the wait, along with an apology from the waitress.

The main course was also fantastic. As our waitress was nearing the end of her shift a polite young gentleman then took over, who was equally as pleasant as all the other staff that we spoke to.

A very nice touch at the end of our meal was a discount to reflect the waiting times on the food.

We will definitely return to eat here when we are next at Meadowhall.
Lisa Hewitt -
Rating:
I went with my son for his birthday. Looks modern and impressive. The service was slow and there were not many people in. The waitress did not have knowledge of the menu and price. Waited for ages, thought of leaving.

Starter arrived (said with salad, but was just a bit of dry lettuce), no butter was offered for toast with pate.

Mains came, one supposed to be rare and one medium, but both were well done the same. Chips were inedible, salad again bit of dry lettuce. As the waitress put the meal down asked if it was OK, I mumbled yes with a mouthful of steak.

When she came back I complained and she rudely said I should have complained earlier that she had given me the opportunity. My son being a student had eaten all of his meal which she commented on. I went home still hungry and £28 lighter for rude service and crap food.

Waitress did offer me to speak to the manager but I did not want to ruin my son's birthday so I paid and said that I would not return and I had no apology. Left a bitter taste in my mouth.
Isabelle Young -
Rating:
Visited this restaurant on Tuesday night. It was very busy. The waitress was called Rachael, really good and chatted to us about where we were heading that evening.

The food was really good. We had the firesticks and couldn't move after! Really enjoyable visit - will be back soon.

Also half-price cocktails. Pity I was driving!
Hayden Taylor -
Rating:
Ridiculous! Waited to be seated, waited for drinks, waited for food.

Customer service was frightful. Food was barely warm.
Toni Arnold -
Rating:
At first glance, the restaurant seems to offer a good variation of food on the menu, which is why it attracts.

However, the service was one of the worst I've experienced (over 20 minutes to get a drink at the bar and more than 45 minutes to actually be seated!). Have to add that half the cocktails were not available, as they didn't have the ingredients - but the maitre'd insisted we had to drink there to secure our table!

The food, when it finally arrived, was cold / tepid at best, and the tortilla wraps (with fajitas) were dry and stale. The waiter did his best to bring out hot chips - but it was not enough to save this from being a disastrous dining experience.
Eaten at Coal Grill and Bar? Write a review!
Anonymous reviews, reviews using nicknames or reviews sent from invalid email addresses will not be published.