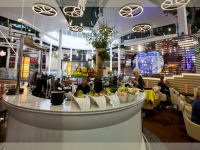 Reviews of ChaoBaby Restaurant
Type(s) of Food Served
Thai
Description
ChaoBaby brings the quality ingredients, exceptional service and delicious dishes of Thailand to Meadowhall shopping centre.

Exceptional Thai food served as a delicious, fresh banquet, ChaoBaby is an exciting, accessible dining experience for all the family to enjoy.

For one price, diners can enjoy a variety of authentic Thai dishes, prepared and served by Thai hands.
Food Service Times
Monday - Saturday: 12PM - 10PM
Sunday: 12PM - 9PM

Last seating: close of service.
Special Offers
Yes - lunch menu for £7.95; wrap and drink for £7.50.
Amenities & Facilities
Credit/debit cards accepted?




Average main course price?
£11.95
Special diets catered for?
Wheat/gluten-free
Ashley Rhodes -
Rating:
Staff very friendly. Food is fantastic. Great place.
J Riches -
Rating:
This place has fantastic food, great service, and a relaxed atmosphere. Will definitely be going again.
Gill Woolley -
Rating:
This is the third time we have been here. Always friendly staff, efficient, hard working. Excellent selection of food and plenty of it. I like it because I don't eat spicy food and there is always something I can eat. Would recommend to any of our friends.
David Carroll -
Rating:
Went here for the mid week buffet, waste of time and money.

Spring rolls were the very cheap frozen generic offerings you get in the freezer section of ethnic supermarkets. When I know the Thai version freshly made is stunning. Same for the samosas. Rice. Boiled basmati or fried, as in Chinese egg fried. Chinese prawn crackers and lack lustre curries, as in potato and broccoli. Watery and sad.

The Thai restaurants I have experience of can cook some beautiful complex curries. Fish in batter? Dry! No pork or chicken spare rib or tasty chicken pieces. The only thing they cook in front of you will be your soup and I think that's about the main draw of the place. An array of sweets and fresh fruit but the bottom line is this place will suit shoppers with no idea of what Thai cooking is all about.

Sorry for the negative review, I can only post as I see it based on my experience and tastes.
Eaten at ChaoBaby? Write a review!
Anonymous reviews, reviews using nicknames or reviews sent from invalid email addresses will not be published.