Carluccio's Restaurant
Unit 53, The Oasis
Meadowhall Shopping Centre
Sheffield
S9 1EP
Telephone: 0114 2516767
Website: http://www.carluccios.com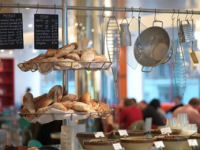 Reviews of Carluccio's Restaurant
Type(s) of Food Served
Italian
Description
Our restaurant, food shop and caffe serves breakfast, lunch and dinner throughout the day, so you can have a tasty Italian meal even when you're short on time.
Food Service Times
Monday - Saturday: 8AM - 11PM
Sunday: 9AM - 10PM
Special Offers
There are no special offers that we are aware of.
Amenities & Facilities
Credit/debit cards accepted?
Average starter price?
£5.50
Average main course price?
£14.00
Average dessert price?
£5.00
Special diets catered for?
Gluten-free
Bethan Griffiths -
Rating:
My daughter and I ate here today for the first time and both had the chicken and avocado salad. So tasty. Service also excellent, professional and friendly. Well done. We will be back.
Andy F -
Rating:
I am flabbergasted by the reviews below, giving just one star. We eat at Carluccio's regularly, when open, and have never had a bad meal or bad service. In fact the service is exceptional and the food immaculate. We have not had an issue with dirty anything.

We have only ever had one problem, the non-arrival of a side dish. We waited until our lovely server came by next and pointed it out to her. The issue was dealt with immediately.

I feel like the reviewers below have really been spoilt if they think Carluccio's Meadowhall is poor.
Liz W -
Rating:
Excellent brunch. Lovely staff. Very nice family atmosphere. Very tasty food and attentive helpful staff. Great experience.

Eggs Benedict cooked to perfection, lovely drinks, and very tasty hot cross bun. Excellent!
Jane Gration -
Rating:
Having read the previous reviews I have to agree with the comments made.

We often visit Carluccio's in West Bridgford and in Dorchester, both of which are excellent. Having had good experiences at both these restaurants we decided to lunch at Carluccio's in Meadowhall during a shopping trip.

The food was well below par, the service not existent, and at best surly, and I agree that the whole restaurant had a grubby appearance.

Plenty of alternative eateries at Meadowhall, so will not be visiting this Carluccio's again.
Michael Willoughby -
Rating:
My comments are regarding our recent visit to Carluccio's on Wednesday 7th July 2016, arriving at lunch time, 12:30PM.

There were three of us for lunch, my wife, sister, and myself. We were shown to our table and ordered our drinks. Everything OK up to there.

All three of us already knew the meals we were to order, and placed the order with the waiter.

My sister and I wanted the lasagna each and the garlic bread to share, with my wife wanting the Chicken Milanese with salad.

Again no problems there. The restaurant was now filling up with diners.

We sat chatting as you do, and waited for or lunch to arrive. It arrived about ten minutes later.

All three meals looked very nice on the plates. But no garlic bread arrived. We asked the waiter and he said he knew where it was and he would go and bring it over.

We started to eat our lunch, expecting the bread to arrive straight away. But no, in fact it arrived much later.

But again things were going wrong. We both had taken a mouthful of the lasagna and said mine's cold.

My wife was tucking into her Milanese with a comment that the salad looked a bit limp and did not look as fresh as you would want at lunch time.

We asked a young male waiter to come over to comment on the condition of the lasagna and were told in a very nasty manner that I would have to wait till he had the time to come over to our table.

Minutes later the same waiter came over and said what's the problem in a not too nice way.

I asked to speak to the manager.

To the manager's credit he come over and we expressed our concerns regarding both lasagnas and the late arrival of the garlic bread. He listened and apologised for the problems and offered us two fresh and hot lasagnas.

My sister and I both refused his offer. By this time, my wife had eaten her meal and we had eaten the garlic bread.

We asked the manager for our bill, wanting to pay for the Milanese and drinks, which we did.

Further comments regarding our visit, are that whilst waiting to sort out the above problems we noted just how dirty and the table we were sitting at was.

The standard of cleaning leaves a lot to be desired. The tables had been wiped clean on top, but all around the edges and between the tables clearly had not been wiped clean that morning prior to opening time. You have to ask the question if the manager and staff can't ensure the public areas are cleaned to a standard then what are the Kitchen and prep areas like?

We paid and left, going for a coffee to discuss our lunchtime incident.

On arriving home my wife spent most of the afternoon on the toilet. Don't know why, but we have an idea. Both my sister and I were OK.

In our opinion there needs to be an urgent review of all the staff training, that's including the cleaning domestics and waiting staff and managers.

We won't be going there ever again.
Denise Green -
Rating:
I'm sorry that but I was disappointed to say the least.

The waiter was very abrupt. We ordered the bread tin, which consisted of two bread sticks, one piece of really hard and stale tasting bread, a piece of sponge like bread, and a tiny piece of white bread, which was sent back and replaced with the same thing. Terrible for nearly £4.

My main meal was pasta with four types of mushrooms, which were that small you needed a magnifying glass to see them. The sauce was bland and consisted of water and garlic.

Will not be going again, sorry.
Eaten at Carluccio's? Write a review!
Anonymous reviews, reviews using nicknames or reviews sent from invalid email addresses will not be published.