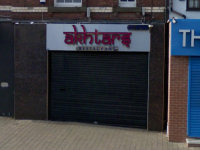 Reviews of Akhtars Restaurant
Type(s) of Food Served
Indian
Description
Akhtars restaurant is located at 193B Sheffield Road in Killamarsh.
Food Service Times
5:30PM - 11PM
Special Offers
Yes - please contact Akhtars for the latest offers.
Amenities & Facilities
Credit/debit cards accepted?
Bring Your Own Drinks?
Restrictions (e.g. wine only) and a corkage fee may apply. Please enquire for details.
Average main course price?
Special diets catered for?
Elaine Kirby -
Rating:
First time I have been. Found all aspects of the evening excellent. 10/10. Staff very willing to please.
Tiah -
Rating:
Been to Akhtars today (13/03/2019), it was absolutely amazing, the staff were so friendly, it was great service and the food was delicious. You definitely got what you paid for, I would 100% recommend. 10/10.
Tracey Baldwin -
Rating:
Ordered food at 7pm tonight and turned up with only half of my order. Meal turned up 8:25pm, then I had to wait for the rest of my order. It arrived at 9:05pm.

We have been using Akhtars for a few years now. We eat out there and sometimes have two home deliveries a week. This is not our first time with missing food, it's about 8 times. So I won't be using them again.

Truly spoilt my tonight meal with the hubby.The rest of the food was too cold, so it went in the bin. In total I had to wait 2 hours for my meal.
Scott Cowley -
Rating:
It's a must! Best curry in the United Kingdom. A truly hidden gem.

The chicken zal is a must, and the murgh sizzler as a starter is awesome.
Andrew Lenihan -
Rating:
Ordered a takeaway to be delivered. Usually very good, though the wait seems to get longer.

Just ordered again. Waited more than an hour and when it comes there were no poppadoms. Phoned up and asked the question why? They said we didn't order any. The bill we paid was the same amount as always, including poppadoms, still our fault!

Can't check the bill, as they never leave one. Wonder why? Get them to repeat your order over the phone after you have placed it.
Jason -
Rating:
Been a regular visitor at the restaurant for a while now and I'm not judging from a few visits. This established restaurant is way better than all of the local restaurants in and around Killamarsh and the surrounding areas. It never fails to impress on any occasion. Took my family there, work colleagues, business acquaintances, who have always been more than pleased. I would like to say a very big thank you to all the great people at AKHTARS in Killamarsh.
Bob Baker -
Rating:
Went to Akhtars. I have to say, what an experience it was, from the staff, atmosphere, and then the food. Cannot fault the restaurant with anything. Helpful staff, especially Gish, who has always looked after us whether it's delivery or eating in. Moved further away from their usual within 5 miles radius free delivery. But was always a pleasure to take the drive down, meet the lads and have a drink before setting off with my order.

Keep it up Akhtars, always first to recommend.
Michelle Thompson -
Rating:
Absolutely fantastic food. Takeaway or eat in. Total respect and first class service from all staff.

Highly recommended every time.
Leanne -
Rating:
Absolutely fuming. I order from here quite a lot and the staff are normally great! I normally have to pay a delivery charge with being 5 miles away, which I don't mind paying.

Today I rang and apparently got the owner of the place who was rude and refused to take my order due to me being 5 miles away. I know it's not closest to me, which is why I always pay delivery. Then he starts banging on about how he's the owner of this shop and others in Barnsley so it's his choice and he'll be telling them from now on not to deliver. Even if this is the case there's ways and means of saying things.
David Jenkins -
Rating:
Just visited Akhtars with some friends of mine for a Christmas meetup, for what should have been a good night to remember.

Anyway let me start by saying me and my friends where trying to find a Indian to go and visit for a meal and drinks and decided on going to Akhtars due to the advertised Thursday night promotion titled "free cobra on Thursdays all night".

So anyway we arrived and from the outside it looked a nice restaurant and seemed nice and clean. Once we walked in me and my friend got asked if we would like a Cobra right away, which we both said "yes please" to, and got handed a big bottle of Cobra each, which we both were impressed with how quick they were to see to our needs.

We then met the rest of our friends, then sat down at a table. We then decided what we was going to eat, being sat less than 5 minutes a waiter came across and asked if we would like some more Cobras, which everyone at the table said yes.

Not long later we all ordered our meals. A little later the starters came out (I personally did not have one) but everyone who did have a starter said they were decent. About 30-40 minutes later after 2-3 more Cobras for most people at the table, the mains then came out. I had a chicken madras/pilau rice/chips and a garlic naan, which I thought all tasted really nice and was cooked to a very good standard. The madras was a little hot but that was expected, of course.

Upon finishing the meal we had a few more Cobras and sat and chatted for a while amongst ourselves. Anyhow a while later the bill came for the food, as expected, followed by a drinks bill... Yes a drinks bill on "free cobra Thursdays", which was extortionate to say the least.

We then called the waiter over to explain the error, to which he responded by telling us we did not qualify for "free cobra Thursdays", as we were all drinking big bottles of Cobra, not the small ones and we all didn't order a starter and a main. I was stunned. We had all been lured in, had Cobras chucked at us, which we were all under the assumption they were free, since they had advertisements everywhere saying it was "free Cobra Thursday".

After all talking we just decided to pay, as we didn't want it to ruin our night, which I must add we all had a good night.

Hope this stops anyone else from getting conned!
Chris Cooper -
Rating:
This really is a review of 2 halves. We used to eat here at least once a week and often had takeaways as well. Food excellent, service very attentive and we were always looked after, hence it was a regular spot for us.

They started doing a Thursday night promotion, were Cobra was free and it fell in line nicely with a birthday party so I took a party of 12 for the night. The posters were prominently displayed both on the door going in and also on the front window of the restaurant - great offer so why not promote it!

We had a great night again yet when the bill came they'd charged us for the Cobras. I pointed out that this was free on a Thursday night and hence shouldn't be on the bill. I was told that, as we had not asked for free Cobras at the start of the night, they were chargeable. (Just to point out no mention of this on the posters.) I obviously argued this and after 15 minutes of to-ing and fro-ing and my threat that they either removed them from the bill or I wasn't paying any of it (I should point out that a certain amount of intimidation was also attempted by the staff as well) it was removed from the bill. However, for a known regular customer (actually for any customer) this was wholly inappropriate and unsatisfactory and managed to sour what should have been a great night of celebration.

The manager wasn't there on the night and I did think there was a certain amount of opportunism being shown by the under manager on the night so I went back on a subsequent occasion (not to eat) to point his out to the manager and give him an opportunity to rectify the matter. Unfortunately he simply wasn't interested and no apology was even forthcoming so we've never been back since.

I've relayed this story to a number of people now and have been surprised just how many others this has happened to.

A real shame but great benefit for another local-ish restaurant who now benefit from our custom.
Eaten at Akhtars? Write a review!
Anonymous reviews, reviews using nicknames or reviews sent from invalid email addresses will not be published.