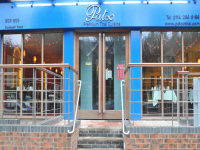 Reviews of Patoo Restaurant
Type(s) of Food Served
Thai
Description
Patoo Premium Thai Cuisine opened its doors in November 2010. It has developed its cuisine and service by combining the traditional and modern Thai lifestyle to serve you in Sheffield.

Patoo offers a selection of popular Thai dishes such as Thai appetisers, salad, soup, curry, stir-fried and noodle as well as an interesting variety of delicious Thai desserts - all freshly prepared on site by Patoo chefs. Featuring a fresh design concept created exclusively for Patoo by Thai designer, the new restaurant's contemporary Thai-style decor sets an inviting tone and ambience by incorporating the grace, style and timeless traditions for which the Thai kingdom is so well-known
Food Service Times
Lunch 12PM - 2:45PM
Dinner Sunday - Thursday: 6PM - 11PM
Dinner Friday & Saturday: 6PM - 11:30PM

Last seating: 11PM
Special Offers
Yes - please contact Patoo for details.
Amenities & Facilities
Credit/debit cards accepted?



Average starter price?
£4.50
Average main course price?
£8.50
Average dessert price?
£3.00
Special diets catered for?
Joel Bancroft -
Rating:
I went last night for the first and last time!

The food was average at best and the staff were rude!

All Siam is without a doubt the Thai to go to on Ecclesall Road.
Jenny Ross -
Rating:
First time visit tonight. The service was excellent and the food was out of this world. Best Thai restaurant I've ever been to.

Would definitely recommend this restaurant to anyone.

Definitely going back very soon.
Rob Clarke & Louise Burgess -
Rating:
Asked to leave part way through a meal as Patoo had rebooked the table!

Last night I took my girlfriend to Patoo for a meal she'd organised for a group of her friends. I decided to have a take away. I ordered spring rolls, chicken red curry and rice.

Back at home, being out of the restaurant environment, I found myself looking at my meal – a very small starter, the wrong main course (with a small amount of chicken and lots of watery sauce), and rice and thinking that's an expensive take away for £15. I wondered what they were thinking about theirs.

At the restaurant, during the meal my girlfriend's group of 5 were struggling to get the staff to refresh their glasses, as the wine had not been left by the table. This is the opposite of the problem we've had before in Patoo, where virtually every passing staff member wants to top your glass up. You might not think this would be an issue but if you are driving and need to keep track of how much you've had it had become more than irritating on past visits. Normally my girlfriend and her friends would get through 3 or 4 bottles of wine through an evening with a meal, but due to lack of interest by the staff they only got through 2 and were left sitting with empty glasses for long periods of time until they went and retrieved the bottle and put it on their table.

After around 90 minutes, they had enjoyed their starters and main courses, and were expecting the dessert menu when a member of staff came over and said they would be bringing them the bill as they had to leave as Patoo had booked another group of 6 in for the same table! No desserts, no coffees - you've got to go! When one of the group asked where they were supposed to go for their desserts and coffees (there is no lounge at Patoo) the staff member gave them the names of several local bars and said they could try there!

Well, many people would have meekly paid up and left, but this group of 5 very unhappy teachers made it plain that leaving part way through a meal was not an acceptable option. Desserts and coffees were eventually provided and not a single member of staff visited the table again for the next hour.

The unhappy group made their feeling known to the manager and left - no tip of course. A verbal apology was given but no effort to make up for trying to throw them out part way through their meal. The manager said that the group they had booked the table for had not actually turned up, so one can only speculate what would have happened if they had.

End result - 6 people who will never visit Patoo again, and are telling their other friends not to bother, either.
Steve Williamson -
Rating:
Had a meal for the first time at Patoo. It was early evening and fairly quiet when we arrived. We were shown to a table and given complimentary prawn crackers to start.

The menu and wine selections were first-class, as was the service. The food was excellent and reasonably-priced. We were not rushed at any time during the meal, and the background music was relaxing. We will definitely be back.

It was early Saturday evening when we arrived, and it was beginning to fill as the evening went on. Recommend booking a table.
Paul Sutton -
Rating:
Decided to try Patoo as a Valentine's treat for my partner, as she is vegetarian and they offer a relatively large selection of veggie dishes. I booked 2 weeks in advance, as I was aware it would probably be very busy, as it was the Saturday before Valentine's Day.

We arrived at 7:30PM and were promptly seated to a nicely-set table with complimentary spicy prawn crackers. There was a wide variety of wines and spirits to choose from and two Thai beers (Singha and Chang).

The food menu has a good selection of reasonably-priced beef, pork, chicken, duck, seafood and vegetarian options. I decided on hand-dived scallops to start and grilled giant king prawns for my main, while my partner had spring rolls with sweet chilli dip and tofu and vegetables in sweet and sour sauce.

We both thoroughly enjoyed our meals and were looking forward to dessert. The table was cleared and 2 small complimentary chocolates were placed on our table, we asked for the dessert menu and the waiter simply told us, whilst pointing at his watch, "there is no time for dessert, next table arrives soon". Let's just say we were not too happy about this, especially considering we had only been at the restaurant for an hour! I paid up and told the manager I was pretty disappointed, which was met by a brief 'Sorry, it's Valentine's weekend'.

We probably won't be going back due to the way in which we were treated, which is a shame considering the quality of the food and speed of service.
Karen & Steven Bannister -
Rating:
We really enjoyed our meal at Patoo, the food, atmosphere and service made us feel extra special.

The staff are friendly and the restaurant offers a wide variety and selection of food. We have friends coming to visit in the New Year and we will be treating them to an evening at Patoo.
Paul -
Rating:
It was very exciting to see the menu, as we have had Thai in many places and most offer simple curry with chicken, pork or beef and stir-fried, which we usually order.

We had their seafood signature dishes i.e. lobster in green curry sauce and New Zealand mussel hot lips. They are absolutely beautiful meals, which is very hard to find the good place for fresh seafood. Whole lobster (1lb) costs only £18. Mussels served as our starter were very tasty and of course with Singha beer.

We will be back again!
Eaten at Patoo? Write a review!
Anonymous reviews, reviews using nicknames or reviews sent from invalid email addresses will not be published.