Mogul Room Restaurant
282 Sharrow Vale Road
Hunters Bar
Sheffield
S11 8ZH
Telephone: 0114 2679846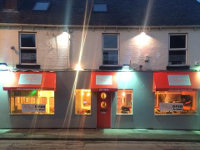 Reviews of Mogul Room Restaurant
Type(s) of Food Served
Indian
Description
Mogul Room restaurant is located at 282 Sharrow Vale Road in Hunters Bar.
Food Service Times
Sorry, we do not have the restaurant's opening times yet.
Special Offers
There are no special offers that we are aware of.
Amenities & Facilities
Credit/debit cards accepted?
Average main course price?
Special diets catered for?
Tom Xavids -
Rating:
Very poor quality. Very expensive. Won't be eating here again and would recommend avoiding. Uncomfortable surroundings, too.
Laura Hanson -
Rating:
Went in with friends on a Saturday. Staff were attentive and had pleasing smiles, which made the atmosphere even better. And to top it all off the food was very tasty and would definitely recommend the Mogul Room.
Chris Damms -
Rating:
Went here and had broken glass in my food. Was left bleeding in the toilets by un-bothered waiters who said, "we can't do anything we don't own it".

Great... very poor. What more do you need, don't go there!
Eaten at Mogul Room? Write a review!
Anonymous reviews, reviews using nicknames or reviews sent from invalid email addresses will not be published.