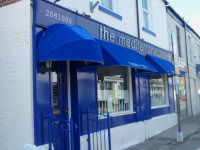 Reviews of Mediterranean Restaurant
Type(s) of Food Served
Mediterranean / Seafood / Tapas
Description
Established over 25 years, The Mediterranean was Sheffield's first tapas and fish restaurant. It continues to serve authentic Spanish tapas and a wide range of fresh fish and seafood dishes cooked to order.

The Mediterranean is fully licensed.

Please check our website for more information.
Food Service Times
Monday - Saturday: 12PM - 2:30PM and 5:30PM - 10PM

Tapas served Monday to Saturday lunch and Monday to Thursday dinner.

A la carte menu and specials served Monday to Saturday lunch and dinner.

Last seating: 9:45PM
Special Offers
There are no special offers that we are aware of.
Amenities & Facilities
Credit/debit cards accepted?




Average starter price?
£5.25
Average main course price?
£15.00
Average dessert price?
£5.25
Special diets catered for?
Nut-free
Gluten-free
Dairy-free
Child facilities?
High chairs
Sarah Jane Galtrey -
Rating:
Way too much oil in the dish.

Simply could not eat it.

Over cooked and frankly a ghastly eating out experience, which was a shame, as was invited out for dinner with good friend.

Not returning.
Melanie Green -
Rating:
Have been before. We were so looking forward to our meal.

The two main courses arrived but one had clearly been sat for a while and its vital side of fries was nowhere to be seen. After waiting patiently, I urged my mum to start without me for fear of it going cold.

A new fish was cooked... but still the fries still were far behind. On complaining, I received apologies again, and references were made to the different cooking times. Having worked in the restaurant trade, I do not understand the difficultly in timing a main course with some fries?

The bill arrived and nothing was taken into account, though it was agreed that things had not gone smoothly. We paid in full but left very dissatisfied.

The best course of action is to vote with your feet and we will certainly not be going back.
Brett Jones -
Rating:
A great experience. Amazing food and service. You must try.
John Dunkley -
Rating:
Just had a really excellent meal. The service was very good, and only the starter less than exciting.

My turbot was beautifully cooked - delicate flavour and lovely texture, with a sauce that complimented it perfectly.

My sweet, baklava with Greek yoghurt and honey, was an inspired combination. The slight tartness of the yoghurt offsetting the sweetness of the baklava and honey. The baklava seemed very heavy, but tasted delicious, with lots of nutty flavour.

I had very good reports from all the other 4 diners, with the poached pears coming in for special mention.

All in all, not cheap, but excellent value for money. While we did not have to wait very long, or so it seemed, to be served, it was a delightfully unhurried dining experience and we were the last to leave.
James Swallow -
Rating:
I cannot recommend this place enough. My friend and I went here tonight and straight from walking in we were made to feel completely welcome. Bread and olives awaited us on the table and the staff were completely helpful with all choices.

I started with pan fried fillet of bream, which was delightful with a refreshing salad and followed with a massive whole roasted sea bass. My friend ordered from the tapas menu and received some of the best monkfish skewers I have ever tasted and a fish stew that I will definitely order next time.

The dessert menu looked amazing but I couldn't have eaten another thing.

All in all the atmosphere, food and staff all made this a wonderful evening and I will return soon.
Jenny Hockey -
Rating:
After some disappointments with this restaurant over the years we decided to try it again last night, to make a change. What a good decision. A thoroughly enjoyable evening.

Olives and bread waiting for us on the table, a good crowd of people at other tables but not noisy or hectic, lots of staff ready to help. My crab salad dish was delicious, carefully and thoughtfully put together - and sole dieppoise to follow was similarly enjoyable.

An after dinner digestif was offered when they learned it was my birthday - and staff clearly cared that we had a good experience. It was one of those dining experiences where you know you're in good hands right from the word go.
Laura -
Rating:
We ate at the Mediterranean last Tuesday night after a tiring 3 days away. It was relaxed, the food (various tapas cooked to our specification) was tasty - and the service great. We quickly congratulated ourselves on picking the "Med" as a place to unwind.

A previous reviewer suggests that the waiter was too busy chatting to a blonde to take their dessert order. The "blonde" in question was me and the person the waiter was chatting to, was my 75 year old recently bereaved father, who hasn't been to the restaurant for a while - and was incredibly touched to be remembered and made to feel so welcome.

The bream was fantastic, the whitebait fresh and crispy, the meatballs delicious. We were left for a while to contemplate dessert (always good not to be rushed) and finished off the night with a couple of mouthwatering desserts.
Michelle Webster -
Rating:
Booked a meal tonight for my wedding anniversary. Arrived and everything was going well - good atmosphere and good service.

Starters were very good, but then it went down hill very quickly. My meal overcooked - isn't fish supposed to just peel away from from the bone? And my husband's dish - monkfish tail - we would have been better over the road with a decent spicy sauce to the dish!

But we went on, trying to give benefit of the doubt, to find the waiter was more interested to chatting to a blonde than take our order of dessert/cheese and coffees, so we left. By this point we'd had enough.

I suggest they need to look at the quality of food being served and the service in general. We will not be going back in a hurry. So very disappointed.
Lauren Barker -
Rating:
I went to the Mediterranean twice in December and on both occasions the food was excellent and the atmosphere great.

I used to go to this restaurant a lot but over the years it became a little 'tired'. However, it has had a fantastic makeover, new staff and a new lease of life. The food, without doubt, is better, both in terms of taste, simplicity and presentation. And it was so good to see the return of old customers as well as new.

A great place to 'dine' if you want something a little up market - but not at all stuffy.

Will be back soon!
Christina Harrison -
Rating:
We visited the Mediterranean this Friday just gone and I have to say we were all very impressed.

The service was excellent and the food was to die for. I'd heard good reviews and walked past often enough so we decided to try it - I'm very glad we did.

I'll definitely be returning as will my guests. I highly recommend trying out this restaurant if you are in need of a good (and not stupidly expensive) meal out.
George Dun -
Rating:
I visited the restaurant on Saturday evening with a table of 4. I was very disappointed, the starters were very poor. My guest had sea bass, which was still raw, my wife had zarzuela, which was too watery. The vegetables were also very cold and mashed, which seemed like left overs from previous customers.

I have visiting the restaurant for many years and it doesn't feel like it used to be after it has changed hands. I don't recommend it. Very poor - 1/5.
Louisa Walker -
Rating:
I have been going to the Med for over ten years now, and rate this restaurant very highly.

Since Otto has fully taken the reigns from his business partner it has gone from strength to strength. You could not find a more attentive and welcoming host.

I have eaten most of the tapas and love it, calamari, lamb's kidneys, pea tortilla, garlic chicken, stuffed baby aubergines all gorgeous.

The specials board has a great mix of starters. Beautiful fish cakes, crab and avocado salad, pear and walnut, sardines, meatballs - all yum.

Mains on the specials board include fish, chicken, lamb and steak so meat eaters are catered for, too, but the main menu has beautiful choices anyway.

I have always loved the side veg and found it plenty. The dauphinoise potatoes are too good!

If I start on the puddings this will be the longest review on here but with the sticky toffee, pecan pie, oh my.

Seriously you cannot fault this restaurant. Food, service and experience are all top quality.
Julia Brady -
Rating:
I have just been presented with possibly the second worst meal I have ever eaten in Sheffield. Seriously disappointing food.

My husband's squid starter was really tough - not a good sign in a restaurant that supposedly specialises in fish dishes - and the duck dish was poorly presented - swimming in a sea of tooth achingly sweet and sloppy sauce. I was also sure that the sauce had been introduced to some gravy granules at some point in its cooking.

The small portion of vegetables had been microwaved and covered in dried herbs that made it hard to appreciate individual flavours and textures.

My husband's fish stew was average - the liquor bordering on bitter and some of the fish was quite dry - almost like it had all been cooked separately and put together before serving.

When I told the staff that my food wasn't good they graciously took it off the bill but it was still poor value for money in my opinion. I have eaten at this restaurant before and it was much better quality but that was a couple of years ago. I don't know what's gone wrong but they can't afford to turn out this poor standard when they are being challenged by other restaurants in Sheffield that deliver much better quality and value.
Anthony Hogger -
Rating:
Our visit was very much a last minute thing and we had only our son's account that a few friends had given the restaurant good reviews so we didn't know what to expect. We went last Saturday and managed to secure a table for four following a cancellation.

I have travelled quite a lot in the UK on business and for pleasure and have eaten at many places in Sheffield over the last 6 years of my boys attending the universities but I can honestly say this is in my top three places to eat now in the UK.

Food - We sampled 12 different dishes in all from three courses and all were universally excellent in terms of cooking, portions and presentation.

Service - From start to finish nothing was left to chance and everybody was both friendly and attentive but in no way overpowering. It was truly relaxed but very professional.

Ambience - Like a comfortable pair of shoes. Clean, warm and welcoming. Don't go if you want LED lighting and designer cushions etc...

Cost - Great value for money and far cheaper than eating in our 4-star hotel just round the corner where there was little evidence of quality/service or welcome, but a good deal more expense for a similar meal the previous night. Price is very comparable to other similar sized restaurants in Sharrow Vale or Eccy Road but few offer the service or quality.

All in, a great but unexpected pleasure. We will return and not hesitate to recommend to others.
Barbara Wood -
Rating:
We looked at the reviews before we went last night (28th May 2011) and were sceptical about going.

We were a party of eight. Eight starters, eight main courses, two cheese boards, one tart tatin, three coffees (one liqueur), six bottles of wine and two bottles of water came to £292 in total.

For the excellent quality of food I felt this was very reasonable. All the food was cooked to an excellent standard.

The staff were extremely accommodating, efficient and very friendly.

The ambience was wonderful.

My only complaint was the ladies toilet... Very clean but when one sat down, there was little room between my knees and the wall and it was very awkward to move into position!

The toilet needs repositioning.

I can be critical of food and especially service and I will inform the manager if I have a problem. But I had no reason to fault this restaurant!

Well done Mediterranean you are first class! I will be definitely visiting again.
Neil Flint -
Have visited this restaurant twice and both times been impressed with the service and quality of the food.

On the first occasion my partner and I had a few drinks before coming across the restaurant unexpectedly. On the second visit we took my brother and sister-in-law, who were equally impressed.

The moules marnierre starter and red snapper were lovely, but everything was cooked well and to order... will be going back shortly!
John Fazman -
Went there the other night with high expectations and to be honest I was disappointed. I thought the food was expensive for what it was and despite the remarks about everything being home cooked food I was left questioning that.

I had the squid to start and was left in little doubt that this had been prepared for some time. The venison steak was just OK and the portion of vegetables that the 4 of us had to share was neither adequate nor did it look as though the kitchen could be bothered.

Whilst the staff were very friendly the place itself has a worn outdated feel to it (the table cloth had holes in it and the jug of water presented did not look to have been cleaned properly). The menus need updating and the place could without doubt do with an overhaul. Whilst they may have a few loyal clientele this place needs a Gordon Ramsay-style makeover. So I am afraid I will not be returning.
Otto Damahi (owner) responded on 17th May 2010:
I co-own the Mediterranean and wish to respond to our latest review. The squid is cooked to order. I'm sorry you failed to realise that. The venison steak is the best lean cut from Round Green venison farm in Penistone. You can verify this very easily should you wish to do so. Noone has ever described it as merely OK. As for the vegetables you could have simply let us know that you wanted more and we would have obliged. They are included in the price unlike some other restaurants. What exactly did you mean by the kitchen could not be bothered? Your comment was unclear.

We serve all our main courses with different garnishes as well as side vegetables which are dauphinoise potatoes, courgettes and carrots. Our decor is not shiny and new and never has been. Our customers come to us time and again because they appreciate our character and the atmosphere.

We are primarily a fish restaurant and we offer a choice of over twelve kinds of fish, all of them prepared and cooked differently. For example, our fillet of turbot baked in the oven and served on a bed of mashed potatoes with a saffron and lemon beurre blanc and garnished with king prawns and mussels is one of the best sellers at the moment so what did you mean by our menus needed updating?

The Mediterranean Restaurant is run by professional chefs and owners with over 27 years experience in the hospitality industry and we are confident of the cleanliness, hygiene and quality of our product. (See Scores on the Doors). We don't need Gordon Ramsay as you suggested.

I just find it a shame that you never mentioned anything at the time. Customers have a responsibility to let any restaurant know what they require. Some of the points you mention could have very quickly been addressed had you chosen to mention them to the staff. Posting a negative review instead is hardly fair or helpful.

I am sure other restaurant owners would agree, even Gordon Ramsay himself.
Robert -
I had duck in a red wine sauce with caramelised onions. For £14.95 I got four pathetic little slices of duck, five slices of carrot and two slices of courgette. No potatoes because the waitress only brought six portions of vegetables between ten people. On questioning why the lack of vegetables the waitress agreed to bring more, these were brought just after we had all finished eating.

Then on the sweet menu you notice that the sweets are £5.95, and cheese and biscuits are £6.50. So we decided that we had been well and truly fleeced with the main course, so the sweet could go and jump.

Then after being presented with the bill, I was horrified to see that I had been charged £3.55 for half a lager. Yes that 's right, £7.10 per pint.

So as you can see my review is that the service is first class, the food quality is excellent, but the value for money is a total rip-off. And I would say I was more satisfied with the local chippy than this way overpriced, over-hyped fleecing restaurant. People leave well alone, you have been warned.
Otto Damahi (owner) responded on 16th March 2010:
I co-own the Mediterranean restaurant and have done so for the last 11 years. If you look at other independent restaurants locally you will quickly become aware that £14.95 for a main course is not unusual. We do not open tins or packets to make our food, we actually prepare it all from scratch. Chains can put a meal on a plate for far less but you may well get something very similar from the local supermarket for even less.

Your comment about the lager is misleading. Lager is sold in bottles, as it is in many places locally for a similar price. If you want pub prices, please go to the pub.

I notice that you did not complain to the staff about your duck portion. It's a shame you prefer to post a negative review rather than giving a restaurant the opportunity to put something right at the time.

Sweets are homemade, not bought-in. This is something some people will pay for and others will not. There are plenty of places you can get bought-in desserts for £4, but the mark up is considerably more on £4 than it is for us.

Prices are displayed in all restaurants and you have the choice to pay less elsewhere. If you wanted a cheap night out perhaps the chippy would have been a better choice. We have many regular customers who think good-quality, homemade food is worth a bit extra.
Tim Taylor -
Having recently eaten here for the first time in a few years I feel compelled to write and urge anyone who considers this the premier fish restaurant in Sheffield to try the Blue Fin on Hunters Bar roundabout.

I suppose the styles are different and the Med is probably true to its name in terms of the rustic food whereas Blue Fin is much more modern and the cooking more precise but in my opinion rustic food and Michelin star prices do not mix and that, for sure, is what is on offer at the Mediterranean.

I was quite surprised by how busy it was midweek, so busy that by 8:30PM almost half of the impressive list of available fish had been rubbed off the board (or not - we were told when we tried to order Turbot that that too was no longer available but that they hadn't had time to rub it off the board. Lucky them!)

Maybe herein lies the problem - there were too many examples of carelessness and/or cynicism for these prices in my opinion (tired and not very fresh vegetables accompanying the mains being the most noticeable though the tatty plastic wrap-around so-called wine cooler ran it a close second) and we were left with the distinct impression of a place coasting and trading on reputation which, on this evidence, it no longer merits.

Starters and mains for 2 with a couple of drinks from the bar each and one bottle of wine came in at a cool hundred quid including tip. I'm afraid that it didn't represent value for money for me and next time I'm in the mood for seafood, I'll be going back to the Blue Fin.
Sam Callaghan -
My husband and I booked a table at the Mediterranean for Saturday lunch. When we arrived we received a warm welcome. There were several other diners present already and rather than being shown to a particular table, we were invited to choose where we would like to sit.

We ordered a bottle of house wine, a deliciously zingy, perfectly chilled white. We were then presented with the tapas menu. It took us quite a lot of deliberation before we could decide what to order from the array of mouthwatering options. We opted for monkfish skewers, pan-fried sardines, whitebait, Spanish fish stew and Spanish tomato bread. The portions were generous for tapas and we could not agree on which dish was the best, as they were all delicious.
Andrew Hayward -
This is our little 'bolt hole', with nicely cooked food at reasonable prices. There is a wonderful atmosphere. Nothing is too much trouble for the staff, they are always ready to make alterations to the dishes to suit individual tastes. For a combination of atmosphere, staff, food and prices this little gem takes some beating.
Ian Whincup -
Rating:
Having heard / read only good things about this place, myself and the future wife decided to give it a go. We both love dining out, trying out new places, and so we booked a table for two on Saturday night at 7PM.

From the moment we got there, the staff were very polite and attentive, and even at this early hour, the place filled up pretty quick. We got a nice table by the door and so ordered a drink and nibbled on the olives, which were so tasty. They were prepared with orange and lemon zest and garlic. Mmmmm.

And so to the meal... After discussing the menu with the waiter, who was very knowledgeable about all the dishes we asked, I decided on a starter of scallops with turbot for mains. My partner went for monkfish kebabs to start and the halibut for main. Well, the kebabs were good, very good in fact, but the scallops were absolutely sensational. They were cooked to perfection and were so sweet and juicy, they literally disintegrated in my mouth. They were served with a crisp salad and balsamic dressing. So good.

For the mains, my partner went for halibut. Once again, very good indeed. However for the second time that night my course blew hers out of the water.

You MUST MUST MUST try the turbot. It was an absolute taste sensation. A meaty white fillet of the tastiest fish, served on mashed potatoes with the most amazing creamy saffron sauce. (My mouth is watering as I type this.)

This was washed down with a very reasonable bottle of house red.

TEN OUT OF TEN. In summary, do your taste buds a favour and book a table ASAP.
Howard Beattie -
I have, at long last, found a wonderful place to take my daughters to eat freshly prepared, wholesome food. The fish deserves a special mention. It has always been cooked to perfection and I recommend the Turbot or Brill without hesitation. The front of house welcome and service have always been of a high standard.
Sallianne -
The Mediterranean is a gem of a restaurant that Sheffield has hidden. Booking advisable as very popular and you'll know why once you have visited. A taxi is advised, as parking can be a problem. Even though the restaurant was extremely busy the service did not falter one bit.

A small fronted restaurant, but do not let this put you off. An extremely un-stuffy atmosphere where smart-but-casual is adequate rather than a suit. A pre-drink seating area whilst looking over the extensive menu. A large blackboard adorns one wall where daily specials are listed in abundance. My husband and I then opted for the lobster, where the manager asked if we would like to pick our live lobster ourselves. Declining his invitation we said that his choice would be fine. What magnificent lobsters and presentation. I cannot fault this restaurant in the slightest and I have eaten in many as well as having owned restaurants.

After finishing our huge meal we called over the manager to notify him of our delight and to inform him that in fact we had only been married a week and this was a highlight. The manager suddenly disappeared and came out with two chilled glasses of champagne to toast our marriage. I could go on and on, if you are visiting Sheffield for whatever reason or passing through, do stop and sample the 5-star cuisine at this very under-stated restaurant. We intend to go to the away match later this year, not only to see Bristol City hopefully win but to stay overnight just to sample this cuisine and lovely atmosphere again. Do go.
Sarah Clothier -
It is hardly surprising that the Mediterranean is the restaurant of choice of the Home Secretary when he is in town - the food is consistently fresh, expertly prepared and unfailingly delicious.

The atmosphere of the Mediterranean is as dependable as the great service and conviviality. I have enjoyed romantic dinners with my partner there, a meal with friends and family celebrations - all of which have been made memorable by the proprietor's great sense of style and occasion.

I couldn't recommend the Mediterranean highly enough, it is without doubt the region's finest restaurant - but be warned, once you visit you'll be hooked!
Emma Farmer -
I have visited this restaurant three times and each time I have thought the food absolutely delicious. The most striking thing about the food is its freshness and the flavours really come out owing to the attention to detail of the chef. Finally the ambiance of the restaurant is such that you feel relaxed and comfortable. The proprietor is one of the most welcoming men I have ever met. Give it a try!
Tom Curnes -
The food I had was perfect. I think that it was good value for money and the service was excellent. I orderd Halibut fish and could taste the freshness still inside. This restaurant would have to be the best in Sheffield because of the wide range of choices it provides of fish.
Eaten at Mediterranean? Write a review!
Anonymous reviews, reviews using nicknames or reviews sent from invalid email addresses will not be published.