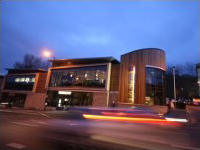 Reviews of Le Bistrot Pierre Restaurant
Type(s) of Food Served
French
Description
This stunning landmark building is located on Ecclesall Road. The restaurant is split on two levels with floor to ceiling windows on both sides. Downstairs there is a cosy bar where you can just meet for a drink.

Beautiful and comfortable surroundings combined with a warm, friendly and buzzy ambience make this the perfect place to dine, whether you are celebrating a special occasion or catching up with friends.

Le Bistrot Pierre restaurants serve flavoursome provincial French cooking at outstanding value.
Food Service Times
Breakfast: Monday - Saturday 8:30AM - 11:30AM; Sunday 9:30AM - 12PM

Lunch: Monday - Friday 12PM - 3PM; Saturday 12PM - 4PM; Sunday 12:30PM - 4PM

Dinner: Monday - Thursday 5:30PM - 10:30PM; Friday & Saturday 5:30PM - 11PM; Sunday 6PM - 10PM

Last seating: Monday - Thursday 10:30PM; Friday & Saturday 11PM; Sunday 10PM

Special Offers
Yes - prix-fixe lunch £8.95 two courses, £10.95 three courses. Pre-theatre £12.90 two courses, 5:30PM to 7PM. Soiree Gastronomique, six course set dinner £19.90, on second and fourth Tuesday of every month. Dine with Wine, 3 courses and 3 specially chosen wines by the glass £24.95, first and third Wednesday of every month. The Long Weekend, two courses and a bottle of Les Courtades, £17.90 per person every Sunday and Monday night.
Amenities & Facilities
Credit/debit cards accepted?



Average starter price?
£4.00
Average main course price?
£9.95
Average dessert price?
£4.50
Special diets catered for?
Child facilities?
Baby changing
High chairs
Bottle warming
Activity sheets
Crayons
Val -
Rating:
I wouldn't recommend this place at all. We went yesterday and I had a food poisoning. I suspect it was from a mackerel pate I got. It didn't look a proper pate, with some solid pieces of too dry fish in it. But since they employ school pupils - they looked and behaved like they known very little and couldn't answer our questions - there was on one to talk in there.

Anyway, I'm spending my Sunday in bed with all symptoms of being poisoned like vomiting and feeling sick.

No good.
Lee Rowlinson -
Rating:
We ate here last year when visiting family. It was great. This year not so good. My wife and I had the mushroom starter. We were warned the plates were very hot, So I was very careful. But the food was only just warm! Same with our vegetables. Maybe there is something wrong with the oven, but the mushroom dish, which is fab when hot, is not at all the same when served at room temperature on a hot plate.
Jill Giannotta -
Rating:
Whatever the occasion you will not be disappointed with this restaurant. The menu changes constantly according to the seasons, and there is always something for everyone.

Great attention is paid to accompanying vegetables - never overlooked and always fresh. Desserts are obviously made in the restaurant and the crème brûlée is wonderful.

My favourite starter is the brioche with mushroom and Alsace bacon. If duck is on the "special" menu (small supplement) my advice is go for it!

Staff and management friendly and very helpful. My favourite restaurant in this category of dining.
Jill Giannotta -
Rating:
I dine here often with family, have lunch with friends, and have never been disappointed yet.

This restaurant's menu constantly changes, yet still retains its most popular dishes. Great care is taken with cooking steak to your liking, and fish and chicken breast, so easy to overcook are always perfect.

The early bird menu represents amazing value, and the lunchtime one even more so.

The staff are courteous and friendly, the atmosphere relaxed and informal.
R H Turner -
Rating:
We have had lunch at Le Bistrot Pierre, Sheffield, on numerous occasions and have yet to be disappointed in quality, quantity, variety, or value for money.

The only downside we have found is occasionally slow service, which apparently stems from a policy of manning up according to advance bookings, so that if more people walk in off the street on the day than have pre-booked, there are too few staff on duty. However, this occasional risk doesn't offset the otherwise consistently good performance.

P.S. one warning - if like me you like your vegetables well cooked, tell them when ordering, as otherwise you may find them too raw for your taste.
Maureen Ridsdale -
Rating:
Have dined at this restaurant a few times and it has been excellent, but last Saturday 25th March we celebrated a family member's 18th birthday. We were a party of 28 on our table. There was 9 people all adults, the food in general, as always, was very good, but the veg is served in 2 small pots (on other occasions we have had 1 pot to share between 2 people). On this occasion we were given 2 of these pots between 9 people.

We asked for more veg and were given one set of these 2 pots. Really disappointed. Think it will be a long time before we visit again. There are too many other excellent restaurants in Sheffield to chose from.
Eaten at Le Bistrot Pierre? Write a review!
Anonymous reviews, reviews using nicknames or reviews sent from invalid email addresses will not be published.