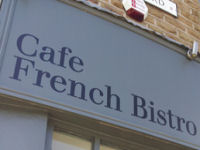 Reviews of Cafe Ceres Restaurant
Type(s) of Food Served
French
Description
We serve breakfasts and lunches all week except Sunday and on Thursdays, Fridays and Saturdays we have bistro nights.
Food Service Times
Monday - Tuesday: 9AM - 4:30PM
Wednesday: 9AM - 10PM
Thursday - Saturday: 9AM - 10:30PM
Sunday: 10AM - 3:30PM

Last seating: 8PM Wednesdays, 8:30PM Thursdays, Fridays and Saturdays.
Special Offers
There are no special offers that we are aware of.
Amenities & Facilities
Credit/debit cards accepted?




Bring Your Own Drinks?
Restrictions (e.g. wine only) and a corkage fee may apply. Please enquire for details.
Average starter price?
£3.00
Average main course price?
£7.00
Average dessert price?
£3.00
Special diets catered for?
Child facilities?
Children's menu
High chairs
Ann Bell -
Rating:
Booked meals nearly two months in advance of arriving last evening (the 7th of December). Even so we waited 45 minutes for the starters to arrive. The main courses arrived at different times. Although tasty they were not very hot. Plates were cool. As there were 17 of us they should have had more staff on. Not good enough.
Frank Bradshaw -
Rating:
What a disappointment! 1-hour wait for meal, long delay between first meal served and last last. Very small portions, poor sweets, uncomfortable car boot chairs (upstairs).

Does not justify the top-end prices charged.
Christina Tudor -
Rating:
Was looking forward to trying the new Cafe Ceres. Unfortunately, really poor service meant we didn't get the chance. We ended up walking out after waiting nearly 45 minutes for lunch that never arrived - not least because our parking ticket was running out.

A quick look on TripAdvisor shows that this is a common problem at Ceres. What was worse was the staff lied to us and told us our food was on its way and didn't seem that bothered that they had lost 4 customers.

Won't be going back.
Ellen Ketchion -
Rating:
Took my little boy here for lunch today.

It has two small seating areas, one downstairs at the back and one upstairs at the front, I think it also has a seating area outside but didn't take much notice as it was raining.

It was quite busy but we managed to get a table upstairs. It had a nice relaxing atmosphere and the staff were very attentive and the service was quick.

I had cheese and herb Omelette and salad, which was very tasty and a Cafe Americano (coffee). My little boy had beans on toast and orange juice. I thought the beans on toast was a little highly priced at £2.50, for one slice of toast and a serving of beans, but I didn't mind, as I was taking him out for a treat.

They had a lot of lovely sounding things on their specials board, which unfortunately I only noticed after I'd ordered from the table menu.

I would definitely recommend this cafe and would very happily return for lunch or evening meal.
Jim & Brenda Bonham -
An excellent, genuinely French dining experience.

Limited menu of good quality food at a very reasonable price in keeping with a francophone approach.

Typically £30 for a three-course meal for two with bring your own wine.

No doody nonsense here, simply a well cooked and presented meal prepared and delivered with care.
Eaten at Cafe Ceres? Write a review!
Anonymous reviews, reviews using nicknames or reviews sent from invalid email addresses will not be published.