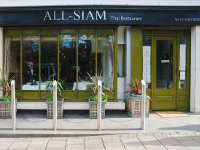 Reviews of All Siam Restaurant
Type(s) of Food Served
Thai
Description
The All Siam Thai menu offers freshly-prepared, authentic Thai food, full of choice and flavour. Put simply, we give the true taste of Thailand, satisfying to the nose, eye and palate.
Food Service Times
Sunday - Friday: 12PM - 2:30PM and 6PM - 10PM
Saturday: 12PM - 2:30PM and 6PM - 10:30PM
Special Offers
There are no special offers that we are aware of.
Amenities & Facilities
Credit/debit cards accepted?
Average main course price?
Special diets catered for?
Lynsay Petrauskas -
Rating:
I agree! I ate here two weeks ago. My husband and I ate on a Monday evening and were surprised at how busy the restaurant was.

The food was delicious, as the previous reviewer has mentioned the portions weren't huge but definitely sufficient and not overpowering just really tasty!

We didn't book and I would definitely book on a weekend. Will be returning!
Jessica -
Rating:
I can't believe there are no reviews for this restaurant already!

It is safe to say that this is the best Thai restaurant I've ever visited... if slightly on the expensive side, but it is definitely worth every penny.

I am addicted to Thai food and when walking past All Siam I thought it looked lovely... and it looks just as lovely from the inside as it does from the outside. The decorations are wonderful, as are the staff, although they were a little taken aback that we hadn't reserved a table, as the restaurant is tiny, so it's best to book in advance if you definitely want a table guaranteed.

I had the pad Thai noodles, sweet and sour chicken and some tempura prawns and they were delicious. I could have eaten three times as much because it tasted so good.

The drinks are expensive in there, so it's probably a good idea not to drink too much wine or anything.

The portions are enough for one person but they aren't too large, so if you have a big appetite then it's best to order a little more for yourself

I have nothing bad to say about this place! You should definitely visit!
Eaten at All Siam? Write a review!
Anonymous reviews, reviews using nicknames or reviews sent from invalid email addresses will not be published.