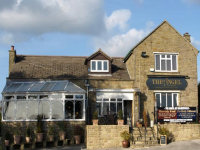 Reviews of Angel Inn Restaurant
Type(s) of Food Served
English / Pub Restaurant
Description
Located on the outskirts of Sheffield, this country pub overlooks the beautiful Peak District. With friendly staff and good service, this restaurant has the warmth and ambience of a great country pub.
Food Service Times
Monday - Friday: 12PM - 2PM and 6PM - 9PM
Saturday: 12PM - 9PM
Sunday: 12PM - 8PM
Special Offers
There are no special offers that we are aware of.
Amenities & Facilities
Credit/debit cards accepted?



Average main course price?
Special diets catered for?
Gluten-free
Ian Douglas -
Rating:
A dreadful experience with awful service and especially rude staff. Never again!
Nigel Walsh -
Rating:
First visit since leaving the area thirty years ago. Absolutely lovely staff. The food was different and nice. Gin served perfectly. Could not fault it. Sat in the sun for three hours, too. Sublime. Will be back.
Jamie Marston -
Rating:
Gone downhill this last year! Been going for all family birthdays for many years. Shame to now get the same food at lower quality. The decor is showing its age and all we can think is the owners are getting complacent and allowing standards to slip. Not just ourselves to be disappointed but also the people we recommend to visit this last year.

Let's hope things can turn around but until they do we will be looking for another venue.
A Cowley -
Rating:
Had a wonderful evening at this pub. Most accommodating hostess and polite waitresses. We were a party of 5 and all enjoyed the home cooked food. The restaurant was comfortable and pleasantly spacious. Would definitely dine there again when visiting the area.
Steve Marklew -
Rating:
We stumbled upon this pub quite by chance a few months ago. Called in on spec one Friday night and had a most fantastic meal.

We've been back several times and the food has all been top quality. The menu is changed quite often. I'd rate the food as some of the best I've ever had.

The staff are very friendly, and efficient.

We've had Sunday lunch there 3 times now, and the meat is always well cooked (quite rare beef) and the rum and chocolate mousse is to die for.

They are always turning away bookings, but the restaurant never feels over full.

An absolute gem of a place.
Ellen Ketchion -
Rating:
Went here for Sunday lunch with my partner and three year old little boy.

Apparently this pub had been taken over by new owners in Sept 2009, it's the same people that own the Millstone in Hathersage, so I wasn't too worried by the previous reviews, as we know the Millstone is good.

We were seated in the conservatory area, which was very warm and nice.

Service was very friendly and very attentive.

My partner and I both had the pumpkin soup for starter and then I had mushroom risotto, which came with chunky chips and garden salad, while my partner and little boy both had the Sunday dinner with all the trimmings.

I thought the food was very good and very tasty. The only thing my other half grumbled about was the size of the meal - there was too much! (Never done that before.)

Pricing was simple 1, 2 or 3 courses, £9.95, £12.95 or £15.95.

I would definitely return here for another lunchtime meal.
Gary Purseglove -
This review relates to an evening meal we had at the Angel Inn on 22nd August 2008. We arrived at about 6PM, the Angel was practically deserted but although they had reservations we easily found a table. It was our second visit, as we had been impressed the first time we went one lunchtime.

The restaurant is very pleasant. The welcome and service were friendly and food prices about normal for this type of venue. I chose a sirloin steak and my wife the Fisherman's Platter. Portions were of a reasonable size. I'd asked for my steak to be cooked medium-rare. When it arrived it was scorched and hard on the outside, while it was still slightly bloody on the inside it could hardly be described as rare. My wife's meal was OK. When the waitress asked how our meal was I told her about the steak and after mentioning it to the chef she offered me a free dessert, which I accepted.

When we paid the price seemed too high for us to have not been charged for the "free" dessert but we were only given a total figure so we have absolutely no way of knowing one way or the other. We paid and left without any comment.

Although we would not have left a tip this time it would have been useful to know if there was a tip bowl or not, it appeared not.

This was a disappointing 2nd visit, which we had been looking forward to for some time.
Jillian Simpson -
For my birthday my husband and I went to this pub restaurant for a meal. Although the food was well cooked, the presentation was not good and we were kept waiting although they were not busy. Although the menu said that all meals were served with vegetables and potatoes I had to go to the bar to ask for them after we had had our main dish a while.

Also, if I were them I would not keep people waiting for long, as it gives you time to look around. We were in the conservatory and the green drapes above our heads were dirty and covered in dead flies and the plants on the windowsill were dead and the windowsill could have done with a wash.

I am sorry to say we did not wait to have a second course but came home very disappointed. We will not be going back.
Eaten at Angel Inn? Write a review!
Anonymous reviews, reviews using nicknames or reviews sent from invalid email addresses will not be published.