Taste Of India Restaurant
133-135 Bradfield Road
Hillsborough
Sheffield
S6 2BY
Telephone: 0114 2331332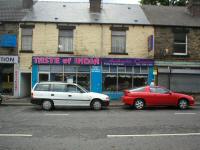 Reviews of Taste Of India Restaurant
Type(s) of Food Served
Indian / Balti
Description
Taste Of India restaurant is located at 133-135 Bradfield Road in Hillsborough.
Food Service Times
Sunday - Thursday: 6PM - 12AM
Friday & Saturday: 6PM - 1AM
Special Offers
Yes - 10% discount for takeaways collected.
Amenities & Facilities
Credit/debit cards accepted?
Average starter price?
£2.70
Average main course price?
£6.00
Special diets catered for?
Roy -
Rating:
I wish I could score this restaurant a zero!

We visited a couple of weeks ago following a funeral, so we were early. In fact it had only just opened. The member of staff was standing reading a newspaper at the bar and barely acknowledged us when we walked in. We asked for a table for 2 and he pointed to a table in the corner and almost threw two menus at us. He didn't ask us if we wanted a drink but walked off so we had to find him to ask.

The table cloth at the table we were sitting at was filthy, as was the cloth and cutlery of the table we moved to.

While we were waiting for our drinks, which he didn't seem to be sorting, another member of staff walked in. The two of them walked into the kitchen together and were laughing and joking. At that point we left.

Awful experience. I wonder if they rely on their customers eating late when it's dark and they've had a belly full of beer for the usual good reviews!
Lisa Munro -
Rating:
Not impressed by customer service. Didn't even get to try the food, as they did not want to deliver, as they did not know where they were going, despite being on the same road. Surely you have heard of Google Maps?
Luke Kennedy -
Rating:
Customer service was disgusting. Missed numerous dishes off the order. Phoned to complain, was told I would have to wait 45 minutes for those dishes. Told the ignorant man on the phone this wasn't acceptable; his response was vile.

Will never use these rude people again. Shame, as I was regular customer.
Janine -
Rating:
Poor service. Ordered a delivery at 7:30pm, was told it would be about an hour. At 9:00pm they hadn't even started making it and told me I would just have to wait. Made out I was lying about what time I had ordered.
Jennifer Adams -
Rating:
We go here every 2 weeks. Wouldn't go anywhere else. Fantastic food and friendly service. Like going home for us, we even have our own table. Thank you, guys.
Sue -
Rating:
£27 wasted. Used to order and visit the restaurant regularly, had the odd hiccup but thought it was worth giving a local company the business.

Tonight has changed my opinion... Took one hour and ten minutes to arrive after chasing the order after one hour. All the contents of the bag were covered in sauce. The meal was cold. The half of chicken was dry and was 2 small pieces. A black hair was in the rice. Also received an item that was not ordered.

When phoning to complain my number was taken, after 20 minutes I contacted them again to be told the driver hadn't returned and the phone was hung up on me... Took another ten minutes for the driver to return with the refund and rudely walked away.

Will never recommend this place or visit again.

(A full refund was given.)
Jane -
Rating:
We have takeaway weekly. No going back from Taste of India. Been living around in Australia for 9 years searching for a Taste of India.
Jane -
Rating:
So good we have a delivery every week, and it never disappoints. Tasty, interesting flavours. Tandoori king prawns are excellent and the sauce is divine. Bhajis are always good. Prawn bhuna puree is delicious.
Liam and Leah -
Rating:
My girlfriend and I love it here. The staff are friendly, the food's great, comes quick, never too busy, though don't know why.

We had two starters, two mains, two rice, cheese naan, chips and two desserts, and the bill only came to £30. You can't go wrong.
Eaten at Taste Of India? Write a review!
Anonymous reviews, reviews using nicknames or reviews sent from invalid email addresses will not be published.