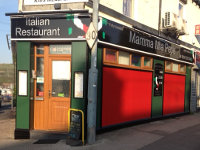 Reviews of Mamma Mia Pepe Restaurant
Type(s) of Food Served
Italian
Description
A typical Italian restaurant with traditional Italian decor. However, the emphasis is on the food. All dishes are home made using fresh ingredients.


Food Service Times
Sunday & Monday: closed
Tuesday - Saturday: 5:30PM - 11:30PM

Last seating: 11:30PM.
Special Offers
There are no special offers that we are aware of.
Amenities & Facilities
Credit/debit cards accepted?



Average starter price?
£3.25
Average main course price?
£8.50
Average dessert price?
£2.75
Special diets catered for?
Tim Shirt -
Rating:
Been here a few times to eat in or for takeaway. Every time the food has been delicious. Got to be one of the best Italians in Sheffield. Excellent value for money. We feed our family of four for just over £20.
Grace -
Rating:
We visit Mamma Mia Pepe for many years; never disappoints. Food very delicious and quality. Very friendly staff. Great atmosphere.
Abigail -
Rating:
This restaurant is the best. Great atmosphere, delicious food, fantastic service.
Amy -
Rating:
My parents, my boys and I went to dinner at Mamma Mia Pepe. We had such a good time. Food is delicious, service excellent, owner recommend a very good wine. This place is very clean and antique.
Anna -
Rating:
Best family restaurant in Sheffield. We have been going for 5 years in this cosy and comfortable restaurant. Great atmosphere, delicious food. A special menu Tuesday - Thursday is great.
Kelly -
Rating:
Eat here regularly with my partner, who by the way is a very fussy eater... we love it. The food is always cooked exactly to our taste, is fresh and served piping hot. Any extras you want are accommodated and have never been over charged. Staff are lovely and my partner and I always leave happy and well fed... This place is a gem for people who do prefer non-chain food! Love it.
Peter -
Rating:
Be careful when booking here, as we have just been for a friend's birthday with a total of 30 of us so he booked the restaurant. They charged two of us over £90 for two starters and two mains - one calzone and one carbonara - and two drinks each, which is very pricey. When I asked why it was so much I was told that since we had ordered from the a la carte menu it would be £35 per head. We totalled our meal up from the individual a la carte menu, and for what we had the cost came to less than £30 for both. What a rip off. Will not be going here ever again and neither will any of our friend's party, as they all had the same problem with their bills.

You have been warned - ask what menu they are going to charge you from before you go.
Di -
Rating:
Lovely food and good service. A traditional, family-run Italian restaurant, a nice change from a large "chain" establishment. Great tiramisu.
Dianne Ronksley -
Rating:
I booked a party of 32 women for a special occasion to visit the restaurant on Saturday night. I had gone to great lengths to pre-book all the food, which I didn't mind, as this made it easier to cater for such a large party. But I had made 2 mistakes and was told by the waitress in a very abrupt manner, that if I couldn't rectify it I would be charged for the extra meal!

I have to say at this point that apart from a couple of meals the food was lovely, but the waitress had an awful attitude all night. She was banging drinks and food down and sliding glasses across the tables instead of giving everyone a glass individually. She had a face like thunder all night. She was very very rude right from the moment we walked into the restaurant. We were a total burden to her and she made it quite obvious. She even apologised to one table for being stressed! She didn't apologise to me! I'm sorry to say but the majority of us have stressful jobs but don't treat people like she treated us. It was awful service.

The chef was adorable and he and his colleague worked hard all night to deliver our food. I would suggest replacing the waitress with someone who can handle stress. Thank God she's not caring for people! She'd know what stress was then. She spoilt the evening for me and I won't be returning and neither will any of my party. I can't tell you how bad her attitude was. If it hadn't been a special occasion I would have walked out and forgot the whole thing! By the way the young waitress was very sweet and polite.

I hate complaining but I do feel very strongly about this. You will lose a lot of custom with staff like her.
Heidi -
Rating:
Food poisoning, avoid!

I visited the restaurant last night with my partner and my Nan and Granddad. I bought them a voucher off Groupon for their Christmas present so it was something they were really looking forward to.

Me and my partner ordered pasta, my Granddad ordered steak and my Nan ordered chicken. A few hours later after getting them home my Nan was extremely ill with sickness and diarrhoea, she was being violently sick non stop and in the end had to call an ambulance. She had had nothing to eat since the morning for her breakfast and the hospital said that it would have come on a lot sooner if it was from her breakfast, therefore it had to have been the Italian meal she had eaten that evening.

I called the restaurant to inform them and to get a refund for the meal. We paid £35.00 for the voucher plus we spent another £35 on the night on supplements we had to pay extra for and drinks. Meaning in total for the night we had spent £70.00.

I spoke to the manager of the restaurant who would accept no responsibility at all and didn't even apologise. He actually became very angry and rude. What should have been a lovely evening was totally ruined and I was shocked that the restaurant owner was not prepared to offer us any compensation.

I would never eat at the restaurant again, however a refund would have been nice so that we could have took them out again somewhere else, as as you can imagine what was meant to be a nice Christmas present was totally ruined.

Please avoid the restaurant at all costs!
Mark -
Rating:
Firstly, ignore the trollish rant of C Jay, who appears to have not eaten here. We went and at first we were dubious when viewing the exterior. But...

The food and service were excellent and the portions were sensible, the flavours punchy and aromatic.

We left feeling pleasantly sated with the flavours caressing our memories like the kiss of a first love.

Excellent!

PS: If the rough exterior keeps away the trolls, then more the better.
Cheryl Acaster -
Rating:
Went last night. There were twelve of us. Everything was wonderful. Food was so tasty. Staff were really nice. We think they don't charge enough. Brilliant.
John Bothamley -
Rating:
Went to Mamma Mia Pepe last Wednesday. Kitchen staff were very friendly as usual, but sorry to say the very friendly waiter has still not returned. We were told he has gone to work in Penistone.

Now down to my complaint. The waitress was sweating cobs as she took your order. She was dripping over us. Her hair looked like she arrived on a Harley. We also found her abrupt.

Nice place spoilt by someone who comes to work unkempt. We won't be back.
William Wood -
Rating:
Visited Friday June 20th 2014. Terrible - blanched asparagus with Parma ham layered on top with a bit of cheese. Then unseasoned chicken wallowed in a bland sauce.

So over-priced its unreal. So-called Amazon deal. It would have been cheaper to pay full price off the menu and not the Amazon deal plus supplement.

Complete rip-off. 1 star is too much.
Dawn Shooter -
Rating:
Lovely, lovely food.

Not much to look at from the outside, no big windows to take a look into. Inside is small and cosy.

But Arjan is a great chef... Big meals, beautiful sauces (plenty).

Great place for a family get together, party, or couple, in a very relaxed environment, where you pay for the food not for the expensive decor.

Very good value for money, and Arjan will always try and adapt to your needs.

My family have been going for 14 years.

He has a female waitress, wish I remembered her name... she is great.

She has passion, and love, for the place she works for, runs though every menu as if she was tasting it whilst telling you about it.

Everyone should try it at least once...
Dave -
Rating:
Cannot believe what some people have put. Yes there are side dishes with some mains i.e. chicken, fish, meat. Side dishes with pasta meals are not needed. Very rarely in an Italian restaurant would you get a side dish with lasagne or spaghetti Bolognese, as it is wholly unnecessary. However, should you wish to have chips with it I am sure the chef would be willing to comply.

In my experience of visiting this restaurant both the food and service are excellent. The chef will cater to your needs as much as possible. As the food is prepared in full view (you can see the meals being prepared, as it is an open kitchen), any ingredient can be added or not added if requested. I know this to be true, as I have asked for ingredients not to be included, and nothing is too much trouble for the waitresses. They are friendly, hard working and pleasant.

I seriously suggest you try this gem of a restaurant for yourselves!
C Jay -
Rating:
Absolutely terrible, worst restaurant I've ever been to! Small and cramped, it is like being sat in someone's living room with tasteless cheap and dated decor, surrounded by complete strangers sat 8 inches away on every side. So disappointed!

The food was not even decent. Tasteless and small portions, no sides with your main, so if you order lasagne, that is all you get?! Like a cheap greasy spoon cafe but with "Italian" food.

Don't waste your time or money. Travel the extra 3/4 miles to the city centre to a real Italian restaurant!
Jess Shaw -
Rating:
I have visited this restaurant many times following a recommendation from a friend and we have never been disappointed.

The staff are lovely, the atmosphere is so cosy and the food is always great.

If you haven't tried this place, I would certainly recommend that you do, you won't be disappointed.
Helen Charleworth -
Rating:
Five of us went to this restaurant on Friday the 24th January 2014. Not very good service from the waitress. The starters from the specials menu was lovely. The lamb for our main meal was beautiful but the sauce was very sweet and overpowering. Four of us were made to share a small silver bowl of a few carrots, cabbage, and potatoes.

One of the ladies found a hair in her meal and was offered something else from the menu but declined, so a £2 deduction was offered from her bill.

I had high expectations for the meal, as I have eaten here in the past. We were told that the previous owners no longer work there. If that's true then I now know why we had such a disappointing meal. We wont be returning.

For five of us who had starters, main meal, 2 bottles of house wine and a lemonade our bill topped over £100.

Oh and you don't get any pasta with the pasta meal?
Diana -
Rating:
Visited this restaurant on many occasions so I could sample as much of the food as possible (every time I order something I always want what someone else has).

Never been disappointed. The wine is excellent, the staff are friendly and the chef makes you feel like an old friend. Mid week prices make this amazing value, too. A must place to eat.
Louise Nadin -
Rating:
I have been to this restaurant about 5 times with my husband. I thought is was about time I gave it a review, as it the best Italian I have been to. Lovely, cosy setting, friendly waitress and amazing fresh food made to order. Highly recommended!
Joyce Hargreaves -
Rating:
Went there weekend of 4/5/2013 for a family meal, x 3 generations and special birthday for Malcolm aged 69 years young.

Its location is just out of Hillsborough centre, up from Morrisons, on the tram route, so not perhaps the most obvious place to dine, but, the food is exceptional!

Decor gives authentic Italian feel and mood, small venue but homely. The service was quick and informative (full description given when we asked about each dish).

It was a great find, and we will be eating there again. They even didn't mind when we joined in signing with the rat pack songs. A great place to eat authentic Italian food.
Anne Hobson -
Rating:
Small, authentic, family restaurant with feel of being on holiday. Superb food (especially the slow cooked lamb), friendly service, open kitchen so you can watch the fresh pizzas being made, nice house wine. Would certainly recommend this little place. The special midweek menu is particularly good value at £9.99.
Sam Coombes -
Rating:
This was my 3rd visit to the restaurant and I have to say I was extremely disappointed.

The table was booked for 7:30PM. When we got in there was one larger table in already and one other couple. Within 30 minutes the restaurant was full and it was quickly obvious that the kitchen was over stretched.

We ordered starters, which took 45 minutes to arrive. Then at 9:15PM, when we still hadn't received our mains and asked, the waitress merely pointed to the kitchen as to say they were just coming out. No apology for the wait at all.

When she came to clear our table, we mentioned that we weren't happy, she said she thought that as we were drinking wine and enjoying ourselves we would be OK. I don't class an hour-and-45-minute wait for food as OK. She also said that they struggled because everyone came at once. In my opinion this is poor management. If you know you cannot handle a full restaurant then stagger the table bookings. That is not an acceptable excuse.

The poor service really was such a shame because the food is lovely. All the waitress needed to do for us to leave happy would have been a simple apology.
Christine Booth -
Rating:
We recently visited this restaurant on recommendation and we were not disappointed.

It is a small, family-run business with an open kitchen, and the food is cooked to order from fresh. The food itself is reasonably priced and the portions are quite ample.

You are allowed to take your own wine but there is a small corkage fee to pay, which is £3.50 per bottle.

Overall it was an enjoyable evening and we will definitely be returning.

Date of visit: 13/01/2012
Wendy Birks -
Rating:
We've been going to the various incarnations of this restaurant for nearly 20 years and it's one of our favourite places in Sheffield.

The food is excellent and reasonably priced (they also do a special offer menu on Tuesday to Thursday, which is great value).

The atmosphere is cosy and welcoming, and they will cook things just how you want them. We live locally, so to have something this good and consistent on our doorstep is something else.
Stephen Poston -
Rating:
Do not be put off by the outside of the restaurant. It looks sad and tatty, but reserve your judgement until you have tasted the food.

The food is prepared and cooked to your liking, fresh on the premises and nothing is ever too much trouble for them. The food is what really sets this place apart. Wonderful smells emitting from the kitchen tantalises your taste buds before you even decide what to order. The food is absolutely first rate and I have never experienced a poor meal here.
Kirsty B -
Very small, family run restaurant. The food is exceptional. I have visited a few times now and enjoyed it every time. Choice of food is excellent and price is reasonable, would highly recommend.
Eaten at Mamma Mia Pepe? Write a review!
Anonymous reviews, reviews using nicknames or reviews sent from invalid email addresses will not be published.