Parthenonas Restaurant
290 London Road
Highfield
Sheffield
S2 4NA
Telephone: 0114 2585050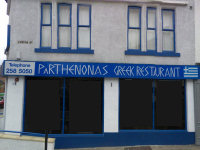 Reviews of Parthenonas Restaurant
Type(s) of Food Served
Greek
Description
Parthenonas restaurant is located at 290 London Road in Highfield.
Food Service Times
Sorry, we do not have the restaurant's opening times yet.
Special Offers
There are no special offers that we are aware of.
Amenities & Facilities
Credit/debit cards accepted?
Average main course price?
Special diets catered for?
Alison Glover -
Rating:
My daughter booked a meal for 20 plus for my 50th surprise celebration.

We arrived to no table for the time we booked. My daughter had asked if they could decorate the table, nothing put up, and when we eventually got seated 45 minutes later we were cramped with zero elbow room. Two people didn't even get a meal, as they mixed up the orders. The evening was a very warm one and being cramped didn't help. No fans available. They ran out of bottled beer, very unorganised. Rude, surly staff. Never eat here again. In my opinion let your waitresses go and get staff in that actually care that a party has spent £500 and that pays for their wages.
Leanne -
Rating:
We ate here tonight with a voucher from Living Social and it was fantastic!

The portions were huge, the food was amazing, just like being in Greece. The owner/waiter was really friendly and funny. I felt like I was in Greece with the atmosphere and music etc...

There is a wait between courses but this is traditional of certain parts of Greece and because the food is fresh and well worth the wait I will definitely be becoming a regular!

Cannot recommend highly enough!
Jane Hanson -
Rating:
Had a meal there last night on a Groupon offer. The food was excellent with large portions, well presented and cooked. Would visit again.
Rachel Morgan -
Rating:
We went on a Monday night and surprisingly, it was quite busy. The host (who I think is the owner) was very nice and gave a good explanation of the food that we were not familiar with.

We all ordered a starter and a main and there was not one complaint amongst us!

We did have a wait in between courses but I didn't mind, as the courses were so huge.

As much as I enjoyed it, beware of the extra charge if you are paying by debit card, which is about £2.50.

Will definitely go back!
Janet Claydon -
Rating:
Arrogant man served us, very rude and abrupt.

We had booked a table which wasn't ready for our booking, which had been made days in advance.

The food was OK, nothing to rave about, but half way through the meal they told us we had to move tables, as they had given another table away even though the party had booked theirs.

A night ruined by a very inconsiderate man (think he was the owner). He even chased the party out of the restaurant shouting at them as they left.

Won't go back.
Ashley Dacre -
Rating:
Do not listen to the person who has given just 1 star for this restaurant, as they clearly have a chip on their shoulder!

Waiter was very kind and courteous, food was delicious (which we did not have to wait long for), and the portions were so good we could not have fitted any dessert!

Well worth going!
Helen Jennings -
Rating:
Oh my goodness, what can I say? This was one of the worst restaurant experiences I have had in a long time, and I eat out pretty often.

When we arrived the head waiter completely ignored us and started seating people who came in after us. We were then left for an hour before our starter arrived - which was mediocre at best. It consisted of butter beans in tinned tomatoes, tinned vine leaves and very average hummous.

Our mains then took another hour to come and were also very ordinary.

The only redeeming feature was the wine per glass, which was surprising nice for the price.

My advice - go elsewhere!
Claire -
Rating:
We had meze, it was £15 each and perfect. The food was all lovely and thanks to the massive quantities, they boxed it up for us and we just had the leftovers as a full meal today.

Lovely food. Excellent value for money. Great service. Good atmosphere.

Best Greek in Sheffield without question.
Charlotte -
Food was good, waiter was attentive-ish, surroundings more like a cafe than a restaurant. With the prices not being what I would say are cafe prices, it's not expensive but it's definitely not cheap, either.

The interior is a let down. It was almost empty in the 2 hours we were there, which could account for the attentivness of the waiter!

We were not offered coffee or a dessert, and the main menu was a little sparse with maybe 15 dishes including starters. But the food was authentic and tasty.
Stuart Spencer -
Just had our first visit to this really nice Greek restaurant and thoroughly enjoyed it. As a party of four we had a really chilled out evening, and as you would expect from the Greek staff, we were not rushed at all during the two and half hours that we were there. It was a little quiet for a Saturday night but the atmosphere was still warm and welcoming.

All the individual dishes that we had were commented on as being excellent. These varied from traditional Mousaka and Stifado to a House Special Steak.

Were a little surprised that payment could only be made with cash or guaranteed cheque so please be aware of this if you intend paying with plastic.

We would once again like to thank Maria and the rest of the small team of staff for a really nice evening and will be seeing them again in February with a few more of our friends. YAMMASS!
Lynn Pemberton -
This restaurant is FANTASTIC, the food and service are second to none. If you like Greek food you won't be disappointed.
Eaten at Parthenonas? Write a review!
Anonymous reviews, reviews using nicknames or reviews sent from invalid email addresses will not be published.